Isn't that the best title?
I only say that because I didn't come up with it. But, oh, I wish I had. And please make sure you watch the video at the end of this post. It's one of my favorite hymns ever.
Third World Symphony is the title of my friend Shaun Groves' new album. And today is my day to host him (hostess him?) on his tour of blogs. Right after he was featured on Pioneer Woman's blog on Monday and Michael W. Smith's blog yesterday. So basically I'm here to tell the last three remaining people on Earth who haven't heard about it.
Ree? Regularly featured on The Today Show and The View. Has her own show on Food Network and millions of blog readers.
Michael W. Smith? One of the greatest Christian artists of our time. Known by millions. Has performed for Presidents and Billy Graham.
Big Mama? Drives carpool on Tuesdays and Thursdays. Can occasionally be seen in line at your local Starbucks and maybe at Target if she's feeling adventurous.
One of these things is not like the other.
Way back in early 2008 I received an email from someone at Compassion asking if I was interested in taking a trip with them to Uganda. No. No I was not. Because Uganda is far. It's in Africa and there are scary things there. But, aw, thanks for thinking of me and keep me posted on future trips.
Well, Shaun Groves took me seriously. And in May of 2008 he emailed me to ask if I was interested in going to the Dominican Republic. No. No I was not. Because the Dominican Republic is farther away than Target. But, "OH THAT'S SO NICE", thanks for thinking of me.
And that was the end of that. Until I woke up one night in late July and felt like God was telling me I was supposed to go to the Dominican Republic with Compassion. Dang. Then I received, I KID YOU NOT, an email from Shaun Groves the very next morning asking if I was sure that I didn't want to go on the trip.
DANG.
Sometimes God whispers and sometimes He has to hit you over the head with an email from a Christian singer with funky hair. I think that's in the Bible. Check 2 Kings.
Anyway, I reluctantly agreed to go on the trip to the Dominican Republic with Shaun Groves and then might have possibly prayed I'd get some sort of stomach bug and be unable to go. But the departure day rolled around and I found myself on a plane. Then I found myself in the Dominican with these incredibly precious Compassion kids and my life was changed forever.
And I owe that change to Shaun Groves. And Compassion. And God.
Shaun Groves showed me a world I'd only read about. He showed me kids who have found hope through the work of Compassion. He showed me lives that have been changed. He showed me what it looks like to use the gifts God has given you to serve Him and His purposes.
Because Shaun could just make albums and make money and wear expensive, tricky worship leader jeans with fancy pockets and drive a Dodge Stratus, but he chooses to live out his faith by serving the least of these. It's not about the money, it's about saving a child's life. It's not about the fame, it's about touring for free as long as he can talk about the work of Compassion.
I just finished reading Same Kind of Different As Me by Ron Hall and Denver Moore (I know. I'm the last person on the planet to read it.) and it made me question what I'm doing with my life. What am I doing to help others? What am I doing that makes God smile? And who do I know who really lives like that?
I'll tell you who I know that lives like that. Shaun Groves.
And that's why he recorded Third World Symphony. It gave him a chance to record new music. And new music gives him the opportunity to tour more. And touring more gives him the chance to get as many children sponsored through Compassion as he possibly can. See how that all works out?
So go download Third World Symphony for only $9.90 on iTunes by clicking here or you can by the real live CD for $10 + shipping and handling by clicking here. Because it is AMAZING. Because it's powerful. And because there's a bunch of little faces like these that will be forever grateful.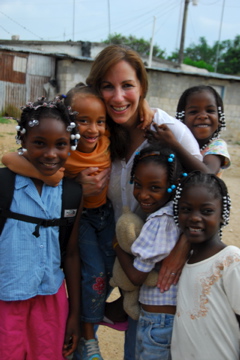 Best of all, after I listened to Shaun's album I felt like there was something missing. It needed a hymn with a little more passion. Something to help me through my darkest times. And while it was too late for the album, Shaun helped me out in the following video. You have to see it.
Go buy a copy of Third World Symphony today clicking here. You won't be sorry.