Polar FT7 Heart Rate Monitor Giveaway.
Right after Christmas my friend Michelle came to visit and we were having a big discussion about all things exercise and diet. And, ironically, we continued to outline our fitness and health objectives through a dinner of chips, queso, and fajitas. But Michelle had a lot of great tips because fitness is kind of her hobby. As opposed to me. Fitness is more like my job that I don't like but have to go to anyway because I enjoy food. Anyway, I told her that I was going to be reviewing and giving away various fitness and health related items on the blog after the first of the year. And she immediately said, "Oh! Are they sending you a Polar watch?" I said, "What is this Polar watch you speak of?" So she showed me hers because she is disciplined and doesn't leave home without her running shoes and workout accessories. And she explained that it monitors your heart rate, tracks your workout, tells you how many calories you burn, and, MOST IMPORTANTLY, lets you know when you're burning fat. I'm all about the burning fat. So I spent the last few days of December desperately hoping for this Polar watch that I'd never even heard of but now felt like my life wouldn't be complete without it. You can imagine my excitement when the nice UPS man knocked on our door one day in mid-January and delivered my very own Polar FT7 heart rate monitor.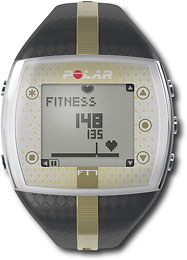 It comes with a strap that you wear around your chest while you work out and I worried it might annoy me, but it's actually comfortable and I got used to it without any problems. Of course I was highly motivated by the need to know how many calories I was burning and if my fat was melting away. Sadly, I usually feel like a run should burn at least 1500 calories and that is not the case. And the Polar heart rate monitor confirms this. But I love it anyway because it helps me make the most of my workout and the EnergyPointer feature lets me know when exercise shifts from fat burning to fitness improvement. I can't recommend it enough. It's everything I hoped and dreamed it would be. Now if I could just figure out how to burn 1500 calories during my morning run.
You have a chance to win your very own Polar FT7 Heart Rate Monitor. All you have to do is leave a comment letting me know if you track how many calories you burn when you work out. And don't forget to take the fitness pledge:
Here are the official rules.
No duplicate comments.
You may receive (2) total entries by selecting from the following entry methods: a) Leave a comment in response to the sweepstakes prompt on this post
b) Tweet about this promotion and leave the URL to that tweet in a comment on this post
c) Blog about this promotion and leave the URL to that post in a comment on this post
d) For those with no Twitter or blog, read the official rules to learn about an alternate form of entry.
The sweepstakes runs from 2/8 – 2/14.
This giveaway is open to US Residents age 18 or older. Winners will be selected via random draw, and will be notified by e-mail. You have 72 hours to get back to me, otherwise a new winner will be selected.
The Official Rules are available here.
Also be sure to visit the Inspiration to Fitness page on BlogHer.com where you can read other bloggers' reviews, get great fitness tips and find more chances to win! You can also click on the Best Buy image at the top of my blog to view a calendar of all the Inspiration to Fitness content. Good luck!
Best Buy does not sponsor, endorse, approve, or have any responsibility for this promotion.


Copyright secured by Digiprove © 2012