The other day I was in this kids' clothing shop by our house and I saw the most darling top for Caroline. But it was a little more than I'd usually spend on someone who tends to use their clothing as a napkin on a regular basis.
A few days went by and I couldn't quit thinking about it. I mean, I loved it so much that I nearly tried on a girls' size 14 to see if it might fit. And I finally decided that Caroline needed to have it because it's Fiesta time in San Antonio and a girl needs a bright new top.
So yesterday after school we ran by there for her to see it and, I assumed, adore it and beg me to get it for her. We walked in and I showed her the top, waited for the angels to sing a chorus of Hallelujah while a bright light shone done from heaven.
Caroline looked at it for a minute and, I KID YOU NOT, said, "Meh" with a shrug of her shoulders. And a part of me died inside.
I suspect she sensed my enthusiasm about the whole thing.
Here are a few other cute things I've seen this week:
This dress comes in a bunch of different colors and it's only $19.94 or some tricky price point in that vicinity Old Navy likes to use to make you feel like it's a deal because it's less than $20. I think it would be great to throw on as a dress or as a coverup over a swimsuit.
I think this is kind of funky and fun. I'm sure Caroline would disagree.
3. smocked-gauze mexicali skirt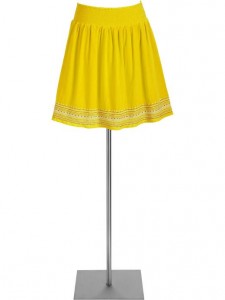 Apparently Old Navy is big into the word "Mexicali" right now. Which I assume is a cross between Mexico and California. And means that this skirt would be the perfect thing to wear while drinking a margarita during an earthquake.
Anyway, I went there yesterday to see it in person and they didn't have it in our store yet. But it looks really cute.
4. sita clutch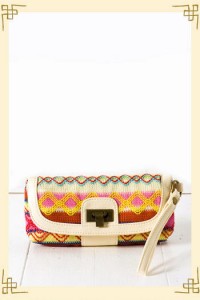 This is a fun little purse for summer if you're not like me and don't feel the need to take the kitchen sink with you everywhere you go.
5. alexa sandal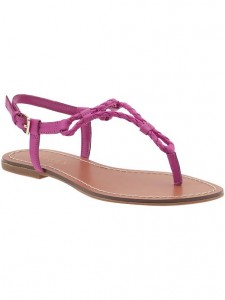 Love this sandal and it comes in several different colors. Including gold.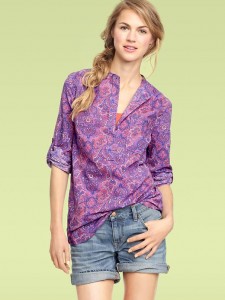 I don't know what's going on at Gap but they have actually had some good stuff lately. I'm a fan of these paisley tunics. They'd be cute with shorts, cuffed jeans, or even as a coverup.
7. chevron stripe kimono sleeve top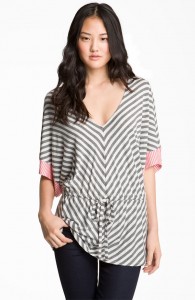 I'm a fan of the chevron stripe these days.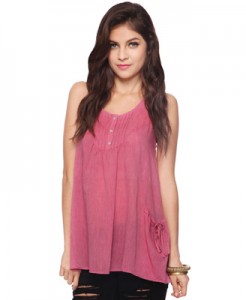 This is a great lightweight top. You'll need something under it because it's kind of sheer but it comes in several colors and would be cute with a lot of different things.
And here are a few outfit ideas I've found on Pinterest this week:
Sometimes just a simple white shirt and a pair of cuffed jeans is perfect. Add in some fun sandals like these or in a color and you've got an outfit.
Source: polyvore.com via Leslie on Pinterest
I realize most of us that aren't Carrie Underwood wouldn't wear those short green shorts. But picture this outfit with some green cropped jeans or some longer shorts or a green skirt. Or imagine doing the whole thing but using a different accent color than green.
(In the interest of full disclosure: I'm about 98.4% sure Carrie Underwood doesn't read my blog.)
Source: polyvore.com via Pilar on Pinterest
Okay, so I don't like the holey, tattered jeans. And I don't really like that purse. But I do like the yellow chevron top with the turquoise pendant and bracelet to accessorize. Don't be afraid of throwing color in when you get a chance.
Source: polyvore.com via Lisa on Pinterest
This is the kind of outfit I like to imagine myself wearing when we go out to dinner at the beach. But the reality is I'm not an elegant beach person. I'm a cut off shorts and t-shirt beach person.
Source: polyvore.com via Heather on Pinterest
This is another outfit where I can say I wouldn't wear shorts that short. But I love the navy with the pink. You could even do a version of this with a pink skirt and a navy t-shirt. It's all about the color combinations.