So I mentioned before I took my brief hiatus last week that my friend and decorator Holly Mathis had come to visit and helped me out with some decorating ideas. And I was ever so grateful because there are honestly things in this house that haven't been moved or touched in almost nine years.
Which is what I explained to Holly before she even walked in the door because you know what's stressful? Having a decorator come to your house to view all your decor. So I felt the need to over-explain that we'd renovated our house nine years ago and then brought Caroline home from the hospital two weeks after we'd moved back in and I've essentially been in survival mode ever since that time.
And the thing is, I used to love decorating. I'd spend hours browsing through furniture stores and even kept a little binder full of house ideas that I'd pulled from pages of Southern Living and Better Homes and Garden.
(Can we discuss how obsolete binders are now that there's Pinterest? If I want to feel really bad about the current state of my decor or my craft abilities or the fact that I don't make Caroline's lunch into cute shapes, I need look no further than my Pinterest boards.)
But then I had a child and went without sleep for three years. Then I quit my job and it seemed more important to eat than to have a pretty living room. And then one day I looked up and realized I still had fake ivy on top of the china cabinet in my dining room and it was time for an intervention.
Thank God for Holly. She and I had talked about a few ideas over the last year or so, but I just couldn't get it going. I talked a big game but then it was summer and then I had a hangnail and then I had to write a book and so that ivy just sat on top of my china cabinet.
Mocking me.
(True confession. The china cabinet doesn't hold china. It holds six placemats, our wedding album, an envelope full of warranties and instructions for all our appliances, various craft supplies, and the game CatchPhrase.)
(This should be a clue as to my organization skills because, clearly, all those things go together.)
I promise Holly had only been in my house ten minutes before we had fabric picked out for the couch, throw pillows, living room chairs and dining room chairs. It was like Nate Berkus had walked in. But cuter and more fun.
She would walk around with her measuring tape and announce, "You'll need two pillows here. Make them 12 x 30". I didn't even know you could get pillows that are 12 x 30.
So I just typed things furiously into the notes on my phone and bookmarked stuff on my computer while she basically redecorated my entire house in her head. I've never been so happy. Because at some point I became a person who just wants someone to tell me how to get things to look the way I want them and not have to think about it. I have enough stress worrying about Bethenny Frankel and Jason and hoping they can make it work.
And it's not like I can do it all now because to redecorate the whole house would be right over my normal $15 price point. But it gives me a long-term goal. The sad news is it's a lot cheaper to just look at pretty rooms on Pinterest.
Anyway, after Holly and I spent the early afternoon devising a plan (I think we all know that I wasn't devising anything. I was just nodding my head.) we headed to Pier One, Target and World Market to look for a few things. And I was amazed because Holly would walk in each store, scan around and immediately find the two or three things we were looking for.
If I had been alone I would have walked in, spent two hours agonizing over everything, and left with nothing but regret.
We were basically looking for white pottery pieces for the top of my cabinets, some decorative plates, glass canisters and lanterns. Oh, and maybe a lamp. Or anything else that looked interesting.
The plan is to hang a fun assortment of plates on the wall in my dining room. Here's a little bit of what we laid out so far. I need to pick out a few more which probably means Holly is going to have to come back because DECISIONS – not my strong suit.
Holly also suggested that some lanterns might look cute on the mantle. And to spray paint them red. Total madness. But I loved the idea. We found great tall lanterns at Pier One. Then I found spray paint at Home Depot in Colonial Red.
And then P spray painted them for me because he watched me try to do it and informed me I am a complete failure in the spray-painting department. Or maybe I'm a genius because guess who didn't end up with Colonial Red spray paint all over my hands?
They turned out really cute.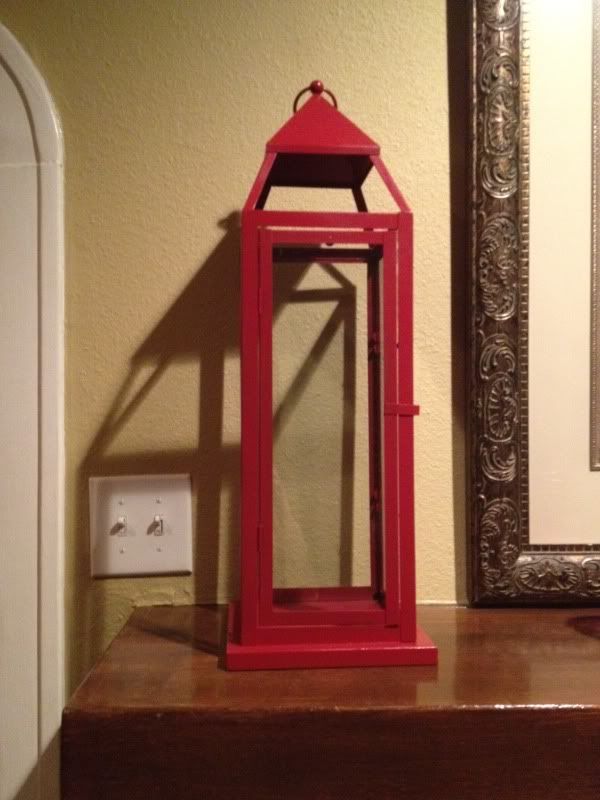 Please disregard that frame and the wall color because all that is about to change since I'm also about to paint the living room and dining room and hallway and guest room just as soon as we hire someone to float and tape all the cracks in this house. Because you know what a drought does to an old house? Ugly, unspeakable things.
So the walls will eventually be a soft gray and there will be built-ins in the living room to hold the T.V. even though it looks super classy propped up on our church pew right now. Jesus and television, my two loves together.
Maybe I'll put some fake ivy on top of the T.V. in the meantime.
Anyway, it will be a work in progress over the next few months but I'll keep you updated on everything as we go and maybe I'll even get fancy and have before and after photos.
In the meantime, I'm motivated to get rid of all the junk in this house and am cleaning out every room from top to bottom.
But I'll save that post for tomorrow because, seriously, this is already over 1,000 words and you've probably already quit reading by now anyway.
Stay tuned for tomorrow when I will feature the contents of my nightstand. It will be riveting.
Copyright secured by Digiprove © 2012