So I thought I'd give y'all an update about the progress I've made on the house in the last few weeks because I think at least ten percent of you might care and it's not like I have anything else exciting going on here right now.
Here's what I've done so far:
Not much.
Actually that's not totally true. Right after Holly left I was motivated. With a capital M. And not even fake motivated like I sometimes pretend to be to make everyone around me feel good, but really and truly excited and ready to get some things done. I painted those lanterns red, ordered some word art for above the mantle, and bought some fabric for the couch and throw pillows.
I'm still waiting on the word art to show up. Meanwhile, the fabric is lying on the floor in the playroom, rolled up and covered in plastic, just waiting to be dropped off at the upholsterers. But I'm not sure when that's going to happen because did I mention that our dog, Scout, had to spend five days at the hospital so we can enjoy him for eight more months?
And did I also mention that P's twelve-year-old truck finally wore out and we had to buy a new one?
Being a grown up is super awesome.
We also got a few bids on fixing all the cracks in our walls (Thank you, Texas drought!) but decided the first bid seemed too high and then our second guy, Lupe, never called us back with his estimate and I'm not really excited about hiring someone who isn't even motivated enough to call us back.
And so basically my home improvement project is the complete opposite of all those shows on HGTV where they have almost immediate results.
At least it was until yesterday.
When Holly came to visit, she made a ton of suggestions. And I loved all of them. She just has the best taste and can envision things that would take me years to figure out.
Who am I kidding? I'd never figure them out. I'd put ivy on top of my china cabinet and call it a day.
One of the things she suggested was to paint the base of the island in my kitchen a charcoal gray color. And I thought that was a great idea. I've wanted it to be painted since practically the day we got it and I realized that what I thought was going to be a gorgeous, dark wood stain looked more like cheap laminate. My problem was with the realities that actually come with painting a large piece of furniture.
That is to say, IT IS HARD.
The last piece of furniture I painted was the cabinet in Caroline's bathroom and that was back in 2002 before she even existed. And I had to use oil based paint. And primer. And I still think I have black paint on my hands from that experience and lost countless brain cells. I'd paint a few drawers and then go to the kitchen and eat a pan of brownies.
It was terrible.
And so I haven't been motivated to paint anything else. I've been motivated to hire someone to paint, but that requires money and taking the time to find someone who knows what they're doing.
So when Holly suggested that the island needed to be painted, I agreed as I mentally put it WAY DOWN on my list of priorities because in what deluded world am I going to exert that much time and effort?
Here's the island since I like to provide visual aids:
This is the prettiest side because the doors are a good wood finish.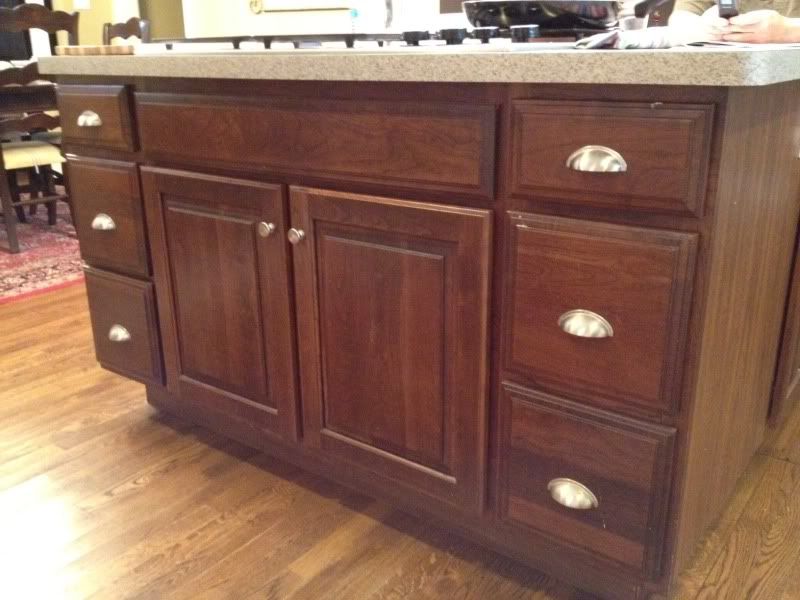 But this is one of the sides that always bugged me. The plain flat surface looked cheap.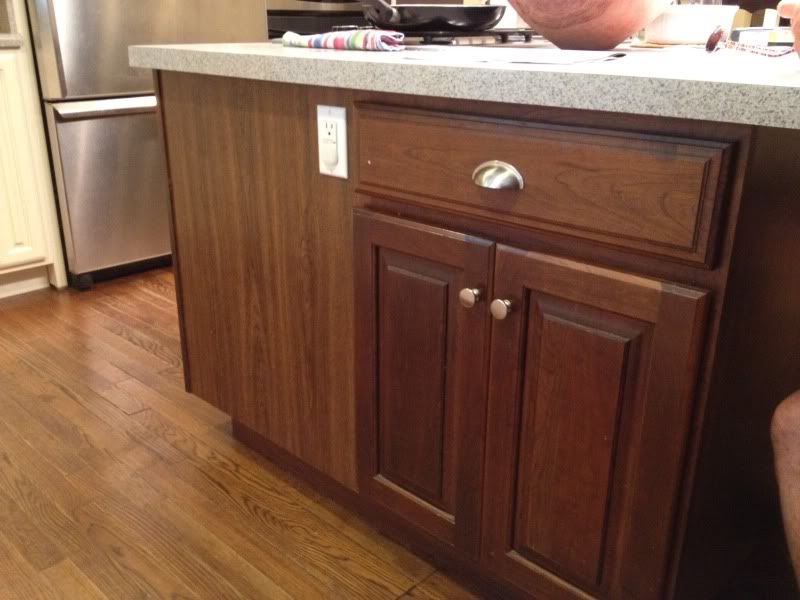 And here's a picture of it featuring P's elbow floating mysteriously in mid-air.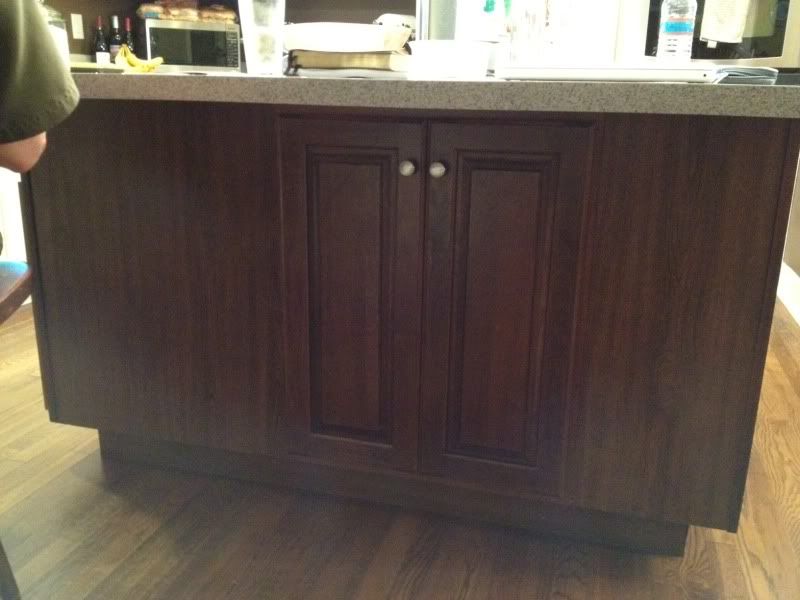 Then Holly posted about my house project on her blog and mentioned the island. And a nice lady named Jennifer sent me an email and told me she owns a store in San Antonio called Woodley Cottage Finds and Design that carries a brand of paint specifically for furniture named Annie Sloan CHALK PAINT. She said she would love to supply me with the paints, brushes and wax I needed to paint the island. And, not only that, would come to my house and help me do it.
SHUT UP.
But I'd never heard of Annie Sloan CHALK PAINT and was a little concerned this might all be an elaborate ruse by a ring of thieves to gain access to my home. I forwarded the email to Holly and said, "What do you think about this?"
And I received an email back from her that said, "YESSSSSSS!!!!!! DO IT!!!!! IT'S AWESOME PAINT!!!!!"
It took me a while but I eventually figured out that meant she thought it was a good idea. Then I looked a the Annie Sloan website and saw all the gorgeous colors.
I emailed Jennifer back and told her that sounded great and figured I didn't really care if she stole my T.V. as long as she painted my island before she left. We agreed that Monday was a good day for both of us and she said she'd be at my house by 9:00 a.m.
Which meant that I spent Sunday afternoon cleaning the island so it would be free of grease and dust. It was a very humbling experience that made me reevaluate my cleaning skills. But, finally, it appeared to be ready for paint.
Jennifer showed up and we got to work almost immediately. I was prepared to lay out all manner of tarps and newspaper to help with the mess, but once she showed me the paint I realized that wouldn't be much of an issue. Annie Sloan CHALK PAINT is water-based so you can totally drip it on your wood floors and wipe it up with a paper towel.
You can even do this a hundred times. I know because that's how many times I did it.
But it was so easy. There was no need for primer and oil-based paint and all that other stuff I read about that stresses me out and makes me decide that everything is a color I can live with because painting would kill me. It's all just one paint that goes on easily and dries quickly. There is no prep work required.
I repeat, there is NO PREP WORK REQUIRED.
Are those angels singing?
We'd already finished with the first coat when P came home to make sure I hadn't been taken captive by a mass murderer posing as a kind boutique owner specializing in faux finishes and various painting techniques.
Here it is after one coat.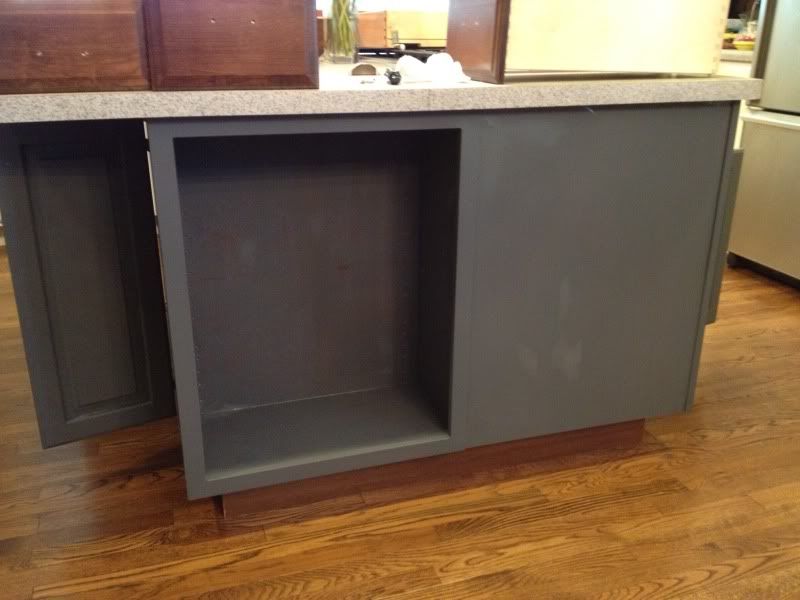 And here it is after two coats, but before the wax.
And here is the general wreck that was my kitchen.
Anyway, we finished the whole thing (two coats!) in just a couple of hours and then there's a wax that seals it all in and makes it like the Superman of furniture. I would have made Mr. Miyagi proud yesterday. You have never seen someone WAX ON, WAX OFF like I did. My left arm is totally in shape for summer now.
Best of all, the island looks great. It's not totally finished because I still need to wax one little section, but ran out of time and had to pick Caroline up from school and whip up a delicious hot dog dinner. BEST COOK IN THE UNIVERSE.
Here's the finished island after I put the hardware back on.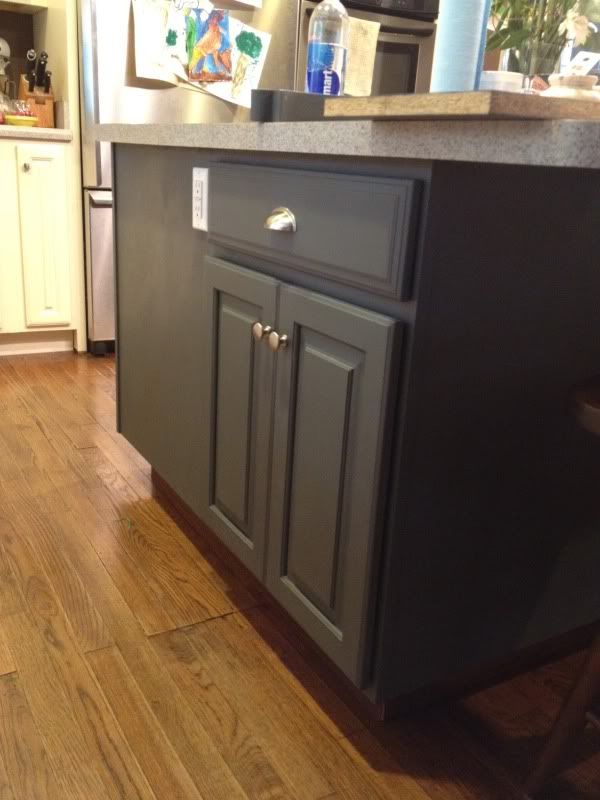 And my favorite view.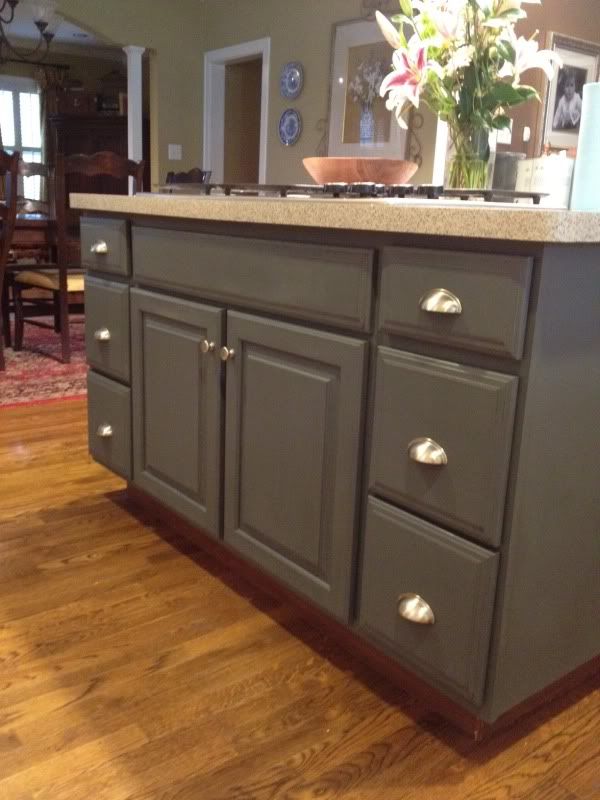 I wanted to show you the whole kitchen and how great it looks, but I still have a few shelves I need to finish waxing and put back in and I bought some feet for the island that P is going to help me install. Plus, the contents of all my drawers are scattered from hell to breakfast.
But tomorrow I'm finishing the island and painting my barstools and putting the kitchen back together. By myself. Which ought to be an indicator of how easy Annie Sloan CHALK PAINT is to use.
If you're in San Antonio, you should totally check out Woodley Cottage. Jennifer offers workshops that teach you how to paint, distress, crackle and wax furniture. I honestly learned so much yesterday that I may paint anything that stands still long enough. It will be like that time in fifth grade I got my own label maker, but with paint.
And if you want to find a store that sells Annie Sloan Chalk paint near you, check out all their stockist locations.
Copyright secured by Digiprove © 2012