Gulley and I packed up the car and the kids on Tuesday morning and headed out on the open road for our annual summer road trip. Which is why I didn't post anything last night.
Well, that and the fact that the hotel we stayed in charged $15.00 for wi-fi access and I decided that was absurd. I debated trying to write a post using my phone but, good grief, my thumbs can't handle that kind of word count and stress.
Anyway, we left San Antonio at 10:30 on Tuesday morning. Gulley and the boys showed up at the house with chicken biscuits from Chick-fil-A because there is no point in starting off a trip without the proper nutrition.
In the weeks leading up to the trip, we debated and analyzed possible road trip destinations and couldn't figure out the best plan of action. But then one night we were eating dinner with our friend, Leslie, and she mentioned the Flying L Ranch in Bandera. She said they had a cute water park with a lazy river that might be fun.
We looked it up on the google and decided it sounded fun. We also noticed they offered horseback riding but you know what sounds miserable in 106 degree heat? Being on a horse.
And so we told the kids about the water portion of the ranch, but neglected to mention the horseback riding because why would you ever let them know about that? It's a recipe for heat and smells and not being able to walk the next day.
The drive to Bandera was only about an hour and, when we pulled up to the Flying L Ranch, I was concerned because all I saw was a small, rectangular pool with a small slide. However, it seemed unlikely that Leslie would suggest we drive an hour for a tiny pool with nary a river in sight. And as we turned the corner, I realized she had given us the best suggestion ever as I saw a wave pool, a river, and a giant slide.
It was perfect.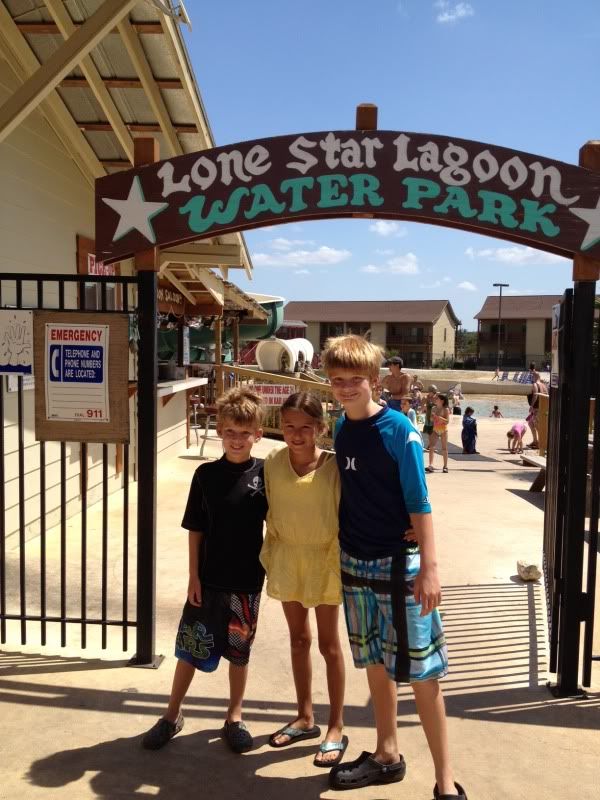 We sunscreened the kids, Gulley and I found chairs at the edge of the wave pool, and we spent the next five hours floating and eating and listening to the classic country music being piped in over the loudspeakers. We sang along to I Was Country When Country Wasn't Cool and Gulley reminisced about the Halloween she dressed up as Barbara Mandrell. Which isn't to be confused with the time she sang Delta Dawn in her fifth grade school program.
Eventually we'd all had enough of the sun and the water, not to mention that Caroline had a blister on her toe that she wouldn't quit talking about, and so we got back in the car and began our journey to Austin where we planned to spend the night.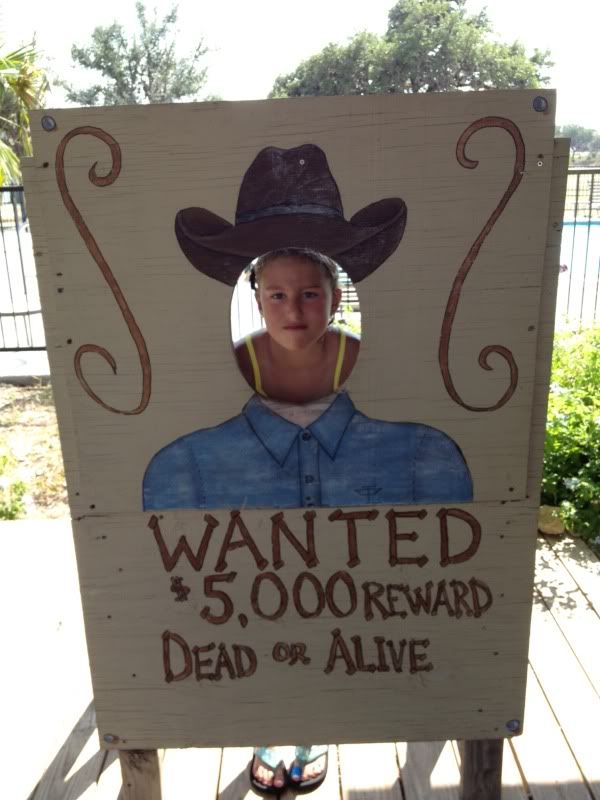 We stopped at Nutty Brown Cafe on our way into town to eat dinner and then arrived at the hotel just in time to watch the balance beam and floor routines. And I fell even more in love with Bela Karolyi as he stood in the stands and waved his hands to make sure they submitted an inquiry for Aly Raisman. Way to take charge, Bela.
And here's an observation from the road. Our kids don't think we're as smart as they used to think we were. They know A LOT for people who can't even drive. They have A LOT of opinions. And they're LOUD. We've spent more than several minutes informing them that we are in charge and that we know how to get places and that we're NOT GOING TO EAT AT APPLEBEE'S in Austin just because they've decided they like chain restaurants with questionable food.
Really, it's Caroline and Jackson that are the worst offenders. But even Will got in on the action Tuesday night while we were watching the Olympics. The announcers introduced one of the competitors and Will said, "OH, I HATE AUSTRIANS."
What? You hate Austrians?
My first thought was that perhaps he'd had a bad experience with The Sound of Music. Because that's really the extent of my knowledge of Austria. And I've never heard anyone express a dislike of Austrians so I couldn't really imagine what the problem might be.
Gulley said, "What on earth? Why do you hate Austrians?"
"Well because their country is filled with snakes and poisonous creatures."
"First of all, I think you're thinking of Australia. And, second of all, it's a great place and you don't need to hate anyone or anything. Especially when you don't know anything about it.", Gulley replied.
"Well it's also where they send the people from Mexico when they're bad."
And that's why we don't really need to listen to anyone under the age of ten. Especially on matters of geography or restaurant choices.
Because then we might all be eating at Applebees and have unfounded issues with Australia.
And that's really no good for anyone.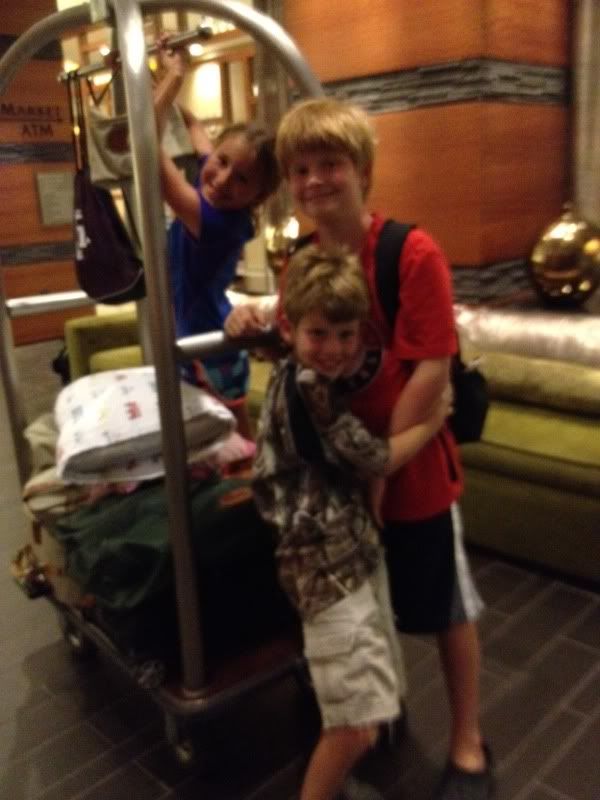 (Please enjoy my stellar photography.)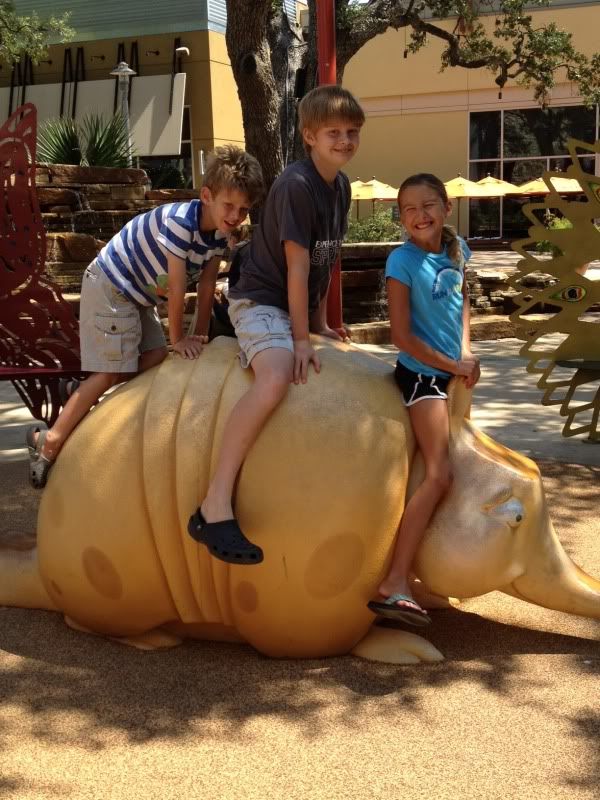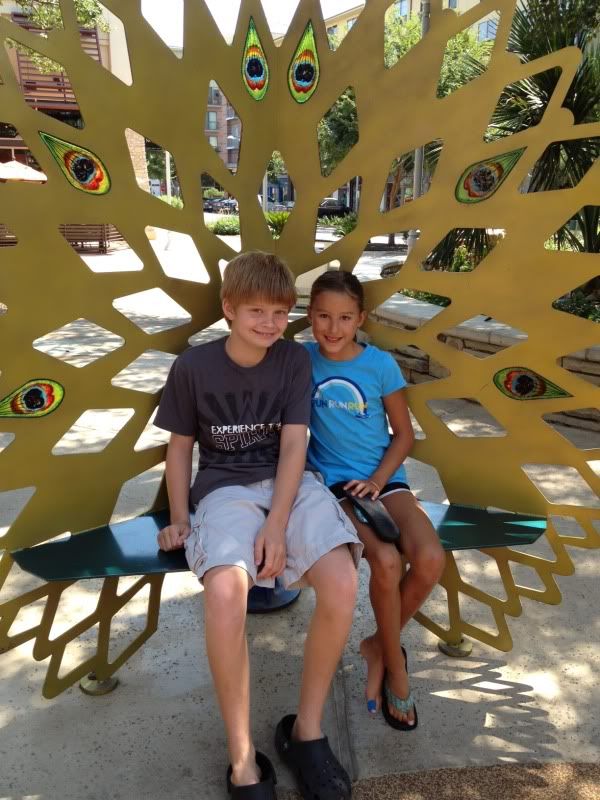 We spent the night at a hotel in Austin and spent yesterday at the Bob Bullock Museum of Texas History which totally exceeded my expectations. And also confirmed that I didn't pay much attention in my seventh grade Texas History class. I'm sure it's because I had bigger things to worry about than Santa Anna, things like what to wear with my sweet new pinstriped Guess jeans and if my purple eyeshadow was the right shade to wear with my new purple Polo because everyone knows your eye makeup and clothes need to match.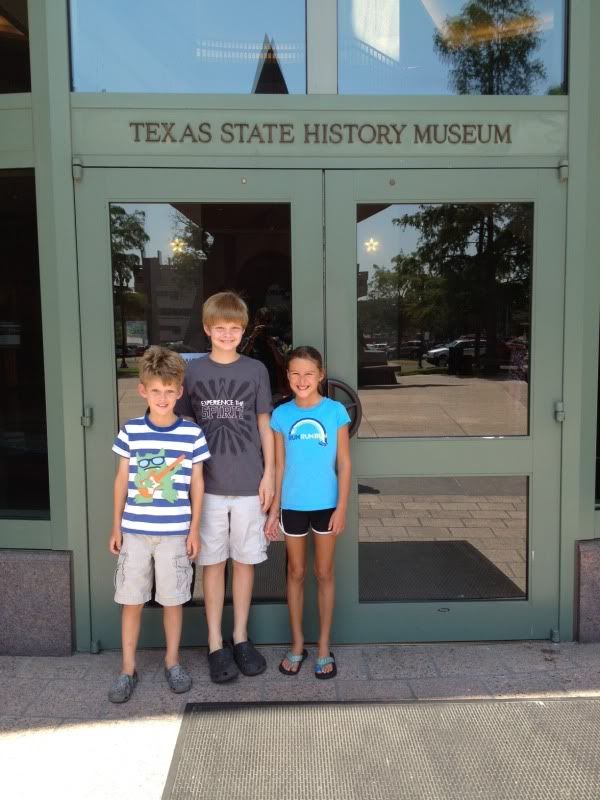 If the goal of the museum is to make people feel an even deeper sense of pride for our state, then it succeeded because Gulley and I both barely left there without buying t-shirts featuring a large cannon with "Come and Take It" written on the front.
After all that history and learning, we were ready to eat and decided the Hula Hut was the perfect spot because we knew the kids would love eating on the water. Sure enough, it was a total score because our table was right next to a real live swan and six turtles.
(They were in the water below us. Not seated next to us. I felt like that was unclear.)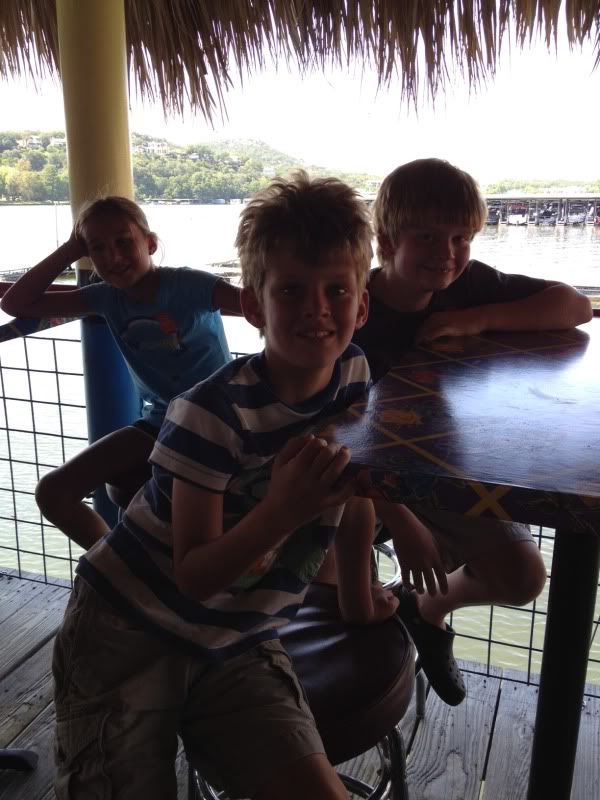 And now we've made our way to Bryan where I'm sure there is more fun in store. Along with more "facts" and "restaurant" suggestions from the kids.
I'm also thinking tomorrow I might put on a pair of Caroline's swim suit bottoms and re-enact Misty May and Kerri Walsh's gold medal beach volleyball match.
But not really because that sounds even worse than riding a horse in 106 degree weather.
Or visiting Austria.
Copyright secured by Digiprove © 2012