I know you've all spent the weekend wondering how we spent our Labor Day weekend here, but I'm going to save that for tomorrow.
(Please tell me you can feel the sarcasm in the previous sentence.)
Today there are two books I want to tell you about because the authors are both near and dear to my heart. Not to mention that they are both incredible at what they do.
The first is Perfectly Unique: Praising God from Head to Foot by Annie Downs.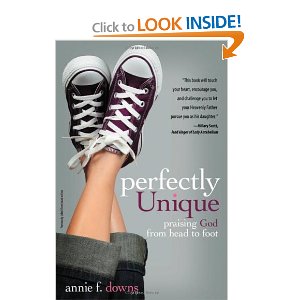 This one is so special to me because I first met Annie at a writing conference almost five years ago. And she had just quit her teaching job and was about to move to Nashville to pursue her dream of being a writer. Which made her the bravest person I know. Plus, she was in her twenties at the time and I have a special place in my heart for girls in their twenties trying to find their way.
Anyway, that conference didn't really go that well for either of us. I mean, we had people who acted mildly interested in the books we were thinking about writing but no one handed us a contract or anything. In fact, one lady who shall remain nameless told me no one would really be interested in my "cute stories".
Thank you. That was my heart you just crushed.
But Annie kept pursuing her dream and never gave up and I've felt like a proud big sister watching her sign a contract with Zondervan and get Perfectly Unique published.
It's the perfect book to buy for a young pre-teen/teenage girl in your life who might be struggling to love herself and the way God made her. (And isn't that all girls that age?) Annie has the unique gift of being vulnerable, funny and relatable all at the same time. You will love her.
The second book is Mended: Pieces of A Life Made Whole by Angie Smith. Angie is one of the most gifted writers I've ever read. Seriously. I read the things she writes and pretty much decide that I should never write again because I'll never say it as great as she does. And she has the ability to make you laugh and cry and think. Sometimes all at the same time.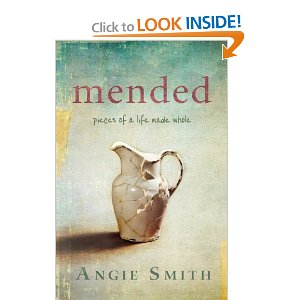 I love this description of the book. "Mended takes you on a journey to show how faith lived in the regular events of daily life is all that it takes to be a part of creating God's picture of redemption in your life and those around you. Your life does make a difference—because of how He is magnified in the cracks."
The stories in this book will change you. I know that to be true because God has used Angie's words to show me so much about myself, good and bad. And in honor of Angie's new book her publisher is going to give one of you the opportunity for a full day at the spa for you and a friend just for sharing your story. Click over and read Angie's latest post for all the details.
(Make sure you read the whole post and not just about the contest because the post is amazing. I cried. And I laughed. But mainly I cried because I related so much.)
3. Okay, I didn't know about this one until I checked twitter this morning, but now I think you need to know about it too.
Emily Freeman has a new book out that's also for teenage girls. It's called Graceful: Letting Go of Your Try Hard Life.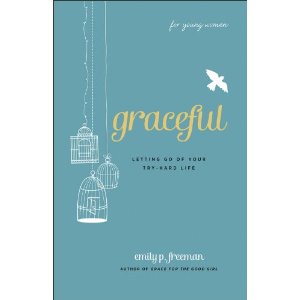 It's a book about the girl who is trying so hard to be perfect and do everything right that she's missing the joy and freedom that Christ intends for us to have. And Emily has the gift of speaking teen girl. I plan to buy Emily's book and Annie's book and give them to Caroline to read in about a year.
So there you go. Three great ways to add to your book collection on a Tuesday.
Tomorrow I'll be back with a report about mascara and other important news.
Copyright secured by Digiprove © 2012