So yesterday morning I had to be up bright and early to drive to Kerrville. I actually didn't have to get up any earlier than normal, but I did feel like I needed to put a little more effort into my appearance than I usually do for school drop-off. Which is to say that I didn't want to show up wearing my pajamas.
P left to walk Caroline to school while I was finishing getting ready and the last thing he said to me was, "Don't lock the door on your way out. I'm not bringing my keys."
And my brain totally computed that.
Until I was racing out the door with my Bible and my notebook and locked the door behind me.
My phone rang about thirty minutes later and P asked, "Do you remember that part of the morning where I told you not to lock the door?"
Dang.
Fortunately my mother-in-law came to the rescue and was able to get the door unlocked even though we'd decided a few weeks ago that her key didn't work anymore for some reason.
And that's how my day started. Not stressful at all. Especially when you're already facing the prospect of public-speaking which is one of those things I do but not without developing a mild case of hives first.
Anyway, I'm going to blame it on the football hangover I had from the weekend.
The game was a rough one. It all started so well and then the second half was just disappointing and caused me to stress eat my weight in sugar cookies shaped like footballs.
But I'm not going to focus on the game because there was so much more to the weekend.
Last Sunday, Jen (my college roommate who was diagnosed with breast cancer in February) texted Gulley and me to see if we might be up for meeting in College Station for the weekend. Her husband was leaving to go on a fishing trip and it was a great time for her to get out of town with her baby, Lincoln, because everyone knows that it's no fun being home alone with a fifteen month old baby when you can drive a few hours and have people that will spoil him rotten and possibly let you sleep in.
It worked out because Gulley and her family were already planning on making the trip because they had tickets to the game. And it doesn't really take more than whispering the words, "Do you want to go to Bryan?" for me to start packing a suitcase, no questions asked.
And so on Friday afternoon, Caroline and I hopped in the car with Gulley, Jon and their boys to make the trip. Fortunately I'd stopped at HEB that day to load up on the necessary supplies.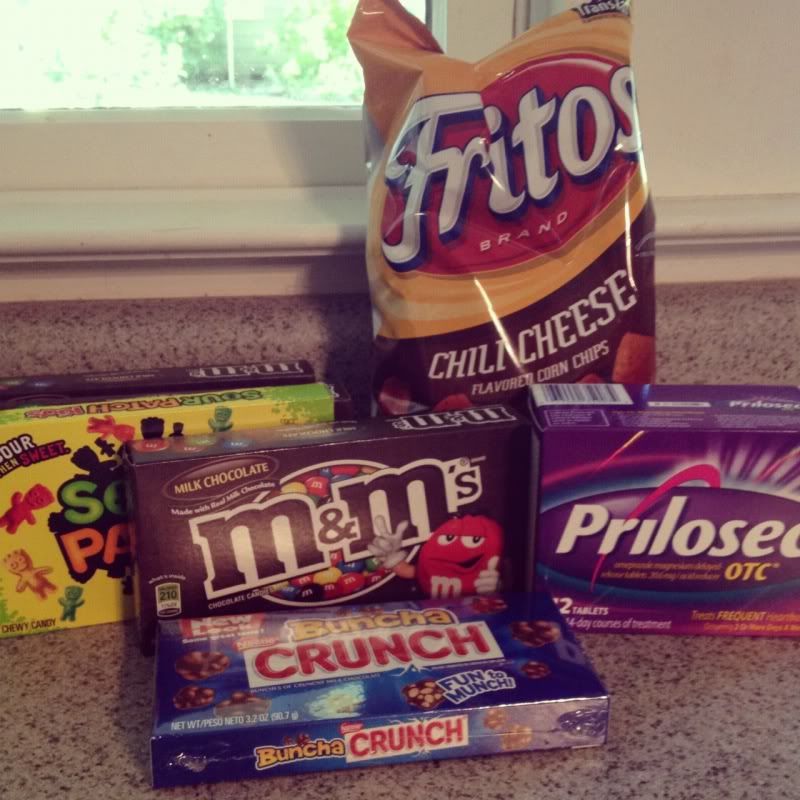 This is what that looks like when you're over forty.
Listen. You can laugh all you want but those chili cheese Fritos will come back to haunt you.
After three hours in the car (Three hours that I had to mind over matter getting carsick because I don't do well in the backseat. Or the front seat. Or really any seat that isn't me driving.) we finally arrived at Honey and Big's house and Jen and Lincoln were already there. It's been a rough month of surgery and doctor's reports for Jen, and Gulley and I were both so happy to finally hug her in person and squeeze that baby's chunky thighs.
Not only that, Nena decided to bust out of her assisted living home for the evening and join in the festivities.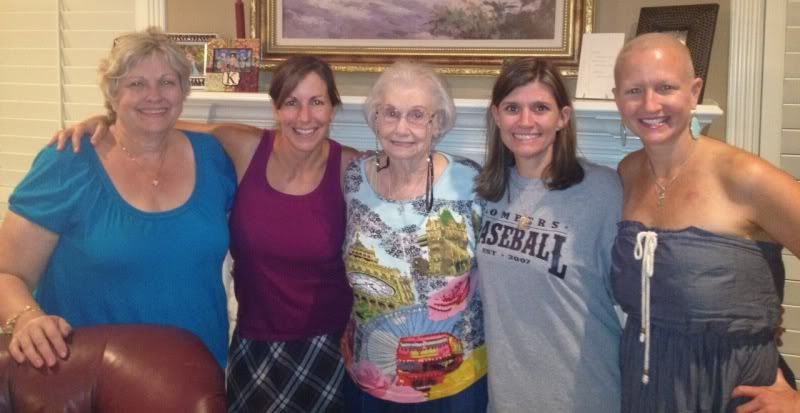 And we sat around the table and laughed and talked. Jen told Nena the story of how she and Scott got engaged after over a year of being broken up and I can guarantee by the light in Nena's eyes that there isn't a person in her universe who didn't know that story by Saturday afternoon.
Gulley, Jen and I stayed up visiting for so long that we might as well have gone to Midnight Yell Practice even though we'd decided earlier we were too tired. But midnight came and went. And then 1:00 a.m. came and went. Finally, just shy of 2:00, we decided we better pack it in so we wouldn't be too tired for the Gameday festivities.
Saturday morning dawned with kolaches and chocolate donuts from Shipleys. And Lincoln was up bright and early the way babies tend to do. But Honey got him out of bed and, by the time Jen woke up, Linc was already enjoying his first chocolate donut. And, clearly he's a genius because it took him three seconds to realize it was far superior to the grapes he'd been eating earlier.
After we lounged around for an appropriate amount of time, we got dressed and headed to campus for all the pre-game activities. Gulley's husband, Jon, had taken the boys out earlier to see Lee Corso and the ESPN crew, but Caroline decided to hang with the girls and appointed herself chief caretaker of Lincoln.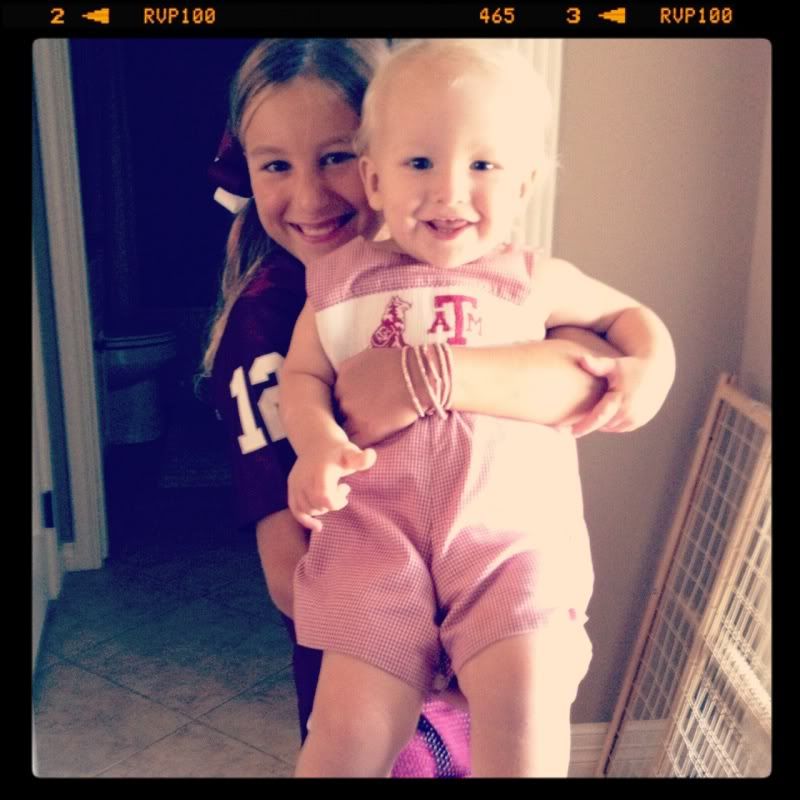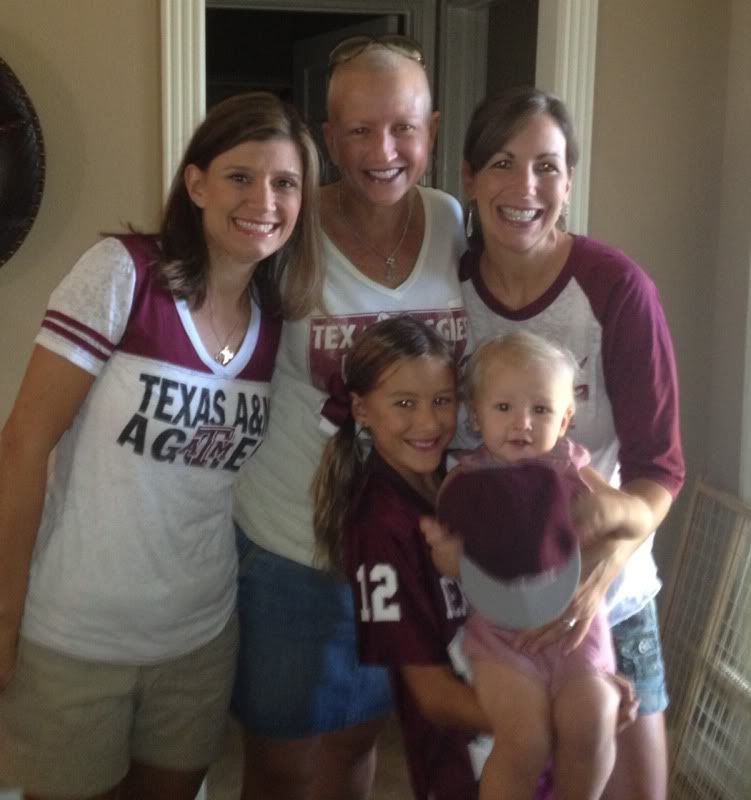 It's not often she gets to be the boss of someone. And she took her role very seriously.
We walked over to the Gameday set.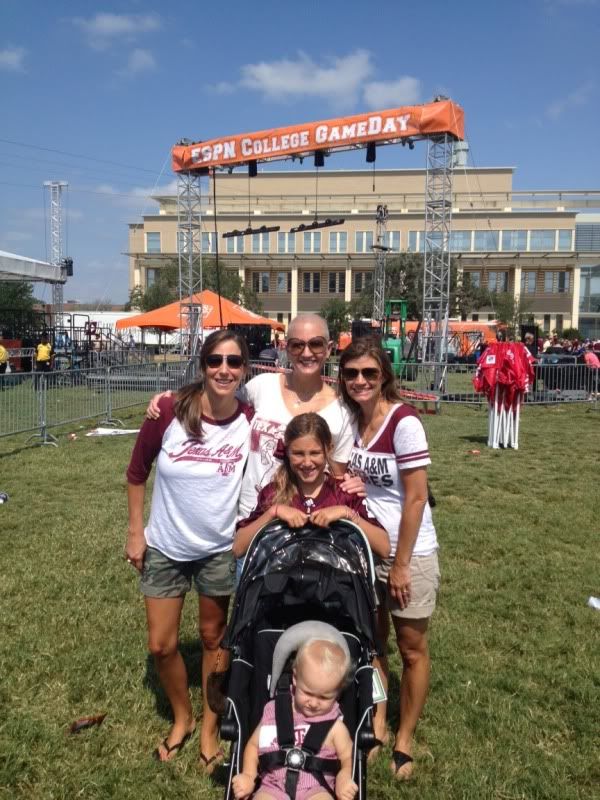 And then we made our way through the newly renovated MSC until we arrived to see the band line up and the football team walk to Kyle Field.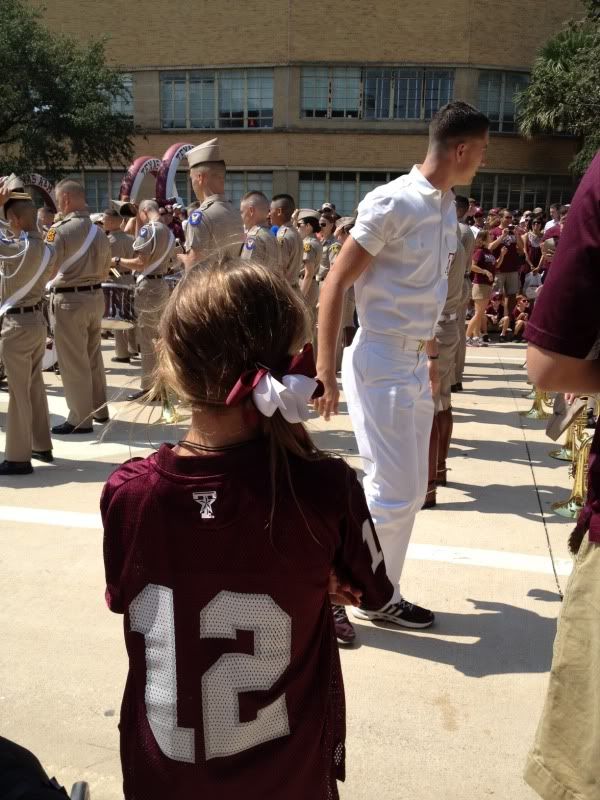 We even had our very own yell leader in front of us.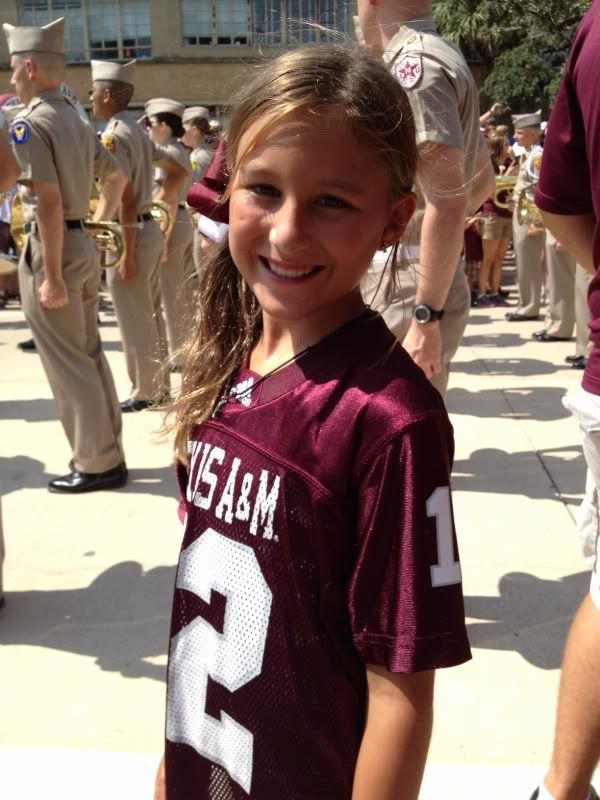 And this is when Caroline told me to quit taking her picture. It was a tender moment.
Finally, we were about to pass out from the heat because the promised cold front wasn't so much a cold front as it was a "the humidity is gone so now it just feels like an oven" front. So we made one last stop to take our picture by the Aggie ring and then headed back to the car so we had time to stop for large drinks at Sonic before kickoff.
Did I mention the first half was amazing? Because it was. It was amazing.
I'm choosing to focus on that.
After the game we picked up barbecue for dinner and then our other college roommate, Tiff, stopped by to visit and see Jen. We were all inseparable in college but life has gotten so busy with marriage and babies and, well, life, that it had been years since we'd all been together.
Which is why Gulley insisted we take a picture even though we were all sans makeup and in our pajamas.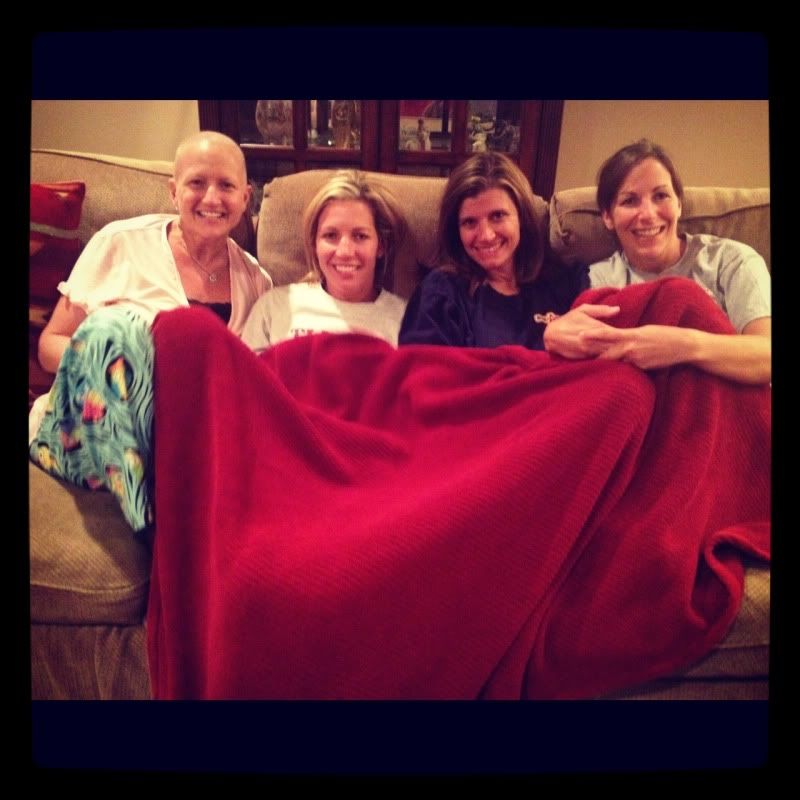 (P asked me if I'm flashing a gang sign in this picture. Because he is a comedian. I don't know what I'm doing with my hands. Or why I'm hogging the blanket.)
This is the second picture we took. I complained that my bangs looked terrible in the first one and Gulley didn't like her hair all pulled back and then Jen trumped us both by reminding us that she's bald. And then we laughed until we cried because in what surreal universe does one of us have cancer?
Over twenty years ago the four of us spent countless hours at Honey and Big's house. We baked cookies and did laundry and ate meals and cried over breakups. We laughed and loved and laid the foundation for friendships that have withstood the test of time and distance.
And as we sat huddled on that couch together on Saturday night it was like no time had passed at all. We were just there, all together, enjoying every minute we had until it was time for Tiff to pick up her teenage daughter from a party which brought us to the astonishing realization that we're old enough to have teenagers.
The whole thing was just a gift. An indescribable gift. I have been blessed with friends who have humbled me and inspired me and encouraged me for twenty plus years.
The next morning Jen left early because she had to get back to Dallas before driving to Houston early Monday morning to go to M.D. Anderson. We hugged goodbye and kissed the baby and told her to keep us up to date on everything. And then we cried as she drove away because the weekend was over to soon and we just want her to be better and she is so brave even though she'll read this and hate me for calling her brave and probably text me to tell me that she's not that brave and she's just doing what the doctors are telling her to do.
Eventually, Gulley and I got all our stuff packed up and the kids loaded in the car so we could make the drive back to San Antonio. She and I sat in the back seat while Jon drove and Jackson sat in the front seat beside him. Jackson had the iPod and decided he was our DJ for the trip. And as we pulled out of College Station, he put on Chris Tomlin singing How Great is Our God.
Gulley and I both felt the tears come and she grabbed my hand and held it as we listened to:
Name above all names
You are worthy of our praise
My heart will sing
How great is our God
I know at that moment we were both overwhelmed with gratitude for a weekend full of priceless memories. The whole thing was just a gift.
And then Jackson put on Thunderstruck by AC/DC.
Which was, needless to say, incredibly soothing and also our entrance back into reality.
Copyright secured by Digiprove © 2012