Well P is gone until later tonight and I have to make this quick because I am in need of some uninterrupted television time that doesn't involve The Outdoor Channel. The backlog of shows on my DVR right now is shameful. If someone walked in and looked at my DVR they might get the impression that I don't love T.V. at all. And they would be so wrong.
So I plan to start with Parenthood and end with Flipping Out and perhaps catch up on a little Survivor.
Goals are good.
1. I'm going to tell y'all why I love you so much. Because I wrote a post yesterday about the grocery store being rearranged and you all sympathized with me. But what several of you chose to focus on was the gel I mentioned that makes your eyebrows grow.
You are my people.
The great irony is I spent the first part of my life with eyebrows aplenty. As evidenced by this picture taken my senior year of high school.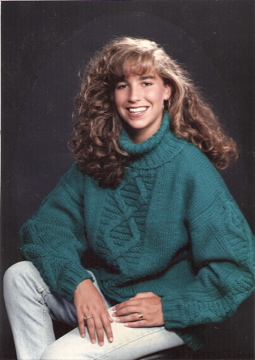 That girl was unfamiliar with tweezers. However, she was very familiar with using two full sets of hot rollers in her hair each morning.
But I discovered the art of plucking my eyebrows sometime around the mid-90s (about ten years too late) and apparently I grew a little overzealous. That's how I ended up at an eyebrow specialist who recommended this eyebrow gel to help my eyebrows fill in a little. It's called Talika Eyebrow Lipocils.
And while I do have to admit that my eyebrows look healthier than ever, I would never actually purchase this product again because, seriously? However, if you do need eyebrow assistance, it seems to work.
Have I ever mentioned I am a sucker for a beauty product? And that I tend to get caught up in the moment?
2. I feel so awkward mentioning stuff like this but I'm going to tell you anyway because after admitting I purchased eyebrow gel it just seems like it's okay.
I'm speaking at a brunch at Wayside Chapel in San Antonio on Saturday, October 6 from 9-12. For more information or to register, you can click on their registration page.
Did I mention this is my mother-in-law's church? No pressure there.
At least my eyebrows will look good.
3. Yesterday I was helping Caroline with her spelling words which is a weekly battle. I know you want to recommend Spelling City right now and I appreciate it, but even that didn't help us. And it's hard for me because I'm an excellent speller. I don't want to brag but I was in the fifth grade spelling bee and only lost because I couldn't spell "hobgoblin" and that's kind of a stupid word anyway.
I have to claim my academic accomplishments where I can because I am a person who graduated from college while on scholastic probation. Also, I had to google "types of quadrilaterals" the other day to help Caroline with her homework.
My point is that I can help with spelling. But as we went over the words and she sighed her deep sighs, she finally looked at me and said, "When am I ever going to use this again?"
How about every day for the rest of your life?
She just can't find out about spellcheck or I'm ruined.
That's it for today. See y'all tomorrow for Fashion Friday.
There's going to be another giveaway. It's complete madness.
Copyright secured by Digiprove © 2012