I just want you to know – before I get into a big long, possibly boring summary of our weekend – that I have a stomachache at the moment. Not because of some type of virus, but because I ate a big piece of chocolate sheet cake even when I knew I was still full from dinner.
Why did I do that?
In hindsight, I should have skipped dinner altogether and just eaten the chocolate cake because that's all I really wanted in the first place. As evidenced by the fact I asked P if he'd like me to bake a chocolate sheet cake tonight since I still had a little bit of buttermilk left from the one I made last week and I hated for it to go to waste.
Yes. Because a pint of buttermilk costs upwards of .89 cents.
Justification, you are my friend.
It's just about wanting to be a good wife and saving us the heartbreak and possible financial ruin that could come from throwing away perfectly good buttermilk.
Anyway, we had a great weekend here.
On Friday, P and I went to lunch with our friends Lisa, Todd, and Angie. They were in town from Nashville for the Women of Faith Conference and so we decided we needed to expose them to real Mexican food as opposed to the faux Mexican food that you sometimes find on the Riverwalk. We took them to a place we love called Patty's Taco House, home of the mini-puff taco plate that will change your life. And my heart broke for Angie when she revealed she'd never eaten a flour tortilla with butter on it. I don't understand how that's possible.
(Says the girl who made a chocolate cake in the name of not wasting buttermilk.)
After lunch we raced to pick Caroline up from school because they had early dismissal last week and she got out at 1:00. There is really no need for you to know this but I've already typed it and my stomach hurts from the chocolate cake and so I'm just leaving it there.
P and Caroline packed up to head to the ranch for Friday and Saturday because it was the weekend of the biannual shoot-out that P hosts for a group of men at our church known as the Sportsmen. It's basically two days of a bunch of guys bringing their guns and their kids to the ranch and shooting targets and fishing and other generally outdoorsy type things.
Which explains why P sent me this photo late Friday afternoon. Please do not look if you are squeamish and/or wrestling with any sort of snake phobia. Unfortunately, I fit into both of those categories but it was too late for me once I looked.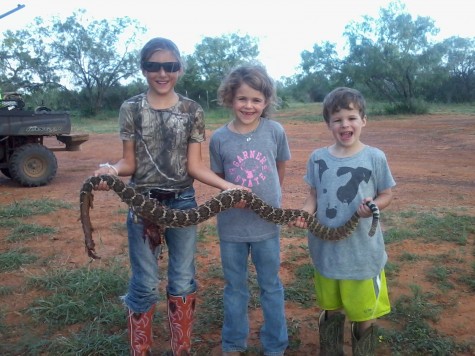 And I think it speaks to my personality that I eventually came around to the thought that it would make a gorgeous belt.
On Friday night, in addition to looking at photos of my baby girl holding a dead snake, I went to the Women of Faith conference. It was fun, but by the time I got home I had a headache so I took some Advil and went to bed. And didn't wake up until 10:00 on Saturday morning.
I'm not going to lie, it was glorious.
I spent the rest of the day in my pajamas watching football. At one point I realized I hadn't eaten anything all day but was too lazy to get out so I called and had a pizza delivered. So essentially I turned into a nineteen-year-old college boy on Saturday. But without the keg and in a home that smells significantly better than a fraternity house.
However, I did have a burst of productivity when it became apparent that the Longhorns were going to stink up the Cotton Bowl which led to me cleaning out my closet. But I'm going to tell you about that tomorrow because it's really a post of its own.
(What I'm omitting is that it's probably a really boring post of its own, but I have to take my blog content where I can desperately find it.)
Eventually I showered and put on a different pair of pajamas than the ones I'd been wearing all day because basic hygiene and all. And then I spent some time on Pinterest, contemplating whether or not a kitchen island countertop made of reclaimed wood is actually practical or just good in theory, while I waited on the Aggie game to start.
Finally, at 8:22 ESPNU finally switched from the already over and dead Vanderbilt vs. Florida game to the A&M vs. La Tech game and I was pleased to see the Aggies had already scored a touchdown in their first possession.
Of course I was sad that I missed it since ESPNU felt like everyone wanted to see the last minute and forty-four seconds of Vandy losing to Florida. But ESPN is on my bad list right now because they've also scheduled this weekend's game against LSU for 11 a.m. Guess what time Caroline's soccer game is? 10:50 a.m.
(Which means I'm going to have to record the game and resist the temptation to check the score even though that never works for me because I have a problem.)
Anyway, by the time the Aggies were up 27-0 at the end of the first quarter I was kind of lamenting that it was going to be such a boring blow-out of a game. And then La Tech decided to wake up and the Aggie defense decided to take a nap and I basically jumped up and down on the couch and hid my face behind decorative pillows and hyperventilated and passed out and threw things at the T.V. and furiously texted Gulley and Jen for the next four hours.
Because that's the other thing. It was the LONGEST GAME EVER. That dang game didn't end until right before 1 a.m. and by that point I had enough adrenaline coursing through my veins to throw a bus down a city block. I could've taken enough Ambien to kill a horse and I wouldn't have slept.
But Johnny Manziel saved the day again. And the announcers even started talking about him being a possible Heisman candidate. Which, on one hand, great. But on the other hand, he's just a freshman and we still have huge games in front of us and I don't want him to get a big head and be like Smash Williams that time he started to believe that he was the only player the Dillon Panthers needed and created animosity among his teammates.
And then I remember that Smash Williams is a fictional character who played for a fictional team in a fictional town for a fictional coach.
Which makes me sad. Mainly because I loved his mama on that show so much.
Then on Sunday I put on my pressurized spacesuit and jumped from the edge of space.
Or maybe I just helped Caroline with her skeleton book report project, made tacos for dinner and ate too much chocolate cake.
Copyright secured by Digiprove © 2012