I don't want y'all to assume by this title that I'm throwing P out.
Because the truth is I'm keeping him forever. Not only does he take Caroline to school most mornings allowing me a little extra time in my pajamas, but he's also the only hope she has to have any real help with her fourth grade math homework.
I wish I was joking.
Yesterday she came home with a homework assignment to complete two levels on IXL which is an online math site. The first one was on identifying place values. I can deal with that. I understand tens, thousands and hundred millions place.
But my frustration level started to rise because she was doing a lot of kicking the coffee table and bouncing around and what should have taken fifteen minutes took forty-five minutes.
Serenity now.
And then we finally started the next level which was about converting place values. Honestly, I didn't even know there was a need to convert a place value. What am I supposed to do? Lead them to Jesus?
If place values need to be converted, then that's why my iPhone has a calculator. But apparently it's part of the fourth grade skill set and dang if I could figure it out. Sure, it was fine when it was something like convert four thousands to however many tens. Then it started asking questions that dealt with numbers in the billions and I was all CHECK PLEASE.
Or maybe I was like WINE PLEASE.
I can't really remember.
Fortunately, Mimi and Bops showed up about that time and I figured Bops would know how to help her with it since he was in the business world for forty years or so. And, yes, he could figure it out but then the IXL kept saying our answers were wrong and OH MY WORD I HATE THE COMPUTER NOW.
Then P came in and knew how to find the answers too, but none of this was really helping Caroline actually learn anything. It basically became thirty minutes of my dad and P coming up with the correct answers while Caroline asked if it was time for soccer practice. And so I finally texted her teacher and basically said that we give up. It beat us. The IXL on converting place values killed us all dead.
The point is this is fourth grade math.
Which means I'm going to have to start saving up for a math tutor for the next eight years. I'd like to think that I used to be smarter than this but then I remember that I failed Algebra II in eleventh grade (a fact I'll never share with Caroline because ENABLER) and realize numbers have always been my nemesis.
But today was supposed to be about my big closet clean out this weekend. I took five large bags of stuff to Goodwill this afternoon and felt good about myself in that smug way that you do when you've accomplished some feat that's pretty much completely meaningless to anyone else.
Here's the thing: I think cleaning out your closet twice a year is a necessity. Or maybe it's just a necessity for me since it's really the only area of my life where I have the slightest bit of order.
I know I've talked about this before but I clean out my closet every fall and every spring. And I'm merciless. I get rid of pretty much anything I haven't worn in the past year. The exceptions to this are the denim vest I've had since 1993, the pair of Levi's I wore when P and I were dating even though I'll never wear my jeans that high-waisted ever again because BLECH, and a fifteen-year-old size 2 paisley sundress from Harolds because THANKS FOR THE MEMORIES, SIZE 2.
And so even though the temperatures here are still supposed to get back in the 90s this week, I have now made the transition to my fall/winter closet.
This is the after pic. I didn't take a before pic because OH THE SHAME.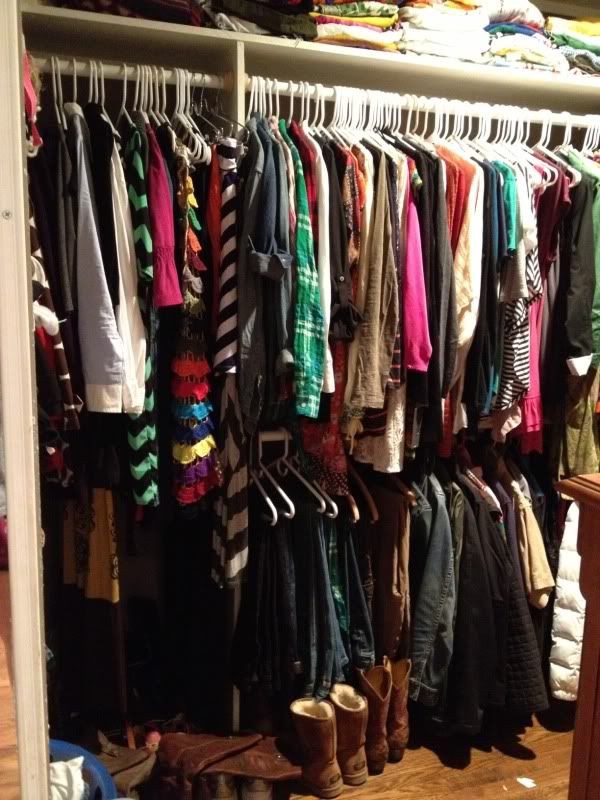 And this is a closer look at my necklace hanger thing because so many of y'all asked about it.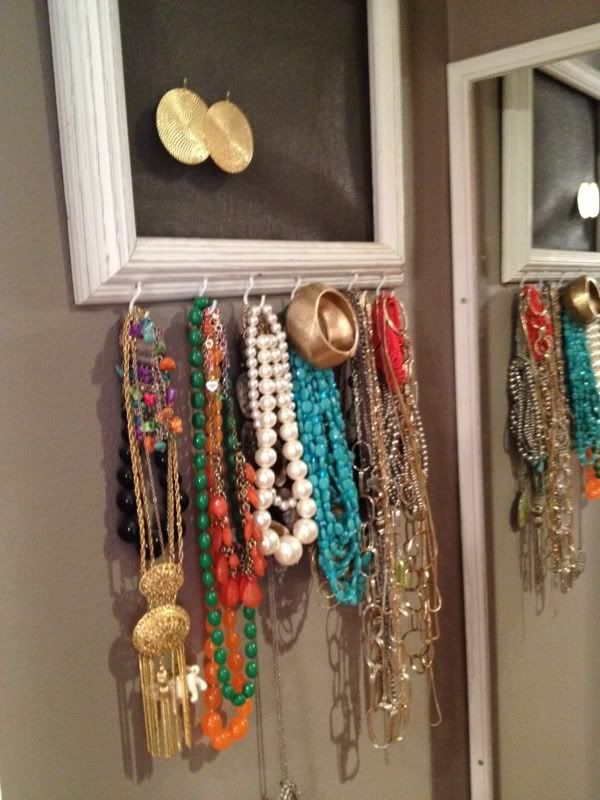 My friend, Annie Downs, made it for me years ago out of a picture frame and some hooks and screen because she's basically MacGyver. I adore it because I can easily see most of my accessory options. I say "most" because I still have some other bracelets and such crammed into a dresser drawer because that's just who I am.
Just for laughs, this is P's side of the closet. A few years ago my friend Jen was visiting and happened to be in our closet. She asked if I don't allow P to buy any clothes.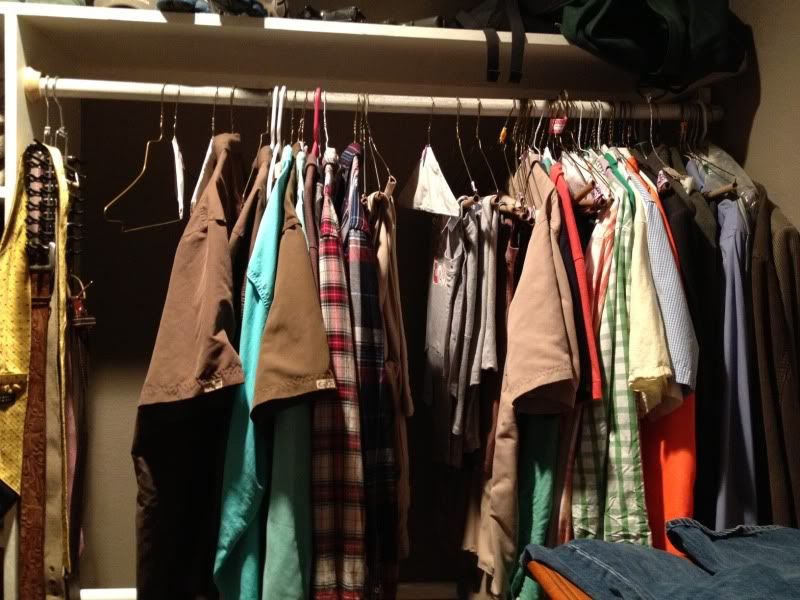 Listen. He is free to buy whatever he wants. It's not my fault that he thinks a complete wardrobe is comprised of four plaid shirts, a pair of jeans and some Magellan fishing shirts from Academy. I just see it as more of our clothing budget that can go to more important causes like Free People or Anthropologie.
Anyway, I thought I had more to say about cleaning out my closet but apparently the math homework has driven it right out of my head. So I'll just say it's a good thing to do. It helps you see what you have that you might've forgotten about and figure out if you need anything new to complete an outfit.
And it also might make you feel embarrassed by how many white tank tops you own from Old Navy. But you'll justify it by reminding yourself that they were only like $3.00 a piece.
Which converts to something like 300 ones in place values.
Or maybe it doesn't. I wouldn't really know.
Copyright secured by Digiprove © 2012