Listen.
We just finished another homework marathon. This time involving geometry. Which, thankfully, Caroline knows how to do without any assistance from me. However, I don't know if it's better when she knows all the answers and spends thirty extra minutes doing all her little victory song and dances in her chair while saying "This is SO EASY!" like she's one of the stars of the classic 1983 movie "Valley Girl" or when she can't figure something out and rails against the entire educational system, the Texas government and the harsh realities of life in general.
It's a toss up.
Either way, my brain is tired. And my lip is bleeding from biting it all the times I wanted to yell, "JUST FINISH YOUR HOMEWORK".
The point is I'm not capable of composing any sort of essay about anything and will instead just throw out some random pieces of information.
1. Several of you have mentioned Tami Taylor's new show, Nashville. Yes, I watched. And, YES, I loved it. I didn't want the first episode to end because not only am I fascinated by Tami's hair, but I enjoyed the general storyline and have found myself thinking about it several times since.
My only real issue is that she isn't married to Coach Eric Taylor and living in Dillon, Texas.
But other than that? LOVE.
(I also realize her real name is Connie Britton. But she'll always be Tami to me. Always.)
2. And while we're on the subject of Tami Taylor, have y'all seen this?
3. Also, on the subject of hair, I have a new favorite hair product. It's called Kenra Thermal Styling Spray.
I discovered it because my friend, Vanessa, has the most amazing hair. Like Tami Taylor's, but maybe better if that's possible. And so, because I'm so quick on my feet, it finally occurred to me that I should ask her what she uses on her hair. The answer was Kenra Thermal Styling Spray.
Not even kidding, I sprayed it on my hair while I curled it with the curling iron and still had good curl two days later. TWO DAYS.
4. I wrote a post over at Ree's about three of my favorite movies that are based on the lives of authors. You can check it out here if you're interested.
5. P texted me this picture a couple of weeks ago when he and Caroline went fishing. It's now the wallpaper on my phone because I love it so much.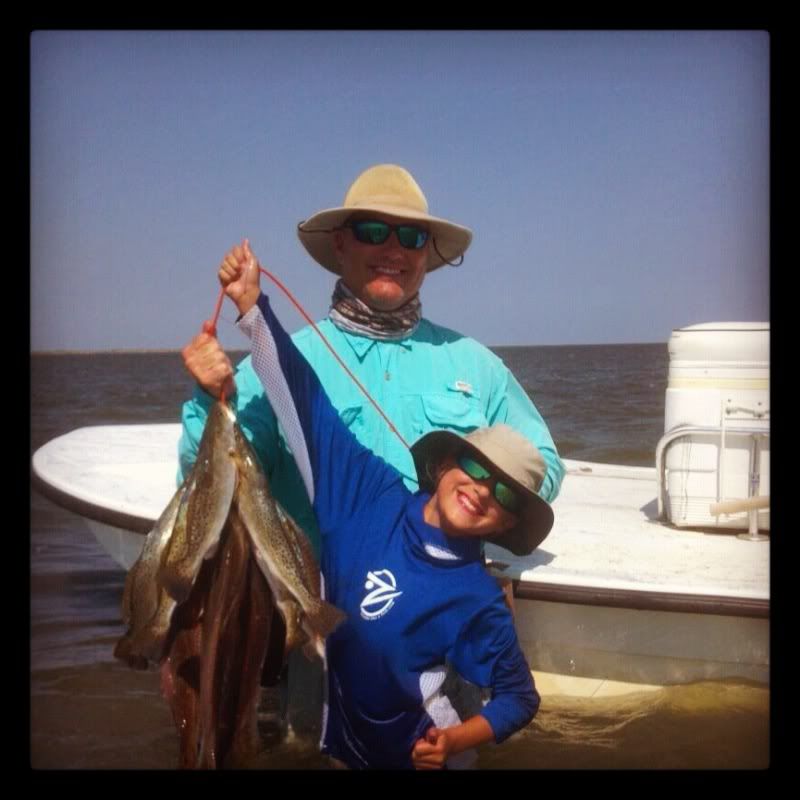 6. I mentioned that Holly Mathis came to visit a few weeks ago, but never really followed up. Mainly because there hasn't been much progress on the house front largely due to the fact that we're still waiting on the holes in the wall to get fixed. Apparently that's happening next week at the latest and then hopefully everything else will happen really quickly after that because I'm ready for my house to be pretty again.
However, I'd asked Holly if she could help me with something for my dining room table and she found me this great dough bowl while she was at Round Top.
And then I filled it with pumpkins and gourds just like I'd always dreamed. Frankly, I'm almost giddy with the thought of filling it with Christmas ornaments when the time comes.
Imagine how good it will look when I don't have holes in my walls.
(Also several of you asked about Holly. She does online consultations as well. You can visit her blog for more information.)
7. I've decided I'm going to embrace the crockpot this winter. I mean, not literally embrace it because THIRD DEGREE BURNS. But I like the idea of dinner percolating away all day while I do more meaningful things like figure out new ways to fix my hair.
And that's it for today.
Happy Wednesday.
Copyright secured by Digiprove © 2012