Earlier this week I put up a picture of the inside of my closet after I cleaned it out. And a couple of you commented that I needed to put bottles in my boots to help them keep their shape.
I've kind of known that but it's fallen in the category of things I'm too lazy to do. But then P told me I absolutely needed to do it or my boots would eventually crack around the ankles. And that would be more than my heart could bear.
I happened to have a couple of two-liter bottles of sparkling water in the kitchen so I grabbed them and put one in each boot. And I felt better about life. I felt organized and efficient.
When Caroline got home from school I told her that Gulley and I had plans to go out to dinner later that night. And so after homework, soccer, and dinner, I said she needed to go ahead and get ready for bed before I left. She went in our bathroom to take a shower and came out a few minutes later, still dressed, and said, "Mama, I need to ask you a question."
"What is it, baby?"
"I noticed you're hiding bottles of champagne in your boots. Are you trying to sneak champagne out of the house tonight?"
It was like a flashback to 1988.
Except I'm forty-one. I don't need to sneak champagne out of the house. And, frankly, I don't even care for champagne.
I went in and showed her (not that it was any of her nosy business) that they were bottles of sparkling water and explained it was too keep my boots in good shape. She shrugged her little shoulders and skeptically said, "Okay. If you really think that'll work."
Like the whole thing was the stupidest thing she'd ever heard of. It made much more sense that I was trying to sneak alcohol out of the house.
Anyway, here are a few cute things this week.
1. Marc New York medal down jacket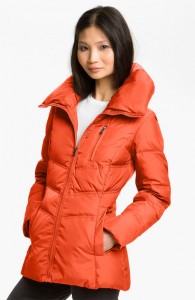 I desperately need a new coat this winter. I realize it only gets really cold about five or six days total, but on those days I need a coat. Plus, we have a little trip to New York planned for December and that's going to require something more than a fleece from Old Navy.
Anyway, I'm worried this one would be perfect for South Texas, but not for New York in December. Can anyone who lives up north tell me what kind of coat I need?
2. betsey johnson ruffle trim anorak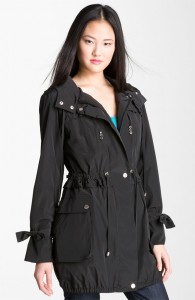 Now this is a cute coat. Or anorak. Whatever.
I actually saw this in Nordstrom. It has gorgeous faux fur lining and is water-repellant. What more could you want?
3. peter pan collar wool-blend coat
Do you remember the movie St. Elmo's Fire? Remember how Ally Sheedy was Judd Nelson's girlfriend and she wore a great long wool coat?
It influenced my coat style for many a year. I just thought it was so sophisticated. Even though I'm sure it had enormous shoulder pads because it was the 80s.
I guess that's why I'm still drawn to this style. I adore it in hot pink.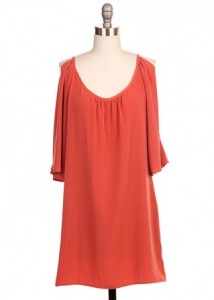 I like this. The color is good. It would look great with skinny jeans or leggings or maybe even tights and boots.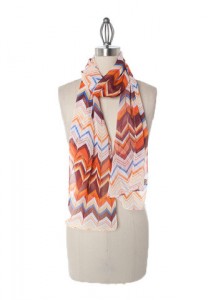 This scarf is cute, cute, cute. In fact, they have a bunch of great scarfs right now. It's hard to choose just one.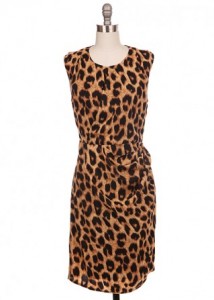 I really like this leopard print dress. You could wear it with a denim jacket and tall boots. Or you could wear it with a black blazer and heels. It's very versatile. And I appreciate that in a garment.
7. sailor button sleeveless dress
This dress is so pretty. And it's a little more interesting than just a basic black dress.
8. john wind madison ave infinity hoop earrings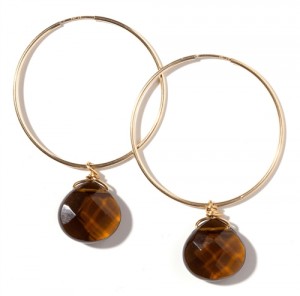 I'm a big fan of the tortoiseshell jewelry right now. Love these earrings.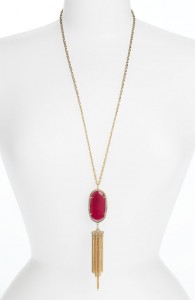 Oh this necklace. I need it in my life. If I can ever decide on a color, then I'm totally buying one.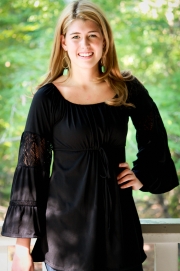 I don't do well with tops with an empire waist. It's just not the best look on me. But if I could wear them I'd absolutely buy this top. It would be great with jeans and cowboy boots. Or dressed up with black pants.
And I'd wear it with turquoise earrings because, OF COURSE.
That's it for today.
Y'all have a great Friday.
Copyright secured by Digiprove © 2012