Here's the first thing you need to know about this weekend. Not because it will add or detract from your life even one bit, but I just want to share. On Friday night I slept wrong or something and I've spent all weekend with a sore neck. Like sore from my neck down through my left shoulder. Which has caused me to move like Joan Cusack in Sixteen Candles for the last forty-eight hours.
Needless to say, I am singlehandedly bringing sexy back.
The other thing you need to know is that I have no idea what time it is right now. That's what happens when you just randomly reset clocks in your house. When I walk in the kitchen I feel stressed that it's so late and then I check my phone and life is good again because at least it's smart enough to change itself.
And so that's what's going on here.
Given that those are my first two subjects, it's a safe bet that there wasn't a whole lot of excitement around here.
On Friday night we just stayed home.
The end.
Actually, on Friday afternoon I got a coat in the mail that I'd ordered from Eddie Bauer. It's a dark gray down coat with a fur-trimmed hood. And when I tried it on to get Caroline's opinion on it she said, "Mom, that coat makes you look like a lion that something bad has happened to."
And so I'll be mailing that coat back. Because I have no desire to look like a lion with a case of mange.
Saturday morning Caroline had a soccer game. And then we went straight from the soccer game to watch the Aggies play Mississippi State at Gulley's house. I mean, the game wasn't in her backyard because that's how I just made it sound. It was in Starkville. We just watched it on Gulley's T.V.
A few of you were worried about Sophie and me since our teams were playing each other. But you'll be glad to know that we spent several minutes on Saturday morning exchanging friendly texts complimenting the other teams' uniforms and didn't talk one ounce of trash because we both knew there was no telling which way that game would go since historically both teams like to find a way to lose at times.
When the game was over I helped Gulley clean out Will's room and pack a few boxes because they're moving to a new house in a few weeks.
(Just a few houses away from where they are now. No need to panic.)
(Not that you would be panicking. But I would.)
And I reaffirmed my love for a good clean out and throw away session. Even when it's not my own house, I find the whole experience cathartic. It helped that Will wasn't home while we were cleaning and so if he notices anything missing she can just claim it's "packed". He doesn't need to know that might be code for "It's at Goodwill".
Honey and Big ended up coming to town Saturday night and we went to go eat with them. And then we went back to Gulley's house to hang out for a little while. Caroline and I got there before them and killed time in the car listening to Taylor Swift LOUDLY, specifically the song "Trouble" because it's her favorite. She looked so cute that I tried to snap a picture of her with my phone. But it was dark in the car so I turned on the flash.
That's why this is the first pic I got.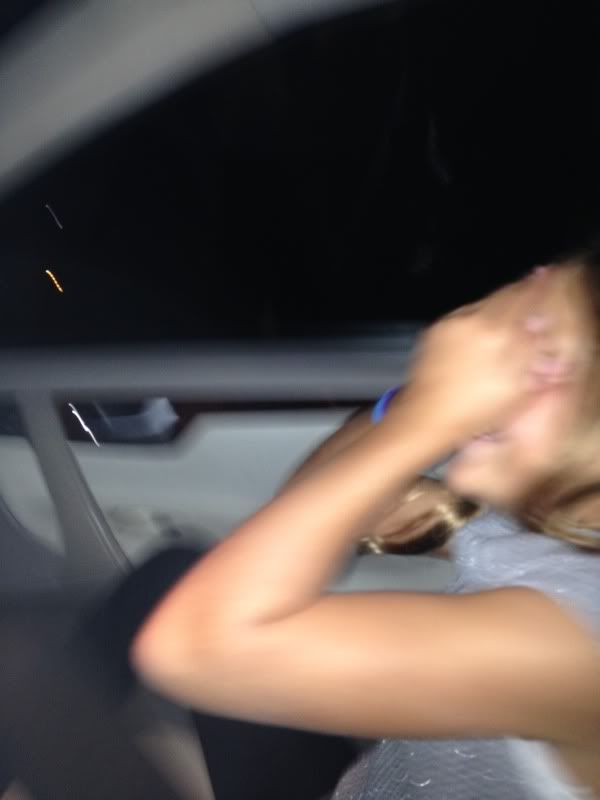 What you can't hear is her screaming, "MY EYES! MY EYES!"
But then I was able to get this one.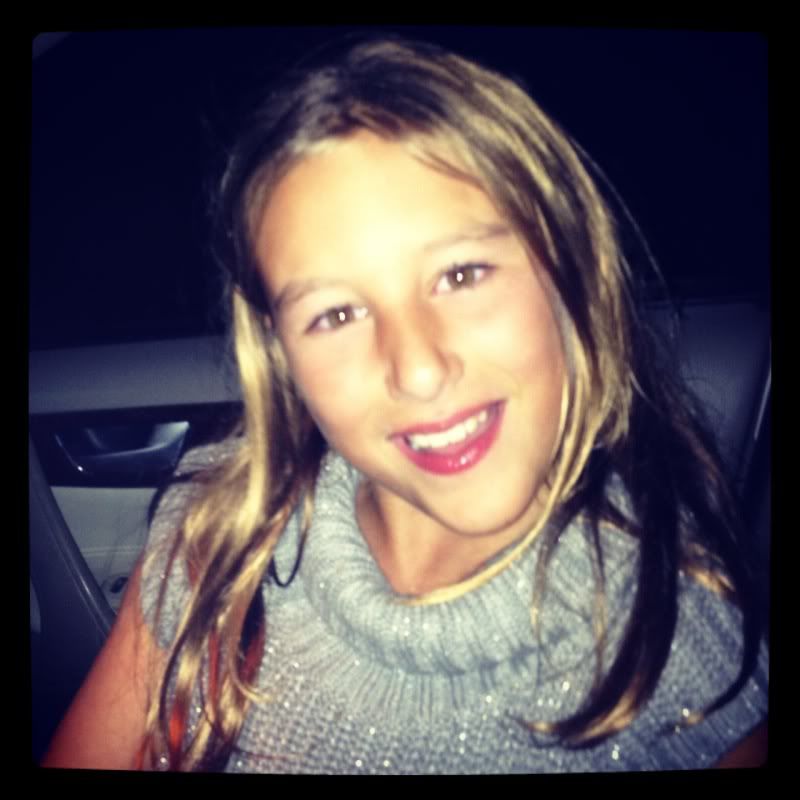 And wondered when she quit looking like a baby. It takes my breath away.
Anyway, we watched the LSU/Alabama game which almost gave me a heart attack even though I really didn't care who won. It was one of those games that makes me love college football even more.
Sunday morning we enjoyed our extra hour of sleep. Well, I did. Caroline didn't really care because she thinks sleep is just something you have to do to get to the next day.
And so it was a lazy Sunday. P was at the ranch so it was just the two of us. We went to Target and bought dog food and Advil (Mamaw needed it for her neck). Then I dropped Caroline off at a little Bible study she's doing with a few other girls her age and after that we went to go see Wreck It, Ralph. Which I have to admit was better than I expected.
Of course, it helped that I had close to zero expectations.
Because if you set the bar low, you won't be disappointed.
Someone should put that on an inspirational poster.
And that was our weekend. Now I'm off to find the heating pad.
Copyright secured by Digiprove © 2012