Frankly, I'm glad the election is over. Now I can fully concentrate on the real issue at hand, which is obsessing over A&M's game against Alabama this weekend. More importantly, can we beat them?
I'm going to go with a big yes. It's totally possible. Any given Saturday and all that business.
I know. I know. Roll tide and blah, blah, blah and they have the Father, the Son, and the Ghost of Bear Bryant on their side, but I still am believing we'll get the upset.
Because there is no harm in hoping for the best.
So there's that.
I've also been spending a lot of time at Starbucks in an attempt to get some writing finished. I try to sit in the same chair every day because I am a creature of habit and also because it has an electrical outlet in close proximity. And since I sit in the same spot every day, I've made friends with the retired gentleman who sits right next to me every single morning in his sweatpants and baseball cap and reads every newspaper that's ever been printed.
We always engage in a little small talk and Tuesday morning was no different. We discussed our thoughts on the election and then somehow this segued into a conversation about how neither Jenna Bush nor Chelsea Clinton are pregnant yet. I'm not sure why he's so concerned about this because I can honestly say it falls in the category of things that have never crossed my mind. But apparently he's thought about it quite a bit. It concerns him. He isn't sure what it all means.
I tried to reassure him that some women just like to be married for a while. Case in point, ME. I shared that I was married six years before I had Caroline at age thirty-two. He told me I was the exception.
Then he brought up Kate Middleton.
And here's what you need to know. I consider myself to be practically an expert on Kate Middleton. I read blogs solely devoted to what she wears. I have studied her hair like it's a science project. And the highlight of the entire Olympic Ceremonies for me was any time they showed her on camera.
My point is that I don't think my Starbucks friend was prepared for the level of knowledge and insight I was about to bring to this topic. I mean, judge me if you want, but I have put some thought into when Kate Middleton is going to have babies.
(I just want you to know that P is rolling his eyes at me right now as he reads this.)
(Whatever. Some of us are obviously more into cutting edge news.)
So I filled this man in on my whole theory that the powers that be over in the UK have given Kate two years of marriage before she has to give them an heir. Mainly because they figured she needed to look her best during the Queen's Jubilee year and the Olympics. But I think it's now just a matter of time before she has a royal bun in the royal oven.
He disagreed with me. I'm not sure what his reasoning is or why he didn't trust my full analysis of the situation (possibly complete with a diagram drawn on a napkin) but he thinks it will still be a few years. And, ultimately, we ended up betting a cup of coffee on whether or not Kate will be pregnant by April.
(Kate, if you're reading this, no pressure but I'd like to win this bet.)
After a few hours I came home and P asked how the writing went. And I told him all about my bet, mainly because I wanted him to tell me that I was right. Instead he said, "So it's a crucial Election Day and you spent all this time talking to some stranger about when some princess is going to have a baby?"
Listen. You don't know my life.
First, he's not a stranger. I see him at least three times a week. He wears sweatpants and house shoes that look like moccasins.
Second, I am 78% certain I'm going to get a free cup of coffee out of this deal and who'll be laughing then?
In other news, I'm no botanist but I think something is wrong with our pumpkin.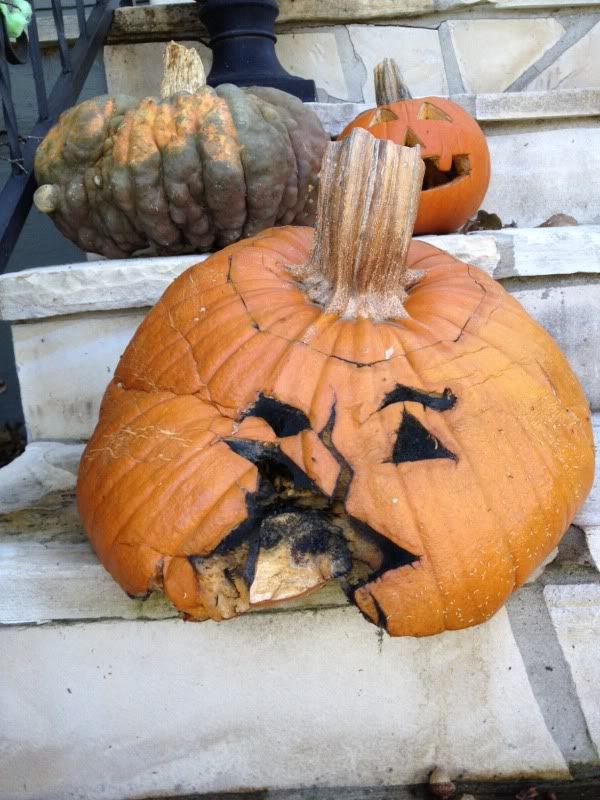 Where's a fruit thief when you really need one?
Copyright secured by Digiprove © 2012