Okay. There was a little bit of confusion yesterday because I am an idiot and accidentally posted this post as password protected on Thursday afternoon. And some of y'all started emailing and asking for the password.
It was like Fashion Friday had gone undercover. The whole thing reminded me of that episode of 90210 when they were trying to find some secret party and had to bring an egg to a convenience store to find out the location. But without the high-waisted acid washed jeans and big hair.
Anyway, today is going to be awesome.
Remember a few weeks back when I told y'all about Pure Charity? You create an account. Then you register your credit or debit cards (it's all very secure) and then every time you spend money at participating retailers a percentage of your purchase goes into an account that you can then give to various charities. And there are over 1,000 online retailers like Gap, Target, Forever 21, Apple. Places we already shop all the time. Except now they're giving us the opportunity to give back as we spend money. It's the most brilliant thing ever.
For instance, this week I have several things from Nordstrom on Fashion Friday. And if you are signed up with Pure Charity, Nordstrom gives a whopping 4.5% of your purchase back to your Pure Charity account and you can determine what cause you'd like it to go to. Amazing.
For even more information, you can read this blog post by Jen Hatmaker about Pure Charity. She explains the whole thing in great detail.
You just have to click on my link to sign up or on this precious face below. And then all your Christmas purchases will have the benefit of helping you make a difference.
As an added incentive to become a part of Pure Charity, they've given us an incredibly fun gift. They have given me a budget to buy one of everything I'm featuring today on Fashion Friday and give it away. The only thing you have to do for a chance to win is sign up here at Pure Charity and leave a comment on this post letting me know the top three or four things you'd choose from today's post if you are one of the winners.
I'll use Random.org to choose winners and do my best to make sure each person receives one of the things you list in your comments. Y'all, there are no guarantees here. It may end up as you get what you get and you don't throw a fit. But I'm waiting to buy everything until after the winners are announced so I can get you the size you need for whichever item you win.
Does any of this make sense?
Once you join Pure Charity, there are simple instructions to add the browser plug in – and as you can see below – the button will pop up on all participating sites and show you how much you will get to put in your giving fund.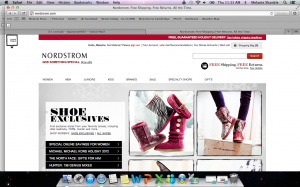 These are the three projects I'd like us to back – you can pick any of the below to help with your giving fund. Once you've signed up and activated your free account, select which project you'll back with me.
I'll be giving updates as we fund projects.
It's just such an easy way to put your money to good use by just doing what you normally do and not having to budget for it separately.
And, now, for the great stuff you have a chance to win. Which also happens to all be stuff I love.
1. Old Navy waffle-knit sweater scarf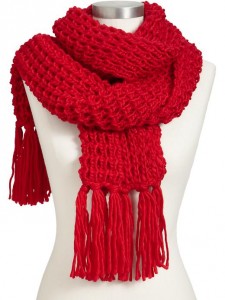 Old Navy gives back 2% of your purchase price to your Pure Charity account. This scarf is $14.94. So I'll let you do the math.
Seriously, I'll let you do the math. I'm terrible at it.
But how cute is this scarf? It comes in a bunch of different colors and I just love it.
2. Nordstrom kendra scott danielle oval necklace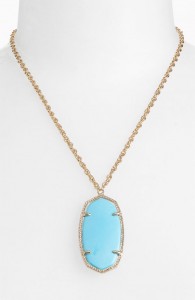 Nordstrom is currently giving back 4.5 % of your purchase. This gorgeous necklace is $58.00 because Nordstrom doesn't add that ninety-four cents nonsense like Old Navy. What's that about?
Anyway, I seriously love this necklace. There are several color options and all of them are gorgeous.
3. hue denim leggings from Nordstrom.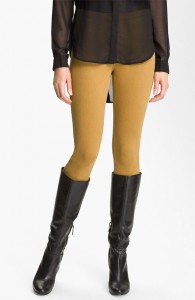 This is another item from Nordstrom. And as I typed that sentence I began to feel like the announcer on The Price is Right. These are $39 and are some of the best leggings ever.
In fact, they are a true jegging. They are leggings that look like jeans. Which means they are much more comfortable. And they come in a ton of colors.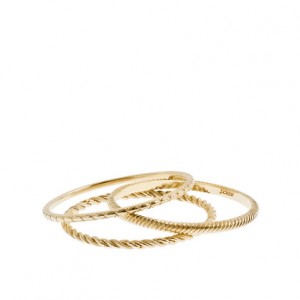 J. Crew gives back 5%. Well done, J. Crew. You've always been my favorite.
These gold bangles are so pretty and perfect for layering with all manner of other bracelets. It's like a party for your arm.
What on earth does that even mean?
5. Old Navy softest blanket wrap cardi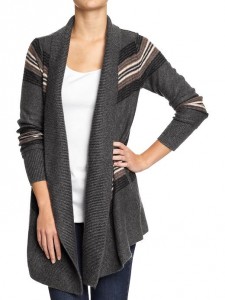 This is $42.94 at Old Navy. What the actual heck, Old Navy? Seriously? Why not just call it $43?
Your pricing is weird, but your cardigan is lovely. We'll take it.
6. piperlime hive & honey layered petal necklace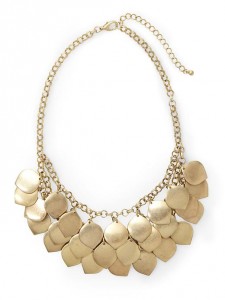 I adore this necklace. It's the perfect thing to add a little something extra to almost any outfit.
Piperlime gives back 2.5% of your purchase. This necklace is $26.00.
Seriously, you're going to have to do the math.
7. hue color block over the knee socks from Nordstrom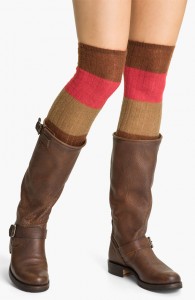 Now I wouldn't wear these over my knee because I'm not in my twenties. But I would absolutely wear them scrunched down a little over the top of my boots. So cute.
And they come in other color options, too.
8. minnetonka 3-layer fringe boot from Nordstrom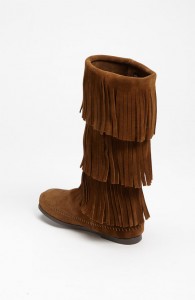 Listen. Pocahontas knew a good boot. I mean, that may not be in the history books, but I think these moccasins speak for themselves. These are $89.95 at Nordstrom so 4.5% of that purchase will go back to my account.
And one of you will have great boots to show for it.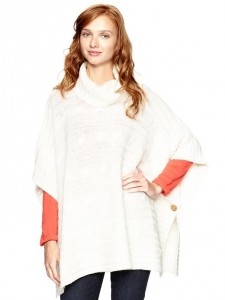 Gap gives back 3%. This poncho is $69.95. And I have been eyeing it for weeks now. Weeks. The only reason I haven't bought it is because P has seen it on Fashion Friday and knows it's more than $15.00.
But maybe now that I'm shopping and giving back to charities at the same time, he'll see it differently. Yes, I'm getting this new poncho but it's so the orphans can have Christmas presents. Won't anyone think of the children?
10. kate spade new york stud earrings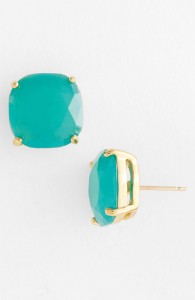 These are $38 and so, so pretty. I love all the colors and, frankly, if you win these I have no idea how you'll ever decide. Personally, I go back and forth between the pink and this aqua color.
So that's it. For a chance to win one of these items, here's a recap of what you need to do:
1. Click here to create a Pure Charity account if you don't have one already.
2. Leave a comment letting me know you signed up and tell me your top three, four, or eight picks from everything on Fashion Friday today. One comment only, duplicates will be deleted.
3. I'll leave comments open until Monday at noon. At that time I will draw ten winners using Random.org.
4. I will then contact each winner by email in the order I drew their name to find out what size, color, etc. they would like in the item they've won. You have 48 hours to contact me after I email or I will choose another winner.
5. Gifts will be ordered and shipped directly to the winners. I will verify that each winner actually signed up for Pure Charity.
6. We all get to make a difference with our Christmas shopping this year and so really everybody wins.

That's it. If my math is right (and there is no guarantee) somewhere in the neighborhood of $15.00 will go back to my Pure Charity account to go toward the projects we're backing. It may not seem like much, but imagine if a thousand of us all signed up for Pure Charity before we did our Christmas shopping. It adds up.
Y'all have a great Friday.