So I didn't go get my free coffee yesterday. I had every intention of doing so but we're in the midst of finally getting the holes in our wall fixed and the hole guy told me he'd be at our house first thing in the morning, by which he apparently meant noon.
Of course I can't really throw stones because I live in the same glass house where first thing in the morning often means noon. Or maybe it's more appropriate to say I live in a house with holes in the walls.
By the time I realized that our hole guy and I have the same view of morning, it was too late for me to make it to Starbucks because I desperately needed to go the grocery store since P was out of Natural White Cheddar Cheeto Puffs again. It's a wonder he survived.
But we were also out of milk. And bread. And down to one roll of toilet paper. Plus, we're in the midst of searching for the perfect powdered donut now that Hostess Donettes are no longer available. And by we, I mean Caroline and P. I know you'll be as relieved as I was to discover that they have finally found Mrs. Baird's to be an acceptable substitute. It's just a shame that Mrs. Baird doesn't make a chocolate cupcake with a white swirl across the top.
Okay, so let me tell you about the house.
This is just a glimpse of how it looks right now.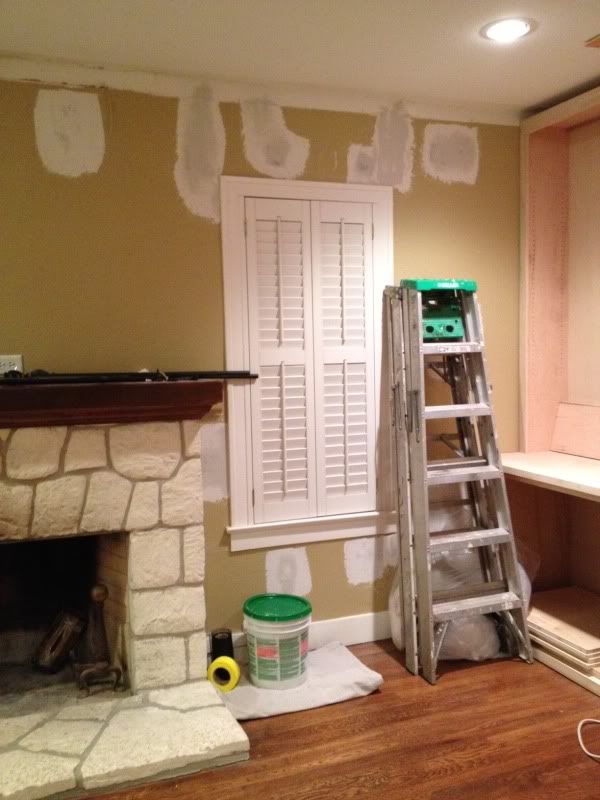 Not pictured: Industrial size trash can in the corner of the dining room.
I know what you're thinking. How quick can you pin that on Pinterest? It's pretty much what every woman wants her home to look like for the holidays.
But the good news is it should look a whole lot better in about a week. And I'm already planning to leave my tree up until at least January 7th so I can get a full month of beautifully lit Christmas tree.
And the even better news is that the built-ins are almost finished.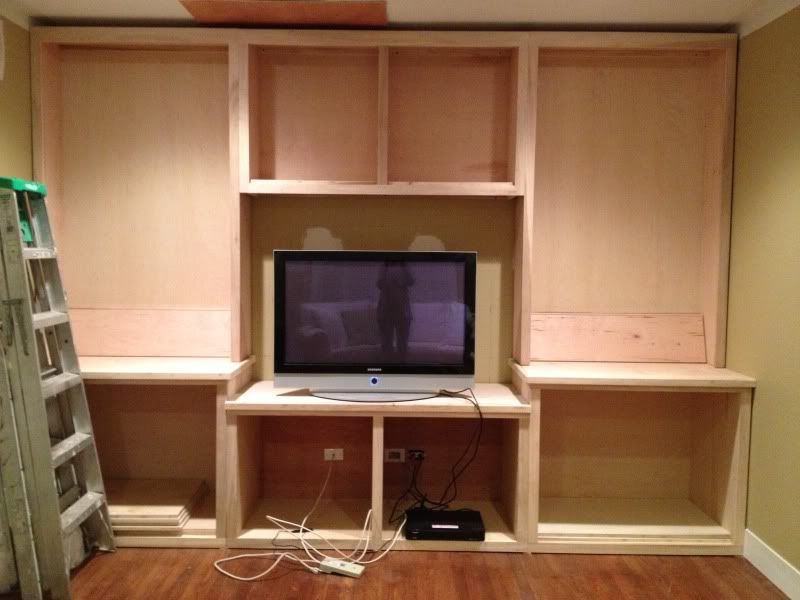 They need to be painted, obviously. And the cabinet doors aren't ready. But, still. Look at all that potential storage space.
Speaking of storage space, I believe I mentioned that I was in the middle of a massive clean out last week in anticipation of all the painting and whatnot that I knew was about to happen. And while I was busy organizing, I had a major revelation.
Kristen Chenoweth should not be dating Jake Pavelka from The Bachelor.
Well, that. And that I had all my china and crystal stemware stored in one of my main kitchen cabinets.
True confessions, I've used it like four times ever. And that's being generous. We are not china people. Don't get me wrong, it's gorgeous and, other than P, it's one of the few things I picked out in my twenties that I don't regret. But a fancy night for us is when we eat on our real dishes instead of paper plates.
What I'm saying is there is no reason it should be taking up prime time kitchen space. So I moved it all to the cabinets above my ovens that are really only accessible if I pull out a step stool.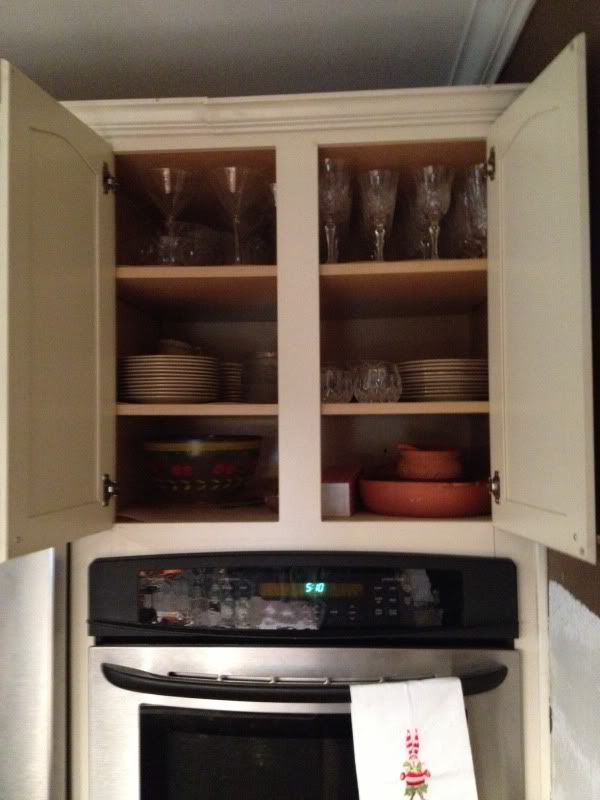 Now I have room to store my everyday dishes in a nice wide open space where they aren't crowded.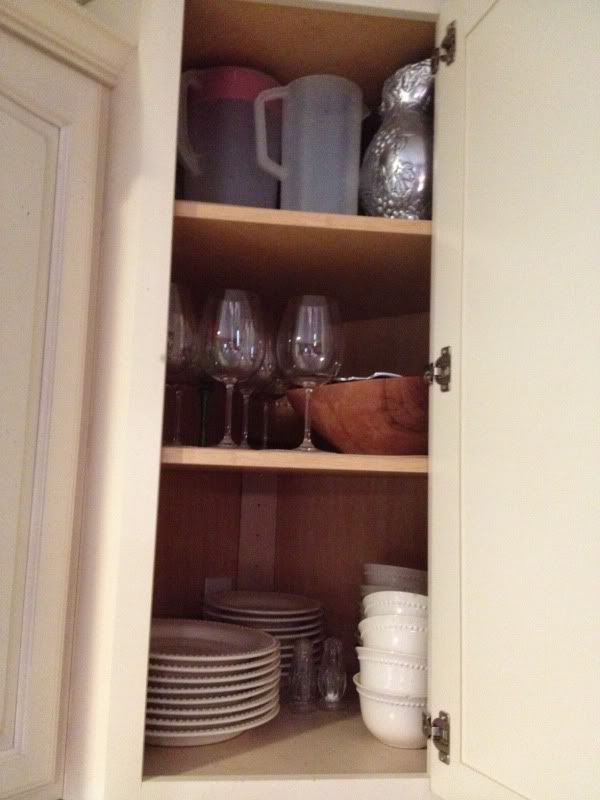 And, needless to say, the coffee mugs are thrilled to finally have a space to call their own.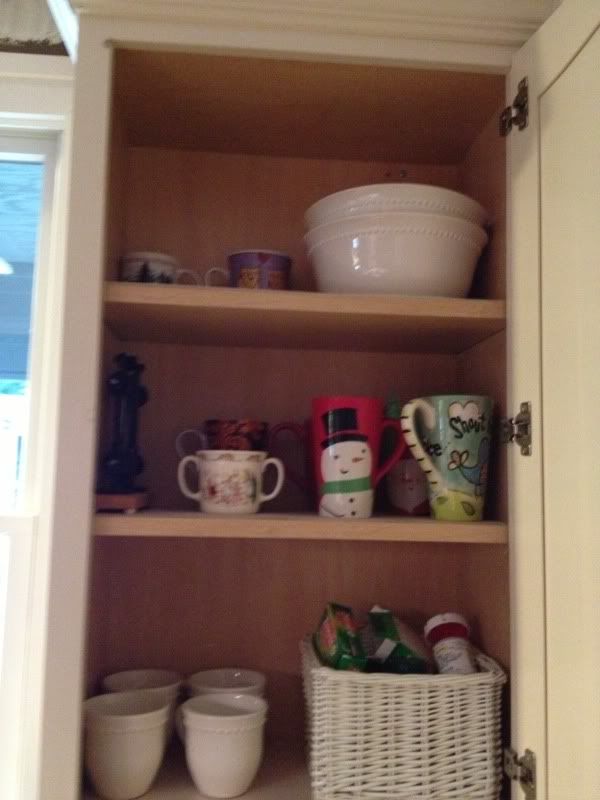 Even if they have to share some of it with a little basket that holds all our vitamins and Advil because we're in our forties and need Advil almost daily for one thing or another. There's also two boxes of Zyrtec D in there because P keeps putting it on my grocery list and I keep buying it. Which I'm sure means I'm on some sort of Meth Lab watch list.
So this is how life turns out. One day you're nineteen and excitedly picking out what outfit you're going to wear to the big party on Saturday night and then you turn around and you're forty-one and thrilled to use 700 words on the internet to tell people how your kitchen cabinets are organized.
It feels like a low.
Except for the fact that I'm so excited about all the space I've freed up in my kitchen that I can hardly stand it. I was actually excited to unload the dishwasher today.
Oh wait. There's the low.
In other clean out news, I decided to take the opportunity to get rid of Caroline's hermit crabs and the accompanying crabitat they lived in. Normally I might have felt guilty about this, but Phillip had died almost three months ago and it took her every bit of two and a half months to even notice. However, we were left with Big Daddy and Clementine.
I wasn't sure what you do with unwanted crabs (all of a sudden this sounds like a late night infomercial) but didn't feel like I could just throw them away. So I do what I do in all complicated situations, I set the crabitat with the crabs outside on the table on the back porch and told P to handle it.
For some reason, he decided to put Clementine and Big Daddy in the dog's water bucket to let them have one last swim or something. I don't know. But then his phone rang and he forgot about them and left for the ranch. All I know is I looked outside hours later and noticed Scout was acting weird about drinking water.
And when I went to investigate, there were Big Daddy and Clementine swimming happily in the water dish. Heaven knows it's probably the only water they'd had in weeks since Caroline is like the crab-version of Dr. Kevorkian.
About that time, Caroline was about to come outside and I didn't want her to see the crabs and be reminded of their existence. So I hurriedly pulled them out of the dog's water, set them down behind it and went inside.
And when I finally remembered what I'd done hours later, I discovered they were nowhere to be found. They made a mass crab exodus. If you consider two crabs to constitute a mass exodus. And I do because, let's be honest, two crabs is really two crabs too many to have roaming freely in your backyard.
But maybe they packed their teeny tiny crab bags and left our house for good. They're like little crab Joads in search of a better life.
Here's hoping they find it.
Before Caroline finds them.
Copyright secured by Digiprove © 2012