Before I enthrall you with more vacation pictures, I feel like I need to give you a quick update on what's going on here. Because I guess I think you'd want to know.
When we left for New York, the house was a wreck. The painters were still finishing up and there was dust and stuff everywhere. And when I came home, the house was painted but that was about the extent of the improvement.
So I spent all day Monday and Tuesday cleaning every surface and putting things back where they belong and trying to decorate for Christmas. And I'm happy to report that as of this writing, the tree is decorated and the stockings are hung by the chimney with care.
Not new stockings. The same old stockings. I decided that since they'd only be up about a week that this wasn't the year to buy new ones. Plus, I couldn't make a decision because I am indecisive that way.
Anyway, Caroline and I decorated the tree last night. And she experienced a bit of a sugar rush after her third candy cane and an afternoon spent icing sugar cookies with her Gigi.
This meant I had to rearrange a few ornaments after she went to bed because she has a tendency to get excited and clump everything in one location. Whereas I have a tendency to have OCD and need all ornaments to be spaced out at appropriate intervals. I'd tell you what those intervals are, but I've never been good at ornament math.
So. Part two of New York.
On Friday morning we headed out early to get to Macy's on 34th Street to visit Santa. And let me tell you, Macy's on 34th does it right. None of this walking up the steps of a glorified mobile home to see Santa. It's a full-on Winter Wonderland with trees and a faux train ride and elves that greet you and escort you to meet Santa. I think this was maybe one of my favorite moments of the whole trip.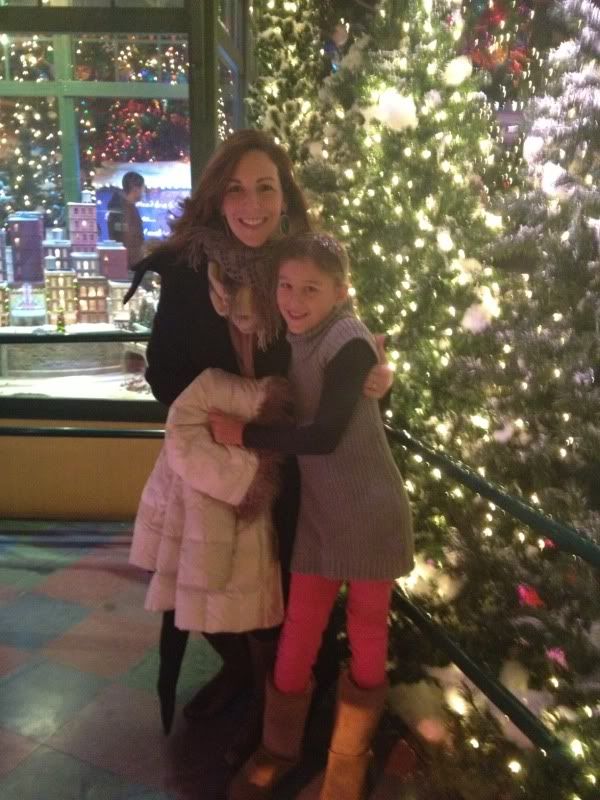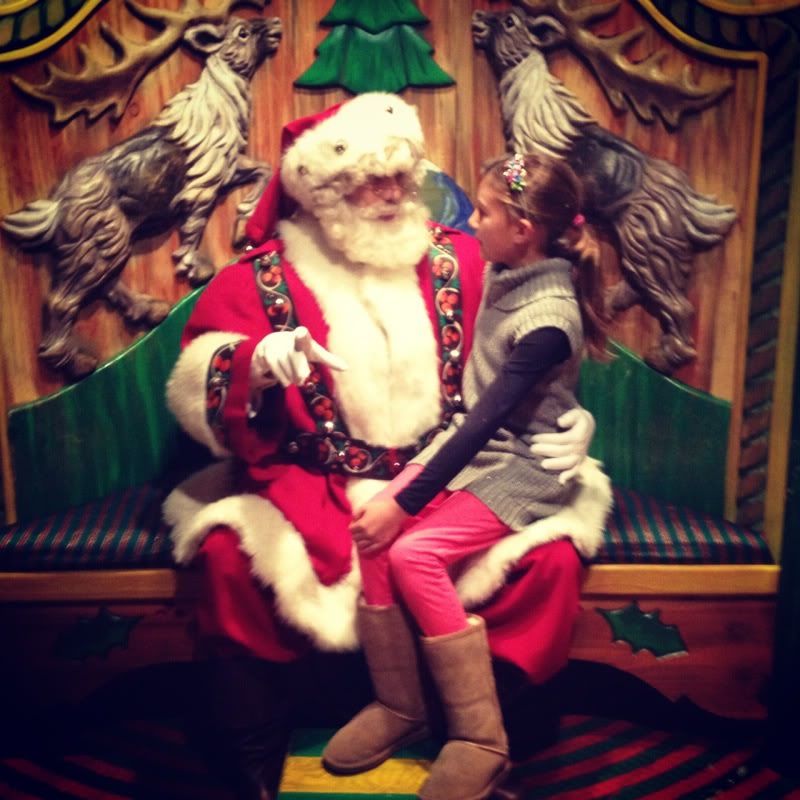 After Macy's, we went to the very top of the Empire State Building where I renewed my fear of heights and desperately tried not to think about being ninety stories up in the air or whatever it is. Meanwhile, Caroline wanted to look out at the city from every angle and so that's what we did while I tried to hyperventilate quietly.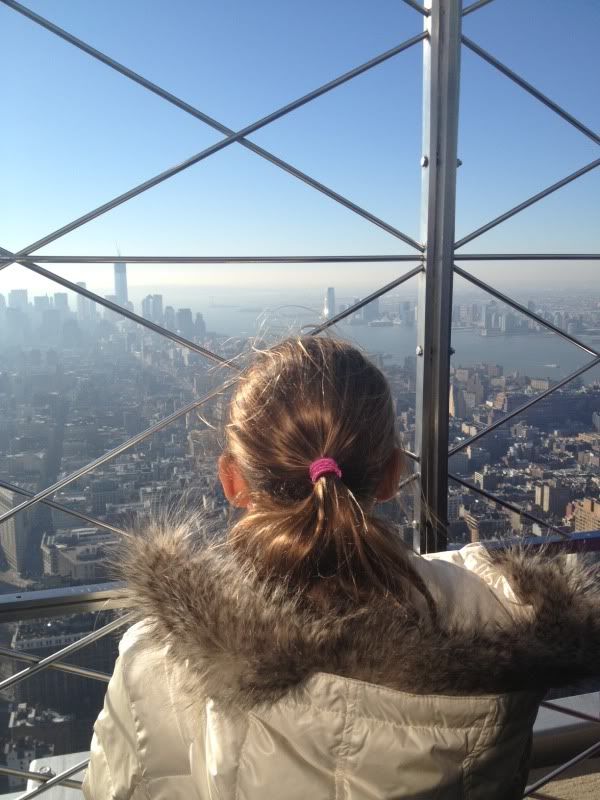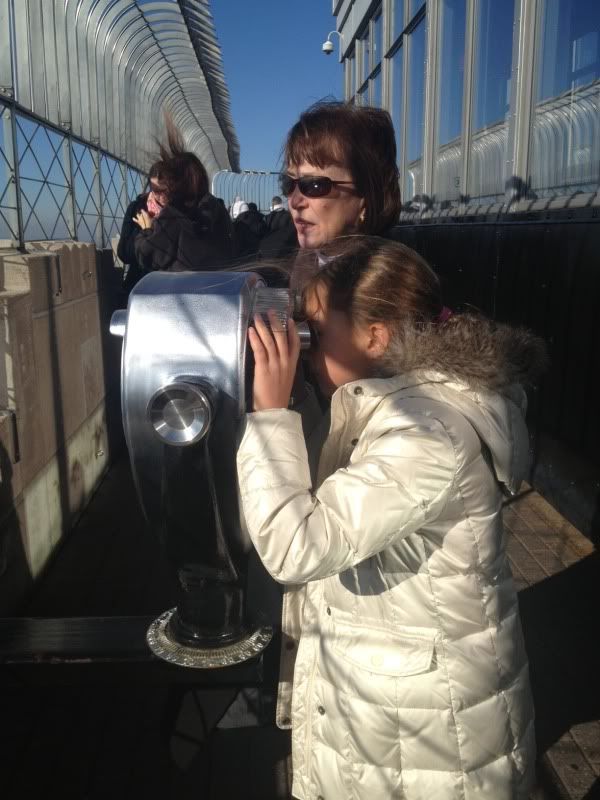 We eventually made our way down and were starving. But we couldn't find any sort of deli or anything and resorted to eating a few large pretzels from a street vendor. I figured you never hear of anyone getting e.coli from a pretzel so it seemed relatively harmless. And then we caught the Subway to head to Ellis Island and the Statue of Liberty.
Unfortunately, Ellis Island is still closed because of Hurricane Sandy and so I just took some really bad pictures of Caroline with the Statue of Liberty way in the distance.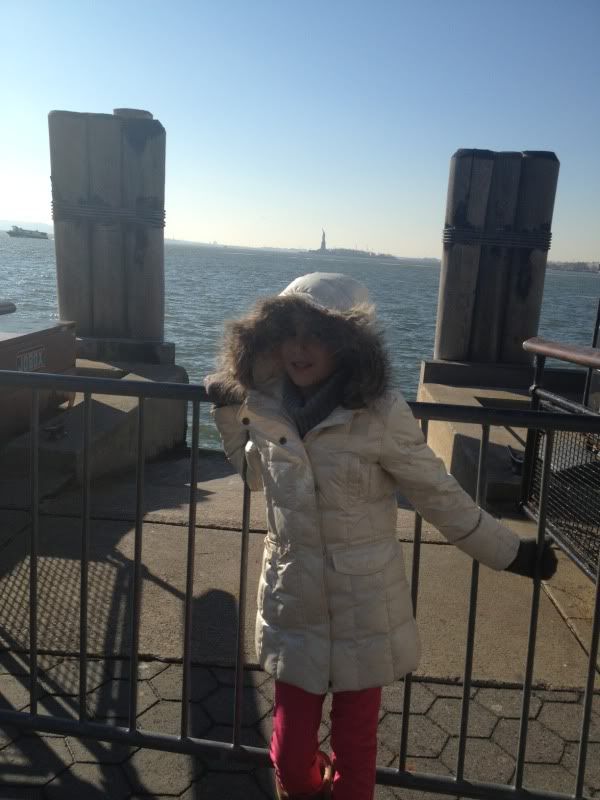 And then we walked down to the World Trade Center Memorial and saw Freedom Tower being built. This was the first year that we really talked to Caroline about what happened on 9/11 and I think she had at least a little bit of appreciation for what she was seeing and the weight of it all.
So we'd done all that and it was only 12:30.
In spite of the delicious, street vendor pretzels, we were all starving. Except for Bops. He said that pretzel had totally satisfied his hunger and he didn't want to ruin his dinner. Which was all good and fine except that the rest of us needed actual nutrition in the form of something that wasn't purchased off the street. We stopped in a little restaurant and had some delicious soup and sandwiches and even a glass of wine which kind of took the edge off the rush of the morning.
(I don't know why I called it a little restaurant. Maybe it just seemed small. Also, Caroline didn't have any wine. Just to clarify.)
We headed back uptown after we ate and walked around a Christmas fair at Bryant Park and then made our way to Grand Central Station and eventually the New York Public Library. Then we spent a little bit of time relaxing at the hotel before we went to eat Chinese food later on that evening. I have no pictures of the Chinese food or the restaurant, but I will tell you that our waiter had less personality than the floor.
Saturday was our last full day in New York and we decided to spend the morning at the Museum of Natural History. And that was before I knew they had dinosaurs made of Christmas trees outside. Bonus.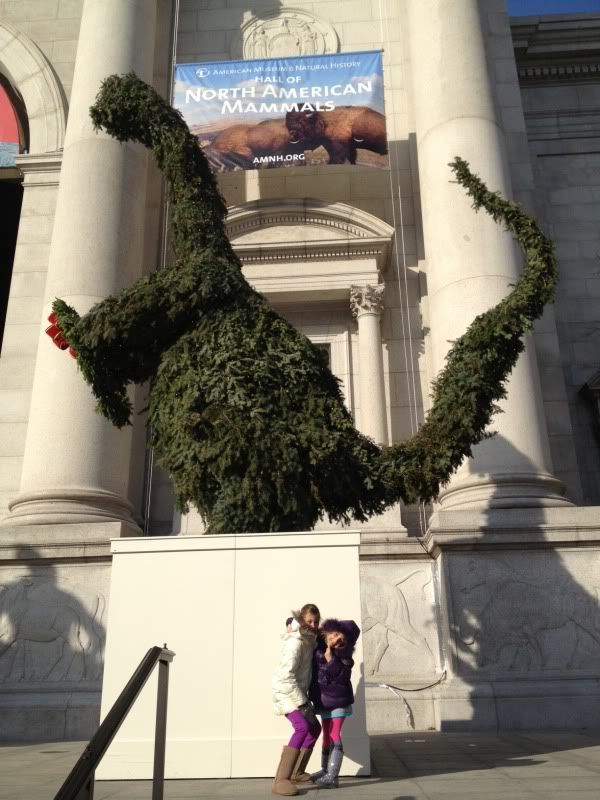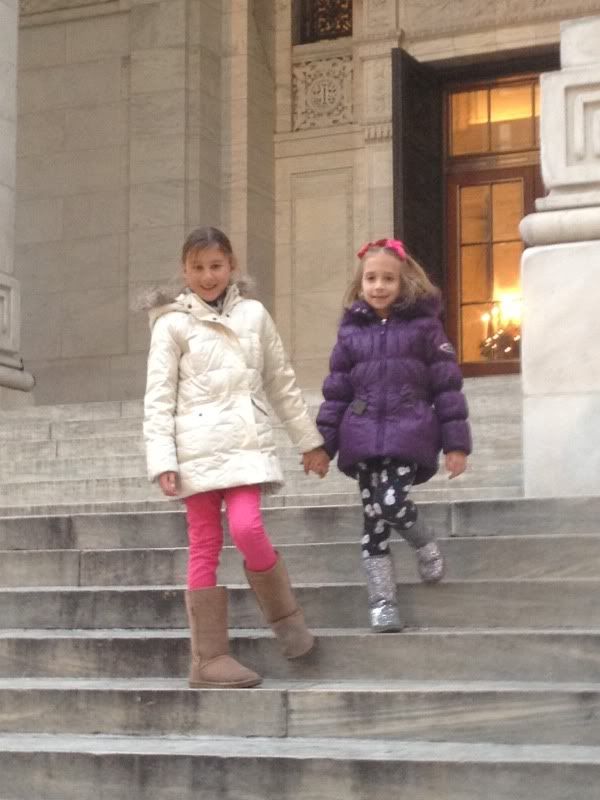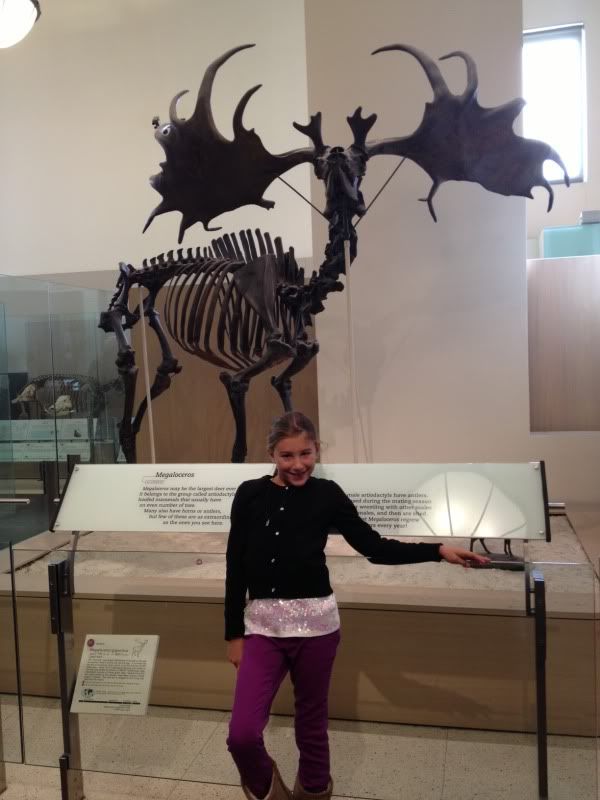 We made our way through the African mammal exhibit and the ocean exhibit and saw all the dinosaurs. And we also ate at the Food Court located conveniently downstairs because we were starving. Here's what I'll tell you, go to the museum for the dinosaurs, not the food.
After we'd seen all there was to see, we walked across the street to Central Park and just enjoyed sitting outside because the weather was gorgeous. About fifty degrees and not a cloud in the sky. Of
course Caroline took the opportunity to climb more rocks. I told her I was going to call this shot "Right before we went to the Emergency Room".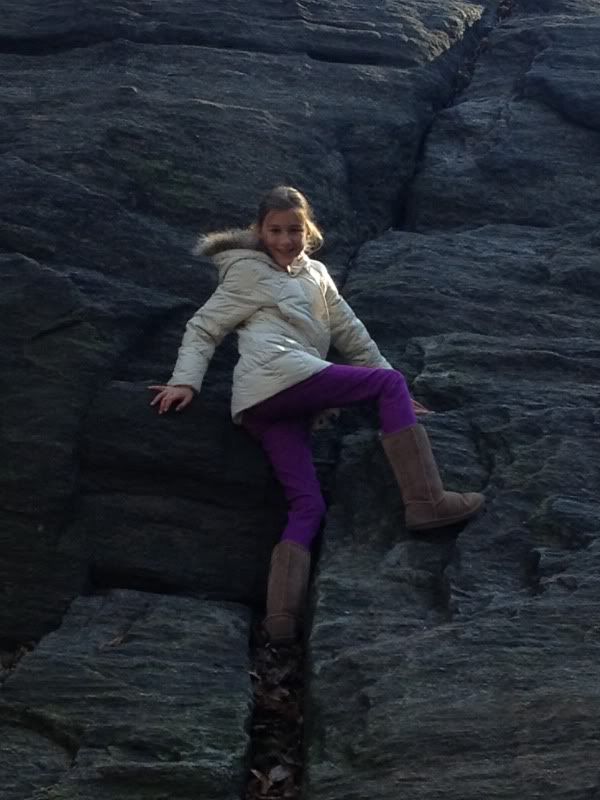 The rest of the day we spent walking down Fifth Avenue again, but it wasn't quite as charming as it had been earlier in the week before the weekend crowd set in. This time it was more like crowd-surfing on a sea of semi-drunk people wearing bad Santa Claus costumes. Which, sure, has its charm, but doesn't really allow for a relaxed experience.
And so we went back to the hotel and went out later that night to eat burgers at Jackson Hole. They were absolutely delicious. I may have dreamed about mine again last night, but I won't say for sure because that's kind of embarrassing. However, you need to try the burgers at Jackson Hole if you're ever in New York.
By late Saturday night, we were exhausted. I'd told Caroline we could go take an overpriced carriage ride around Central Park on Sunday morning, but she said she'd rather just stay in the hotel and relax until it was time to go to the airport. I've never loved her more.
And it worked out perfectly because Sunday morning dawned cold and rainy. Perfect weather for watching "Santa Claus is Comin' to Town" for the 85th time.
Later on, a car came to take us back to Newark to catch our flight home. I wish I could say good things about the flight but that would be a lie. It was long. And hot. And I sat next to a man who smelled of dirt and moth balls and onion.
We walked in our own back door around 10 p.m. and I've never been so grateful for a shower and my own bed. In that order.
But I wouldn't trade the trip for anything in the world. It was a great time and something I know we'll all remember forever.
New York at Christmas is a little piece of heaven. As long as you don't mind sharing it with eight million people.
Copyright secured by Digiprove © 2012