Technically I still feel like I'm on vacation because school doesn't start again until Monday. And so we've been staying up way too late and sleeping in until glorious hours of the morning. My Christmas tree is still up and I don't even feel bad about it. As it turns out, waiting until a week before Christmas to get your tree is not a bad thing. It was 50% off, we only had three on the lot to choose from which eliminated a lot of my OCD tendencies, and it still looks great on January 3.
I may hang hearts on it and call it a Valentine's tree.
Or I will take it down this weekend.
Whatever.
Anyway, I decided I better at least quit reading Mockingjay long enough to recap our Christmas because otherwise I won't remember what's real and I'll end up telling you about that time I was thrown in an arena and made to fight to the death and, ultimately, became a symbol for an entire nation.
So we spent the weekend before Christmas making cinnamon rolls and toffee and pecan pie and anything else that involves obscene amounts of butter. And then it was Christmas Eve.
P and Caroline went out to deliver cinnamon rolls to various friends while I stayed home and finished making our breakfast casserole for the next morning. And before we knew it the day had gone by and it was time to get ready to go to Christmas Eve service at our church.
I decided to wear this chevron dress since it wasn't cold enough to wear the jacket I wanted to wear but what are you going to do? This is Christmas in South Texas. Which is still better than Christmas in Australia because I don't care how many kangaroos you might see, it can't make up for it being summer at Christmas time.
Anyway, I don't tell you about the chevron dress for fashion reasons or even just to fill in mindless details like I am wont to do. I tell you because it will become important in a minute.
We arrived at church a few minutes early which is the only time all year that ever happens. Normally, we are those annoying people who show up sometime between the greeting and the announcements, but still walk up to the front because we like to sit up close. And so we said hello to some friends, made some small talk and made our way to our seats.
The service opened with a song and we were invited to stand. And then we sat down. That's when I felt it. Or maybe I heard it. I can't really remember. I just knew that I was almost certain I'd felt my dress rip open down the back. This was problematic for a couple of reasons:
1. No one wants to see anyone's rear end hanging out on Christmas Eve.
Or really ever.
2. There was still an hour of church left and I knew I'd have to stand again.
Probably several times.
So I tried my best to assess (no pun intended) the situation discreetly. And clearly I failed because P looked over at me and whispered, "What are you doing?" I whispered back, "My dress ripped". And he started to laugh. Because he is very kind and sensitive.
When the next song began and we were asked to stand, I turned to the side so P could let me know if it was obvious that my dress was ripped up the back. Judging from how quickly he began to figure out a Plan B that would allow me to exit the church through a side door, I assumed (no pun intended again) that the answer was yes.
Fortunately, I'd made Caroline bring a little cardigan in case the church was cold and so I tied her cardigan around my waist. Which was, I'm sure, a lovely fashion statement. But it got me out the door and into the car after church without completely shaming the family. And I was glad we stayed until the end of the service because our worship team closed it by singing Feliz Navidad.
God bless Texas.
We were supposed to go to Mimi and Bops's house right after church, but we made a quick stop by the house to take pictures in front of the Christmas tree and then for me to change clothes because OBVIOUSLY.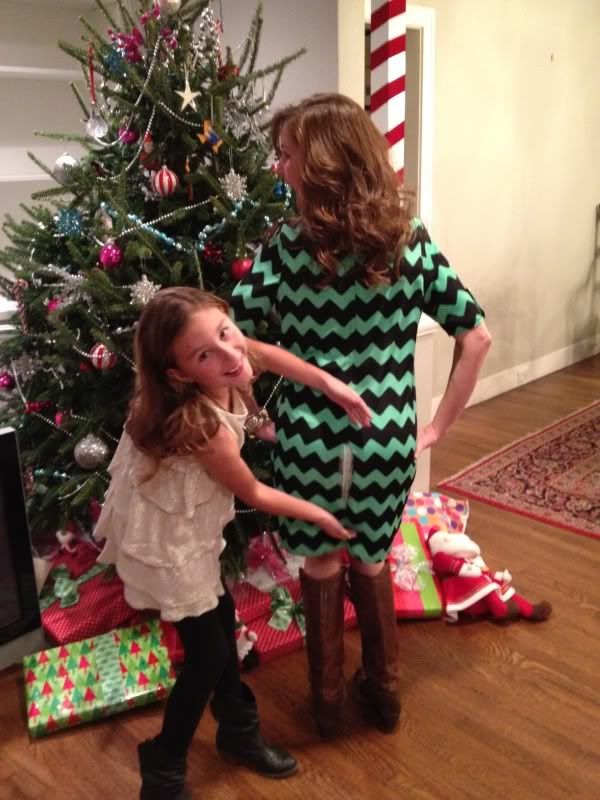 For the record, that's not my underwear because otherwise you'd never see that picture. The inner lining was intact. The outer layer didn't fare as well.
When we got to Mimi and Bops's house, we ate tamales and chips and guacamole. And I admired my nephew Luke in his tie. Because he's three and wears a tie. What's not to love?
Then the kids opened their presents. While we were in New York, Caroline and Sarah both fell in love with the Fantasma Magic Set that was being demonstrated at FAO Schwarz and so Mimi and Bops bought them each one for Christmas.
However, they quickly learned that it was not, in fact, so easy that even a child can do it. But there is a handy DVD tutorial that came with the magic set. The problem is that all the tricks require actual practice and you don't immediately possess the ability to pull a rabbit out of a hat. All I know is I've had a red sponge ball pulled from behind my ear more times than I care to remember over the last week.
We finally made our way home, got Caroline wound down enough to go to bed after she'd put out food for the reindeer and cookies for Santa.
Lo and behold, Santa showed up.
This is Caroline saying, "OH THE HUMANITY" while we made her wait to go see what he brought.
Santa brought a Kindle and perhaps best of all, a remote control helicopter that is surprisedly robust considering it was made by elves. It must have crashed into our Christmas tree at least forty-six times on Christmas morning and kept going.
We spent the morning playing with new stuff and eating breakfast with Mimi and Bops. Then it was time to go to P's mom's house for lunch. More presents. Turkey and dressing. Chocolate pudding. And Caroline doing her imitation of Sydney Bristow.
Even though she doesn't know who Sydney Bristow is yet.
But she will. Because that's important.
Even more important than Katniss Everdeen.
I hope y'all had a great Christmas. I'll be back to posting every day on Monday.
Copyright secured by Digiprove © 2013