So I really appreciate all the concern about my pointer finger even though I now have a fear of scorpions and brown recluse spiders that I've never had before. And I love y'all for your concern because when I told P last night that I had something on my finger, he replied "A fingernail?"
I also feel that you should know that no one in my real life even called me yesterday to express any condolences for my bad finger even though I know they all read the blog daily. Or maybe that's just what they tell me. Or maybe they've all realized I may have a tendency to sometimes be a hypochondriac and my finger fell in that category.
But the truth is it still hurt. So I decided to take y'alls advice and made a paste out of baking soda to see if it might draw something out. And I put a band-aid over the baking soda paste on my finger because I was in the middle of cooking dinner. But then later I went to take a hot bath so I could soak it in Epsom salts and when I pulled the band-aid off it pulled off the top part of my cuticle. Thus, my finger is in worse shape than ever.
And there's still no splinter to be found.
I just told this whole tale of woe to P and he told me if I haven't taken the time to even bother looking at it under a magnifying glass then he doesn't want to hear about it.
Anyway, I'm sure it will be fine. And I know it's not a spider bite because one time a spider bit me on my back. I don't know what kind because I'm not a spiderologist, but it was so painful and created this big blister and in hindsight I probably should have gone to the doctor. However, that's been at least twelve years ago and it seems to have turned out okay unless you count the times I have an urge to climb the wall of a building using a web I just shot out of my fingers.
And this has nothing to do with anything, but while we're talking about heights (which technically I was) I have to tell you that yesterday I drove out to a part of town that I don't frequent because it's far and I'm somewhat of a hermit. They've recently built a new overpass and I'd never driven over it before. I have an irrational fear of driving over a fairly new overpass because it hasn't been tested by time. What if they built it with a bad batch of concrete or something and it appears to be okay until the 1,000th car drives over it and the whole thing falls?
I've also had a recurring dream since I was young where I'm driving over a big overpass and all of a sudden the road ends because it's still under construction but I didn't know it and I'm just stuck there on the edge about to fall.
Feel free to analyze that at will.
In other fear and odd creature news, we have a new pet.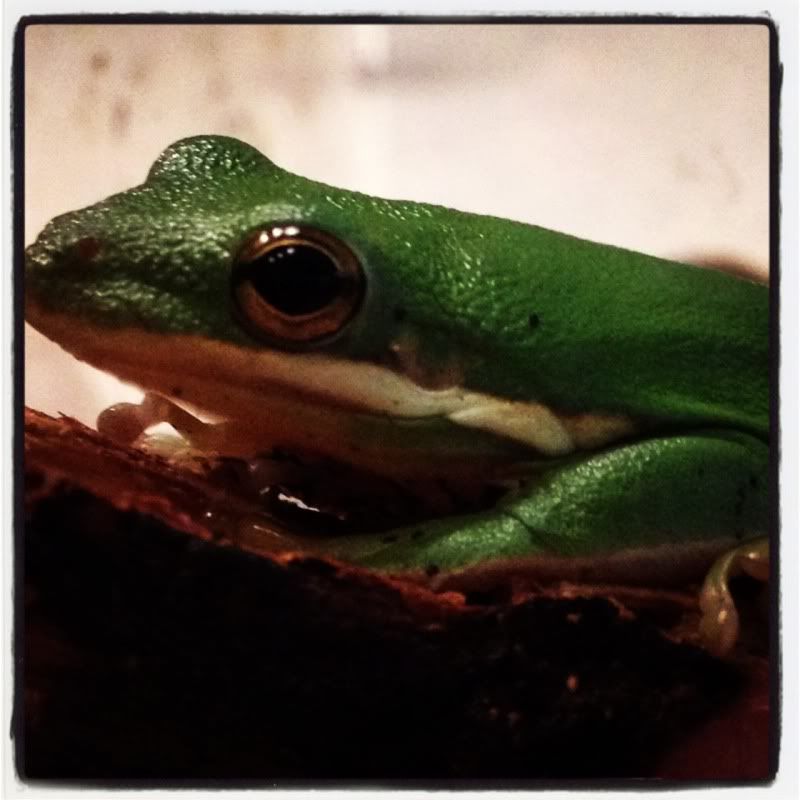 He's an amphibian. Which is a step above a reptile, but equal to an insect in my mind.
Caroline has named him Larry.
P found him on a job site yesterday. He was planting some palms that were brought in from Florida and there was Larry, practically frozen, resting on a palm leaf. Let's just hope he's truly a Florida native and not a Cuban refugee because things could get ugly with immigration issues and we could end up as the subject of a Lifetime movie entitled "Not Without My Frog".
When P walked in with him I was on my way out the door to pick up Caroline from school and he suggested I call Gulley to see if Will might want a pet tree frog because Will has been campaigning for a bearded dragon and free tree frog seems close enough.
(Disclosure: I may or may not have been the one to put the idea of a bearded dragon in Will's head. He mentioned wanting a pet lizard and I'd just seen a dad walking out of Caroline's school with a bearded dragon he'd brought in for show and tell and he told me "Bearded dragons are the golden retrievers of the lizard world". And, in my mind, if you're going to get a pet lizard you may as well get a friendly one so I told Will about them and the rest is history.)
(Gulley likes to act like this annoys her, but we'll see who's annoyed when she walks around with the golden retriever of the lizard world perched on her shoulder.)
Gulley answered the phone and I asked her if Will wanted a pet tree frog and she immediately said, "No. But this is a good way to make sure I quit answering the phone when you call."
Point taken.
And so P gets out our old crabitat and turns it into a frogitat. By the time I get Caroline home from school, Larry has taken up residence in our kitchen and P is googling "What do you feed a tree frog?"
Crickets. You feed him crickets.
But they have to be alive.
Caroline, of course, was thrilled in that way she's always thrilled during the first forty-eight hours a new pet enters our lives. If history has taught me anything (other than not to dig in my shoe for pointy things) it's that eventually Larry will join a long line of neglected animals and I'll have to set him free in the backyard to roam amongst the hermit crabs.
But in the meantime Caroline kept saying all night, "I can't believe I have a new pet frog."
Yes. That makes two of us.
Copyright secured by Digiprove © 2013