Here's what I learned this weekend.
Puffs Plus tissues with lotion and Vicks are a head cold game changer.
I mean, I still spent most of the weekend feeling pretty miserable, but they were a bright spot in the midst of it all.
Thursday night ended up being a bad night. Caroline had a slight fever and my head started to feel a little bit like it had one of those blood pressure cuffs around it like they use at the doctor's office. And so we didn't even go through the motions of getting up for school on Friday.
When we finally woke up around 9:30, I made the decision that we both needed to see the doctor. And so we went to the med clinic down the street for efficiency's sake. I paid two co-pays and we sat and waited to see the doctor while Caroline seemed to feel increasingly better and I began to feel increasingly worse.
As it turns out, we both have bronchitis. Even though I was running a fever so I got the added bonus of having a cotton swab stuck up my nose to test me for the flu. I believe this is also how they get criminals to confess to crimes.
Fortunately, I tested negative for the flu and we left the doctor's office with prescriptions for antibiotics, steroids and cough medicine. We dropped them off at HEB pharmacy to get filled and then I made the decision to go home and pick them up later that afternoon because I didn't want to die in those hard plastic chairs at the pharmacy. I preferred the comfort of my own couch.
Later that afternoon Caroline and I ventured back out because I decided the only two things in life that would make it worth living is guitars that tune good and firm feelin' women.
(I don't need my name in the marquee lights
I got my song and I got you with me tonight
Maybe it's time we got back to the basics of love)
I'm sorry. What was I saying?
Oh, two things in life I needed. A mixed berry parfait from Red Mango and my cough medicine. So we made a quick stop at Red Mango (Caroline likes her mixed berry parfait sans berries. I don't pretend to understand.) and then ran in HEB to get our meds.
Which is where I made the sad discovery that we haven't met our prescription deductible since it's only January and prescription cough medicine costs A LOT OF DOLLARS. Like maybe they put in shards of gold and essence of unicorn oil in it kind of money.
And so I found myself in a quandary. Spending money on an antibiotic is necessary. But spending money on prescription cough medicine when I could probably make due with Robitussin or Mucinex or cutting up dollar bills and flushing them down the toilet seems like a waste.
But then I remembered a friend of mine had told me she had somewhere in the neighborhood of a gallon of prescription cough medicine that her grandmother had left her when she passed away. Because, clearly, her grandmother knew that stuff was CASH MONEY. So I texted her to see if I could borrow about three doses of cough medicine to get me through the next few days. She immediately brought it over and I realize you shouldn't take other people's prescription medication and blah, blah, blah I don't care because I quit coughing and slept like a baby.
Of course after all that, I explained my frugal cough medicine ways to P and he said, "It would be worth any amount of money to not have to listen to you hack away all night. Go get the cough medicine."
He's a romantic.
On Saturday, I got myself dressed long enough to go watch Caroline's basketball game. They won and she made a basket so that was fun. And then I sat on the front porch enjoying the warm weather while she raked every leaf in our yard so she could do this.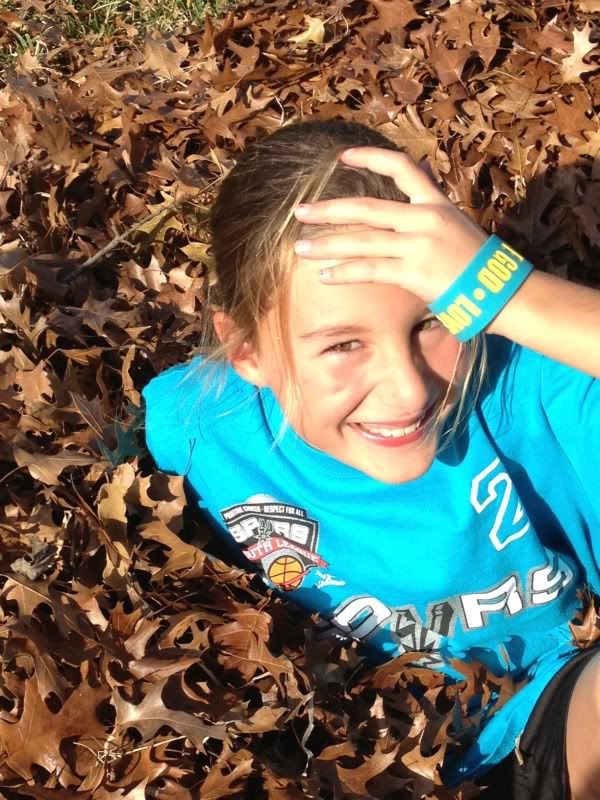 A little bit later, Mimi and Bops picked her up to take her to dinner and I took a hot bath and then stumbled into Caroline's playroom to lay on the bed curled up next to my Puffs Plus with Vicks and watched a show called Sherlock that a friend told me about.
It's another BBC show. Apparently I'm into British T.V. right now.
Which reminds me that I need to go watch Downton Abbey.
And grab another box of Puffs Plus.
Copyright secured by Digiprove © 2013