So I've been so busy whining about my cold that I haven't even told y'all what happened last Thursday.
My dear friend and interior designer Holly Mathis came to visit to help me make a few final tweaks to my living room. Which means she was also subjected to spending ten hours with me while I was all jacked up on 120 mg of Sudafed. She's too sweet to say it, but I'm pretty sure she feared for her life when we pulled into the parking lot of Goodwill and I jumped a curb.
Anyway, Holly started helping me with my house so long ago that it's hard for me to remember. But then I got completely sidetracked and ended up with a book deadline and that tends to mess with the amount of time you have to spend at Target.
And when I was finally ready to start painting and changing things up, you may remember that P decided that was a good time to get our walls insulated in his ongoing quest to make our home a large Igloo cooler. Which resulted in much drilling of holes and mental anguish.
So it was early December before the walls ever got patched and painted and the built-ins were finally built (hence the name built-ins) and the furniture came back from the upholsterers and things in general began to finally all come together.
And so Holly drove into town to help me figure out what to put on my bookshelves because I've never had a place for tchotchkes before and I was suddenly in need of tchotchkes. There's a good likelihood that I also just enjoy saying the word tchotchkes.
Tchotchkes.
We still need to add a rug in the living room but it's more than $15 and I need to wait a while. And then there are a few more things I need to do in the dining room and kitchen, but I thought I'd show you the living room because chances are good you don't want to hear anymore about how I sound like a three pack a day smoker named Hazel and yelled at some kids to GET OFF MY LAWN today.
First, this is a before picture.
I realize it's small and doesn't really show the whole thing but you get the gist. It was very maroon-y and serious. And there was an enormous picture of an urn above the mantle.
And here are some after pictures. Please keep in mind that I am a terrible photographer and I have no idea how to really style any of this. I just put the pillows on the couch and considered it a win that I remembered to take the remote control off the coffee table. Which reminds me that Holly told me I need to find a shallow basket for the top of the coffee table.
Also, the walls are painted Revere Pewter by Benjamin Moore which may be my new favorite color. It's very soothing.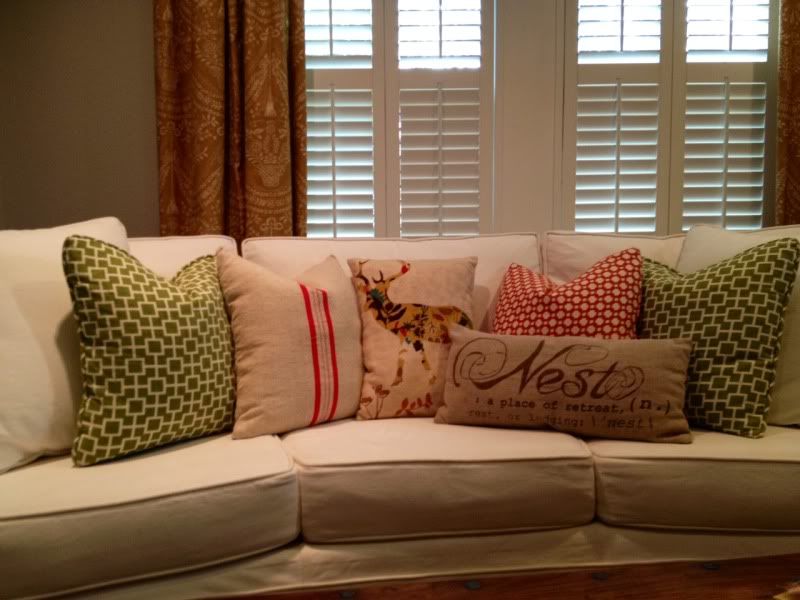 If you're wondering what those are pictures of then I will ease your curiosity and tell you they are the people who pose for pictures for frames that come from Target. I have real pictures ordered to put in the frames but they're not in yet.
And this is the mantle. You may remember that P painted those lanterns red for me almost a year ago. The wooden sign with the grace quote was made by Andrew and Tara Lowry at Between You and Me. I love it so much and they can make a sign with any quote you want.
I guess this is the neighbor's weird kid that photobombed my photoshoot.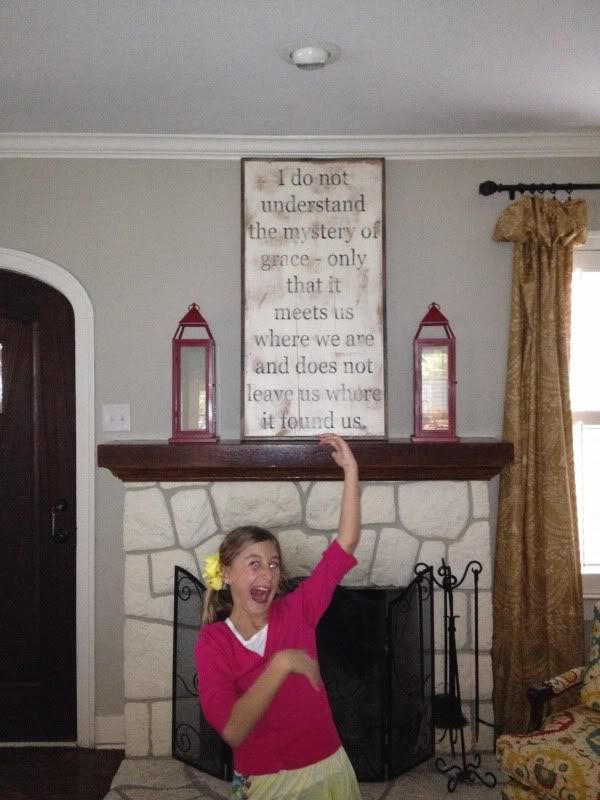 And here are the built-ins with the newly upholstered chairs in front of them. It's my favorite part of the whole thing. Holly said built-ins would change the whole look of the room and she was totally right. Before, this room was always so hard to arrange, but now it makes sense because it has a focal point besides the fireplace.
(I have no idea if that's why. But it sounds good and I like the way they look.)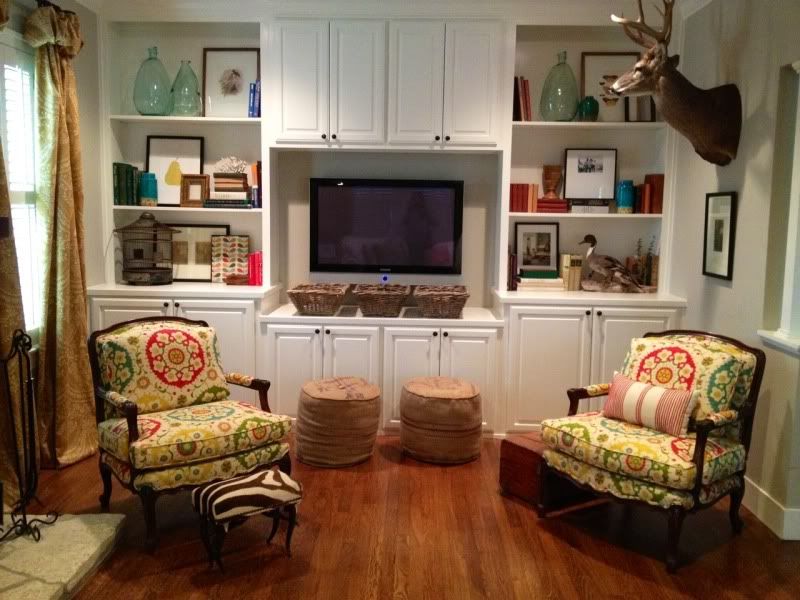 You may notice that the antelope of the Lord is MIA. He has been relocated to the playroom because Caroline loves having him in there and WHY WOULD I DEPRIVE MY CHILD OF AN ANTELOPE?
I know. I'm a giver.
And here are a few little things on the bookshelves that I especially love.
This pear print by Jones Design.
This old picture of P's grandfather and dad with friends and a limit of fish.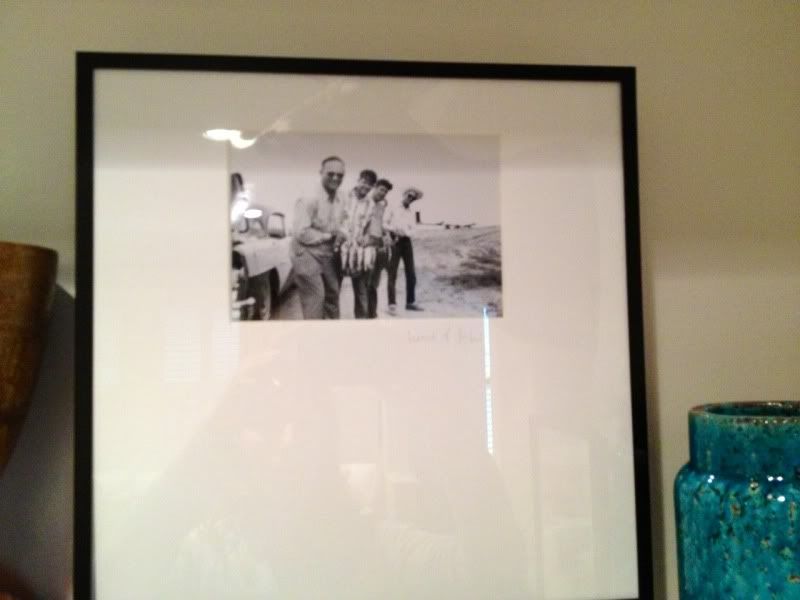 This bird print that Holly randomly found in some book at Barnes and Noble because she just knows how to find good stuff. I promise I could have looked at that same book and just thought "Oh look. Some birds."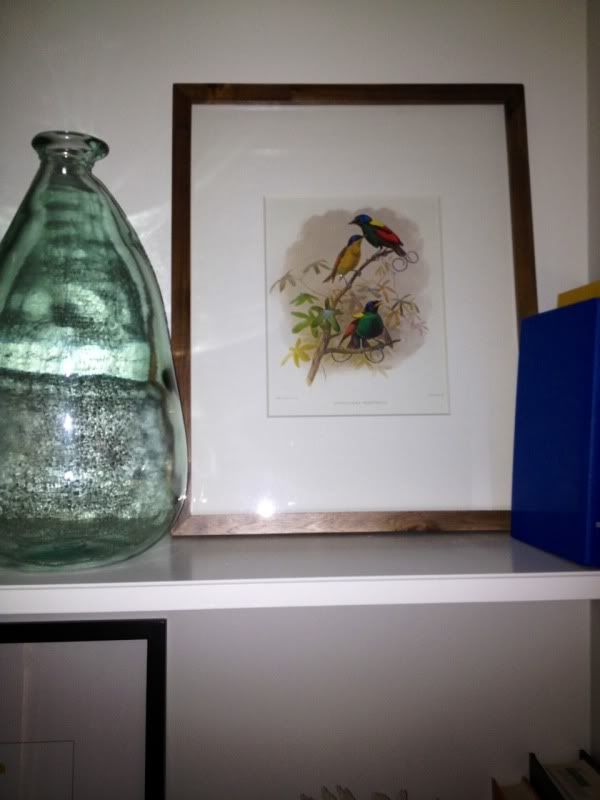 The antique birdcage I already had, some red books we found at Goodwill for $1.00, a framed photo of my great-great grandparents and some fun Orla Kiely paper in a pattern I've always loved.
(I don't think the red candle is supposed to be there, but I set it there and took the picture and hopefully it's not all ruined.)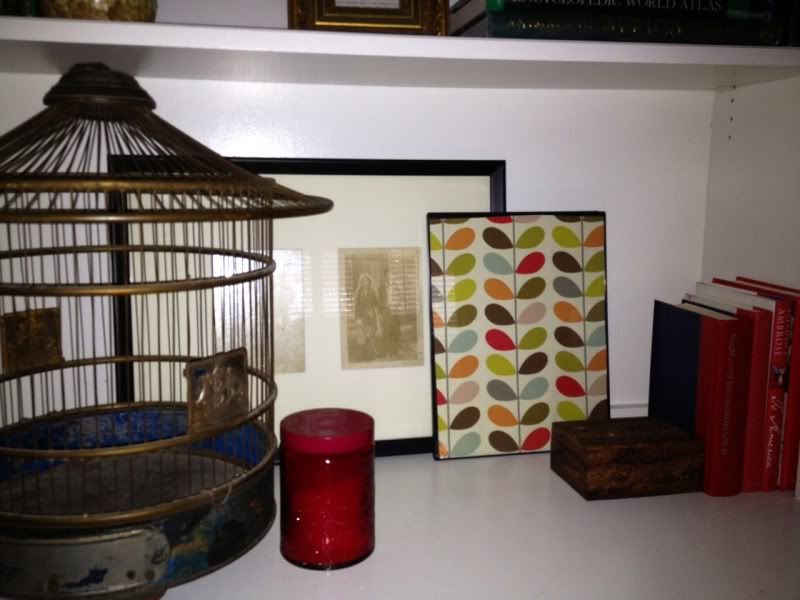 This Janet Hill print that I knew I had to have as soon as I saw it because HILARIOUS.
And another picture of my great-great grandparents from Sicily hanging on the wall under the deer. I'm sure it's just how they imagined their great-great granddaughter would commemorate them.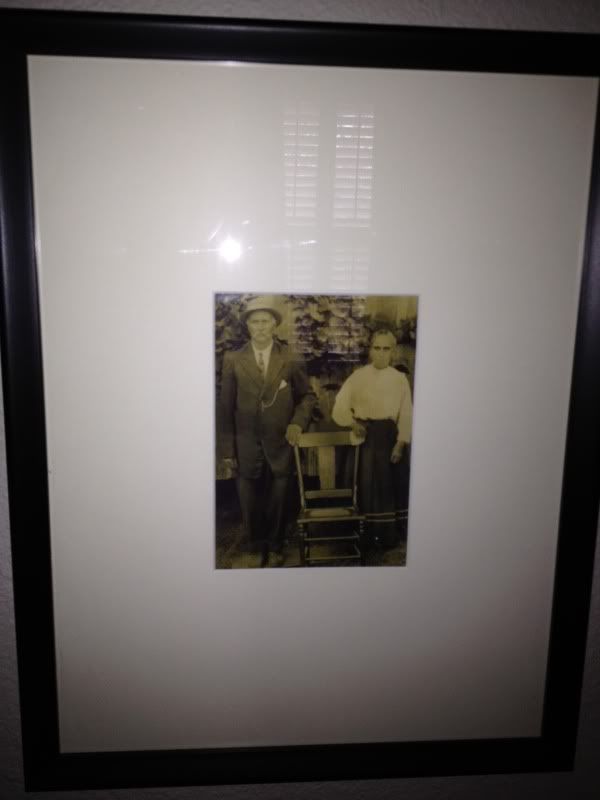 When we (Holly) finished with the shelves, she stepped back and said, "We just need a piece of coral or something to put on top of these books". And I was thinking the same thing.
(No I wasn't. You could have given me a million years and I wouldn't have thought about a piece of coral.)
P happened to overhear, remembered that his mom used to have some coral and called her. Ten minutes later, my mother-in-law was at my house and gave me her coral. It was like an early birthday present.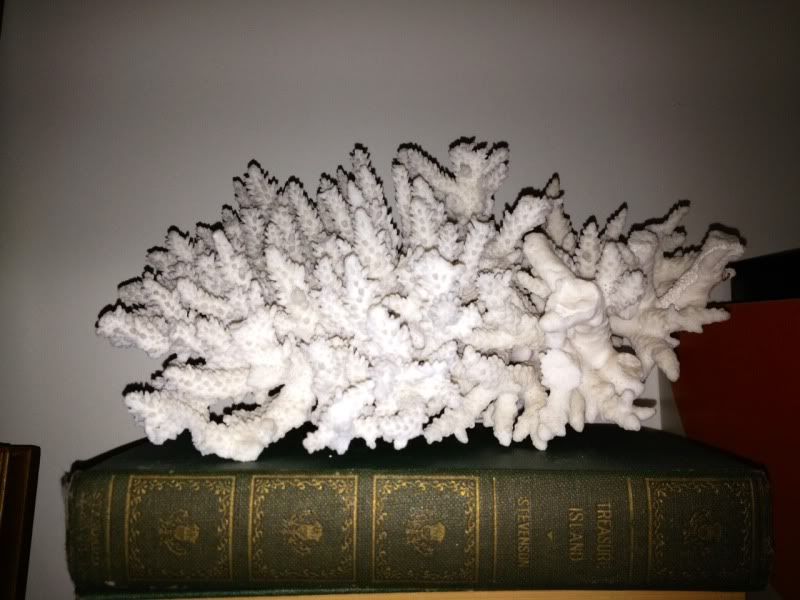 And I think it adds the perfect, quirky touch.
Holly had also mentioned we were going to hang plates on the dining room wall. And so we'd bought a few plates during her last visit. Then after the painters finished I texted her and said, "Do you think I can try to hang those plates?" She said, "Yes. Just lay them out on the floor and text me a picture."
So I did.
And then she texted me and said, "Yeah. Wait until I get there."
I was a woman in search of a vision.
But I was glad I waited because Holly came and hung the plates and even found a fun pillow to add to the mix.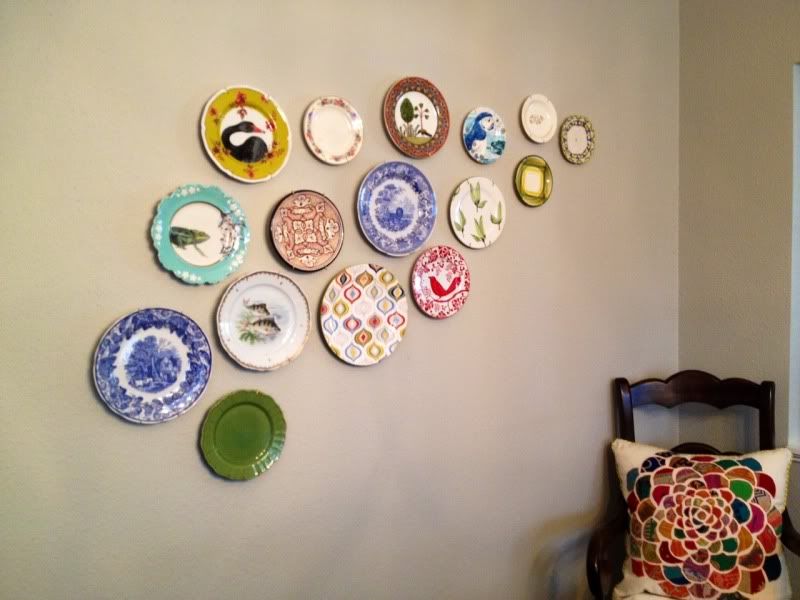 I can't wait for the whole dining room to come together.
Anyway, I'm so happy with it. The thing about house stuff is I know what I like when I see it and I can pin things on Pinterest all day long, but I want to pull my arm out of the socket when I think about trying to figure out how to do it myself. I can put outfits together all day long, but house stuff ends up with me lying on the couch eating chocolate staring at the holes in my wall. That is to say, I get overwhelmed.
That's why Holly is so amazing. She knew exactly what I wanted and helped me come up with the right mix of quirky and fun and bright but with pieces of our life and family everywhere. It's comfortable and casual and totally us.
And now I can sit back and enjoy the feeling of not having to think about decorating my living room for another ten years. While I continue to cough and sound like Hazel and wonder why kids today are so opposed to pulling up their pants.
Oh, and I needed to discuss Downton Abbey so bad yesterday that I wrote a post about it over on Ree's blog. Please feel free to click over there and leave a comment if you are like me and need therapy over the whole thing.
Also, tchotchkes.
(Edited to add that Holly Mathis does online consultations since so many of you have emailed to ask. You can find her at Holly Mathis Interiors for more information.)
Copyright secured by Digiprove © 2013