Well, at this moment I am sitting here in my pajamas trying to emotionally prepare myself for the season finale of Downton Abbey. I know enough to know it isn't going to end well and, frankly, I'm concerned about my mental state after it's all said and done. Especially since we have big plans to go to the rodeo tomorrow and it will be tragic if I'm too sad to fully enjoy a corn dog with a funnel cake chaser.
Here's a question, Julian Fellowes. What's so wrong with the concept of happily ever after?
(I'm not going to say anymore because I really don't know exactly what is going to happen at this point. And, please, no spoilers in the comments because there are people who live in caves that haven't seen Downton Abbey yet.)
(However, I will be posting a complete post on my thoughts on the season finale over at The Pioneer Woman's blog in the Entertainment section so we can share our thoughts there.)
But let's talk of happier things, specifically funnel cakes. Because guess what Caroline and I saw as we drove to Houston on Friday afternoon?
If hijacking a funnel cake truck is wrong, I don't wanna be right.
However, we resisted because I felt like chances were good there weren't actually people inside that funnel cake booth frying up hot funnel cakes as they drove down I-10. But my long-held belief that turkey leg booths and cotton candy booths and corn dog booths just magically appear at carnival sites along with people that can smoke cigarettes and fry up a Snickers bar at the same time was forever shattered.
So that's what we did this weekend.
(I don't mean we smoked cigarettes and fried up Snickers bars because that's kind of how I just made it sound. I meant we saw a funnel cake truck.)
Caroline and I left for Houston around noon on Friday. On Thursday night I debated letting her just skip school on Friday so we could get an earlier start, but then decided against it. But then she didn't feel good all night Thursday night so she ended up missing school anyway and we still didn't get away until noon on Friday. And this is so much more than you need or want to know.
And so we finally packed up the car and made the drive to Houston which I always contend is one of the most boring drives in the history of all drives. Fortunately there was no shortage of Taylor Swift songs to keep us entertained.
When we finally got to Mimi and Bops's house, we visited for a while and Caroline tried to catch lizards out on their patio and then we ultimately made our way to Escalante's for dinner where I ate a lobster enchilada that may have forever changed my views on seafood combined with Mexican food in all the best ways.
The next morning we just relaxed until I realized I should probably shower if I was going to be signing books for people. I don't know much about all this, but it seems like hygiene is a good first step. I think I read that once in How to Win Friends and Influence People.
We finally got to the bookstore about ten minutes early and it was very glamorous as I watched them vacuum the spot where they would later place a small table with a black tablecloth. And have I mentioned I also get very nervous at these things? Like the kind of nerves I imagine an athlete gets before a big game. Although I wouldn't know that because the only time I've played a sport in the last thirty years was for an intramural softball team in college.
(We came in first place. But only because all the other teams didn't show up.)
Fortunately there was no podium or microphone like the signing I did earlier in the week. Although that did create a great moment Gulley told me about later. Apparently when I started to read an excerpt from a chapter, someone in the audience said, "Wait, this isn't a poetry reading?" and packed up her things and left. It made me so happy.
(If only she had known that I have a whole notebook of very dramatic poems I wrote between the years 1985-1994. However, I would only show those to someone if my other choice was to be lit on fire.)
Anyway, my nerves weren't really helped when this is what greeted me at the front of the store.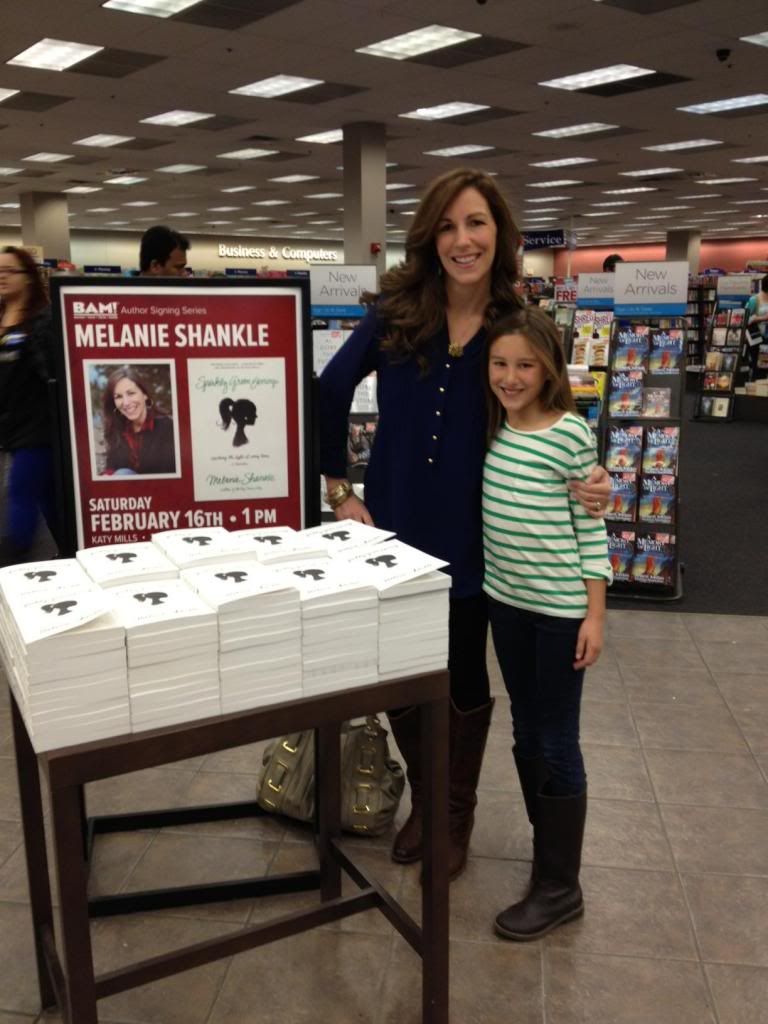 That is a lot of books. And a lot of my face on that sign.
But it ended up being so fun to have Caroline, Mimi and Bops with me. And I had a great mix of sweet friends I've known forever show up along with some relatives and many of y'all who I felt like I knew even though we'd never met in person before. And I was so grateful because there are so many better ways to spend a Saturday. Like at a poetry reading, for instance.
Caroline thoroughly enjoyed herself. She sat right by my side and we shared what felt like an increasingly small rolling desk chair for close to two hours. She even signed almost everyone's books. I think she's a fan of the book signing.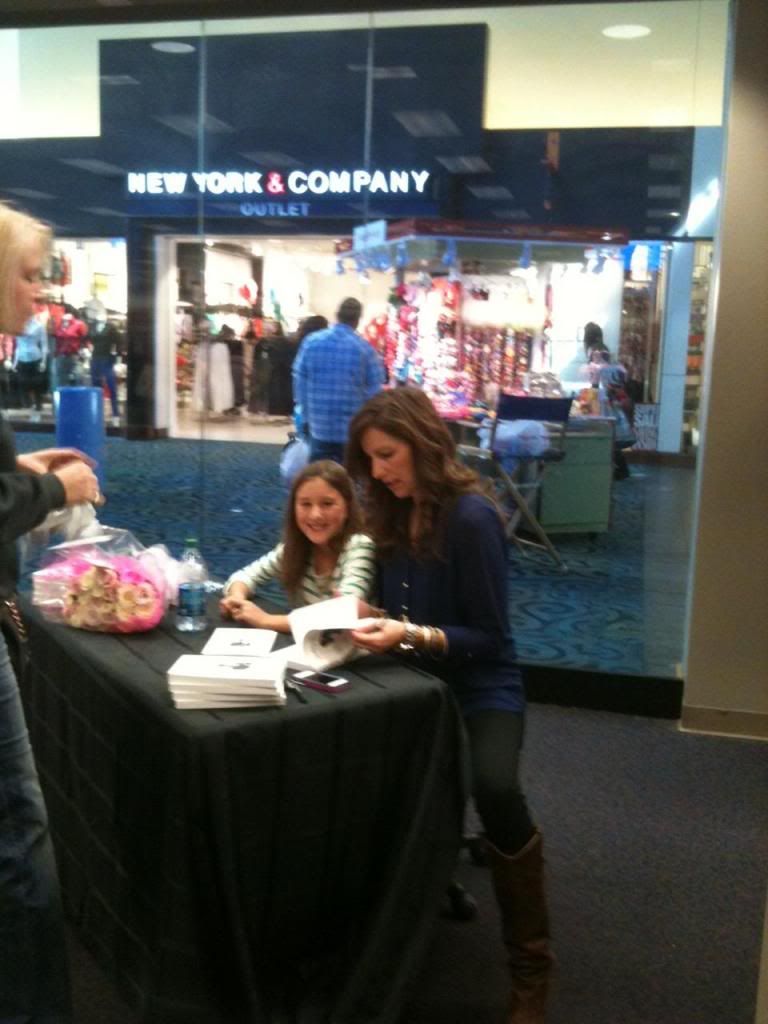 (I also just want to quickly mention that some of y'all have said you'd like to have a signed book. There were books leftover after the signing on Saturday and Caroline and I signed them. So I'm betting you could get Books-A-Million at Katy Mills to send you one of the signed copies if you're interested.)
After it was over, we had to make the arduous trip back to Mimi and Bops's house which happens to be near The Galleria area. This might not mean much to you if you're not familiar with Houston, but here are a few things you need to know:
1. The NBA All-Star event was in Houston this weekend.
2. Most activities apparently centered around The Galleria area.
3. The Galleria area is crowded enough anyway on any given weekend.
4. Bops considers finding ways to avoid traffic a recreational sport. He likes to weave in and out of traffic and take alternative routes and speed up and slow down like it's a race.
5. I struggle with carsickness issues. Exhibit A: I once threw up on a bus in front of Ann Voskamp.
Fortunately, I have learned to just close my eyes and go to a happy place in my mind. Specifically a place where I'm not in a car but maybe lying in a field. Actually, that's not true because fields have bugs. So maybe where I'm lying on a bed with a fitted bottom sheet in a really nice hotel.
(You don't want to know how I feel about the overuse of non-fitted bottom sheets in hotels all over America.)
So while I didn't actually need a yuck bucket, I did need to take an Aleve and close my eyes for about thirty minutes after we got back home. And then we ventured back out again to meet some friends at an Italian restaurant for dinner. But we took a better route this time because Bops was fully aware of the traffic situation and had plotted an alternative way.
After a couple of pieces of pizza and a glass of wine, I was like a new person. And getting to end the day laughing with friends over good food was perfection.
We also discovered on the news later that night that they'd had to shut The Galleria down because it had reached maximum capacity. If you've never been in The Galleria you can't appreciate what that means so I'll sum it up by asking you to picture more people in one place than you've ever seen in your life and then triple it.
In other words, it would basically be enough to make me never want to shop again.
I'm totally lying.
Nothing could be that bad.
Copyright secured by Digiprove © 2013