I cannot even begin to explain how windy it was here yesterday. But I will tell you that I woke up in a strange colorful land surrounded by singing little people and discovered I'd inadvertently killed a witch wearing ruby slippers.
Or maybe I saw that in a movie one time. I can't really remember.
P had warned me that the weather forecast had called for wind gusts up to fifty miles an hour but I didn't really take him seriously because I never believe the weather is going to actually do what anyone predicts until it actually does it. This is a direct result of growing up in Texas and spending way too many days being disappointed by some fool weatherman who predicted snow and school closures, only to wake up the next morning and find the reality was I had to go to school while a chilly rain fell.
But the wind prediction turned out to be right.
Unfortunately, I had to go to HEB because I have spent the last three weeks being a piecemeal grocery shopper. By which I mean that I just made about three short trips to the store a week to get whatever five things we needed to make it through for a couple of days. Frankly, I just didn't have the time or energy to develop a well-crafted, comprehensive grocery list.
But yesterday was the day. It felt like it was time for me to return to reality. And it helps that we are looking at two solid weeks of a pretty normal schedule. So I made a list that included real things like vegetables and milk and not just Nilla Wafers and York Peppermint Patties. Then I decided to head to the store sooner rather than later so I didn't have to dread it all day.
I fought the wind that nearly blew my car door off the hinges and made my way into HEB. I perused the produce section and picked out ingredients that had the potential to become real meals. And then, with a full cart, I walked towards the back of the store to get milk and butter and eggs.
(Why do I all of a sudden feel like I'm narrating a feature on Sesame Street?)
And as I opened the freezer doors to reach for the milk, it happened. The power went out. In the whole store. It was total and complete darkness. And all I could think was how mad I was going to be if this meant the cash registers weren't going to work and all my grocery shopping had been for naught. WHY CRUEL WORLD, WHY?
I pulled my cell phone out of my purse so I'd have a little light and a sweet elderly woman behind me exclaimed, "OH HONEY! That is perfect! Now you can help me find my Coffee Mate!". Because that was obviously the most important issue at hand while we stood there with full shopping carts in pitch black darkness.
So we searched for Coffee Mate for several minutes and finally found the right one (I had no idea there were so many choices) just as the generator finally kicked on. And to my eternal gratitude they announced the cash registers were indeed working and customers could check out.
I walked up to the front of the store and unloaded all my groceries on the conveyor belt only to be reminded by the checker that the conveyor belt wasn't working because, you know, ELECTRICITY. And so I had to manually move all my groceries toward the cash register like I was Caroline Ingalls. I have never been so grateful for Benjamin Franklin and old what's-his-name that invented the grocery store conveyor belt.
I know you are all astounded at this point by this harrowing tale of grocery store bravery.
Anyway, I came home, unloaded my groceries, caught up on a few things and then it was time to pick up Caroline from school. I'd promised her we'd go get pedicures after school as a reward for a good report card and a few other things, so we went straight to the pedicure place. And Caroline begged me to not choose some "polish that's the color of poop" like I usually do. It would seem she's not a fan of the browns and grays I've favored lately. So I went with a deep red Essie color called Head Mistress and she went with a subtle turquoise, purple and neon pink combination. Her toes look like little Easter eggs.
But while we were in the midst of our pedicures, P called to ask how long the power had been out at our house. And I was unaware that the power was out at our house. After a quick online search, I knew that City Public Service was on the scene and we headed home to wait for the power to return. And I was reminded again of all the things that require electricity. Specifically the washing machine and the dryer.
I am not cut out for the pioneer life. And God knew this, which is why I was born in 1971. He knew I'd have a lifelong love of things like indoor plumbing, electricity and KC and The Sunshine Band.
The silver lining in all of this was that I wasn't going to be able to cook dinner without electricity. And while that may not be technically true, I had big plans to use this excuse to the fullest. Around 5:30 I was mentally planning what type of food I wanted to have delivered to the house when I heard the whirr of the computer starting up and lights started to turn on.
So that's how I ended up cooking chicken spaghetti for dinner last night. With just a little trace of bitterness over all the hardship I'd suffered and the fact I hadn't been able to use any of it for good.
And by good, I mean pizza delivered to my door.
****
On a non-pioneer/my-life-and-times-without-electricity note, I had the chance to meet these sweet girls in person this weekend.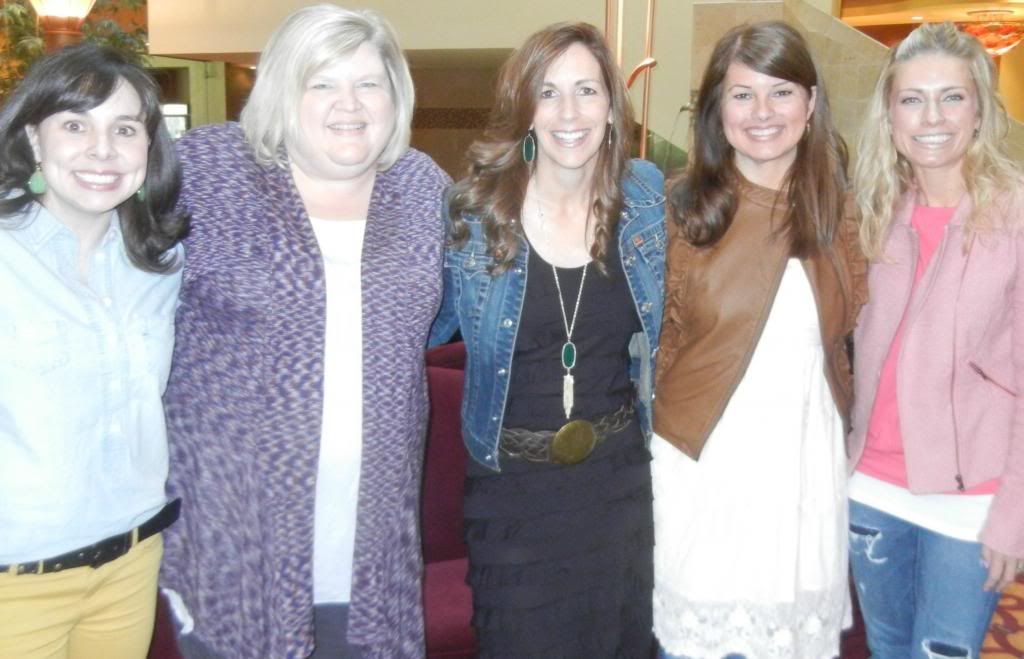 I already knew Kelly and Sophie and they know me very well because I threw up in front of them on a bus in Ecuador. Good times. But I got to meet Sheaffer from Pinterest Told Me To and Shay from Mix and Match Family. (Shay also happens to be Sean Lowe's sister. Sean is the bachelor as in THE BACHELOR this season.)
Anyway, Sheaffer had asked me a long time ago to do a Pinterest fashion inspiration post on her blog. And then I forgot about it. But today I did a version of one which really just means Sheaffer was sweet enough to just use the picture of me from the above photo since that was a Pinterest inspired outfit and technically counts.
But, wait, there's more! Sheaffer is giving away two signed copies of Sparkly Green Earrings and one of those copies will also include this gorgeous pair of Garden Party Chandelier Earrings from Stella & Dot .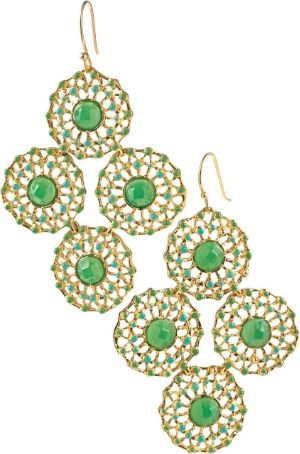 Here's the link to Sheaffer's blog. Head on over there and leave a comment if you'd like a chance to win.
Copyright secured by Digiprove © 2013