While I was gone last weekend, it was bike rodeo time at school. I don't know if schools all around the country have bike rodeos or if it's just a Texas thing. Maybe you have bike rodeos but call them something else. Perhaps a bike festival.
It's essentially an event where kids bring their bikes to school and weave in and out of cones and ride in a circle and a few other things like that. And since I was out of town, P was solely in charge of all bike rodeo duties, including taking Caroline up to school to practice on the course the day before.
She'd been a little nervous about it and we discussed it the night before I left. I tried to reassure her and even asked, "Remember what it says in the Bible about worrying?"
And she answered, "Yes. Hakuna Matata."
That particular passage is found in the gospel of Pumba.
And then I got nervous when P texted me while I was at dinner on Thursday night and said Caroline was really nervous while practicing and even wiped out a few times. That's how you know you're a mom. When you're at a really nice dinner and you're worrying about how well your child is going to weave in and out of orange cones the next day.
As it turns out she did just great when it came time for the real thing and even told P afterwards that she was "amazed" at how well she did on the cones.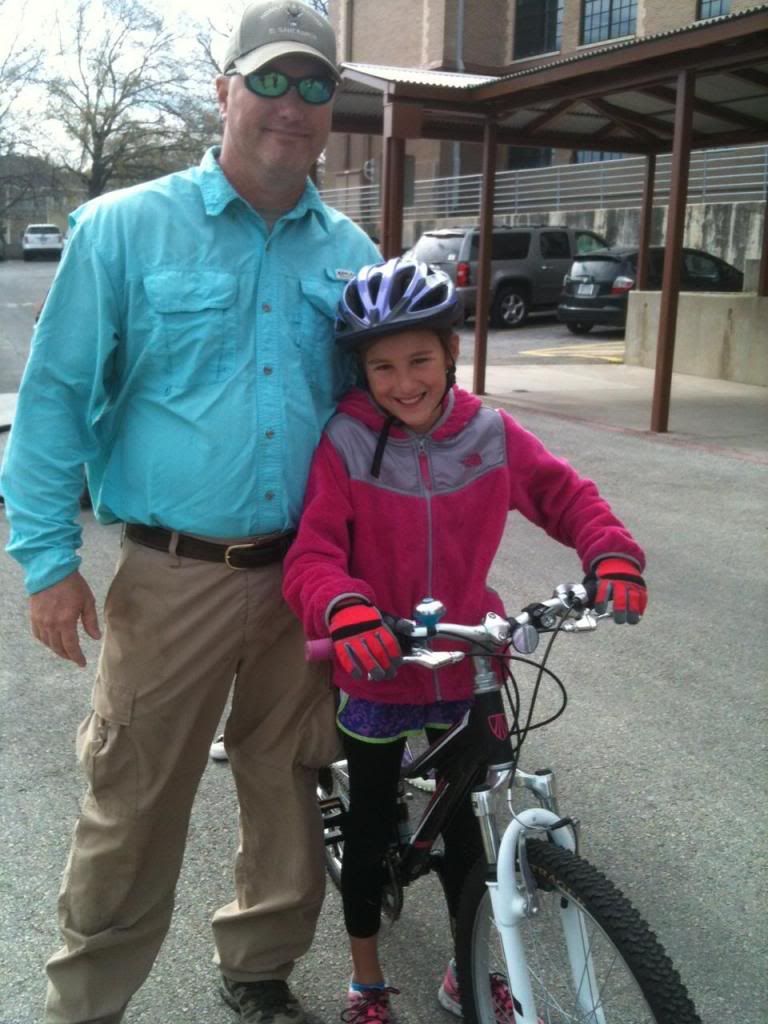 Which makes that time I spend worrying about her self-esteem appear to be wasted.
In other news, I was tucking her in last night and she said, "Mom? You have something right there by your eye." And so I wiped my eye and asked if I got it. She looked at me closer and said, "Never mind. You just have old people eye."
It's a moment I'll cherish forever.
And confirmation that maybe I need to worry more about my own self-esteem.
And, finally, I am in the midst of a small crisis.
From as early as I can remember, my Nanny always made cinnamon cake. It was a guarantee that any time you walked through her front door there was either a warm cake coming out of the oven or one already waiting on the countertop.
And so it has always been one of my comfort foods, along with frito pies made with Hormel chili from a can. Which reminds me that Nanny also used to make the best chili-cheese sandwiches, but she made those with Wolf Brand chili and a slice of cheddar cheese.
Clearly I am a woman with sophisticated culinary tastes.
Anyway, I love to make a cinnamon cake. And it's essential that you make it in a bundt pan because that's how Nanny always made it. But lately something has gone awry.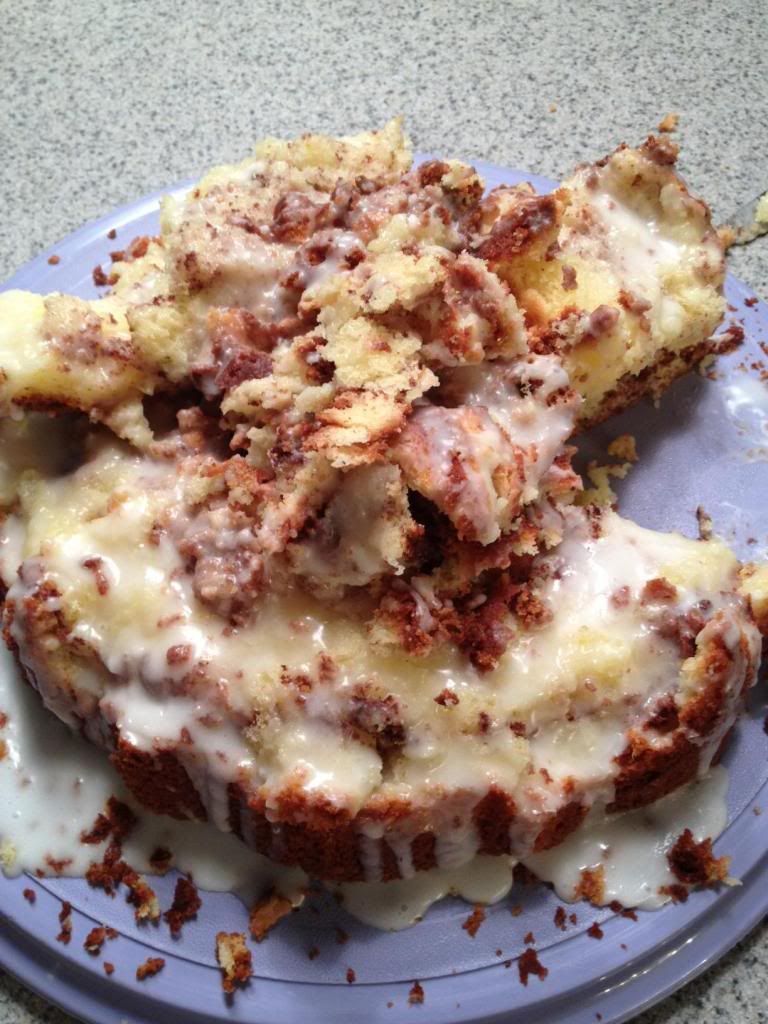 Because I'm pretty sure this isn't how it's supposed to look.
Martha Stewart and Nanny would be so sad.
Granted, this one already has a few chunks taken out of it because cinnamon cakes don't last long at my house, but it wasn't pretty even before that.
At first I thought the problem was that I wasn't greasing the cake pan well enough, but now scientific research in the form of five failed cinnamon cake attempts has led me to believe that fault may lie with my bundt pan.
So I'm going to buy a new one tomorrow. Or whenever I remember.
And I'll be sure to let you know how it turns out because I realize now I've brought you into my bundt cake troubles and you won't be able to sleep until you know how it all works out.
In case you're wondering about the cinnamon cake recipe, it's also called Sock It To Me cake. Except Nanny always added a whole extra cup of sugar to the recipe because WHY NOT?
Oh, and she baked it for 55 minutes at 350 instead of 45 minutes of 375.
And no matter how hard you try, it never tastes as good as hers always did. Even when it actually comes out of the bundt pan in one piece.
Hakuna Matata.
Copyright secured by Digiprove © 2013