Well.
It's funny how things work out. Or don't work out as the case may be.
As it turns out, I didn't end up spending my Saturday morning in the 33 degree weather watching Caroline play soccer.
Mainly because this happened on Friday afternoon.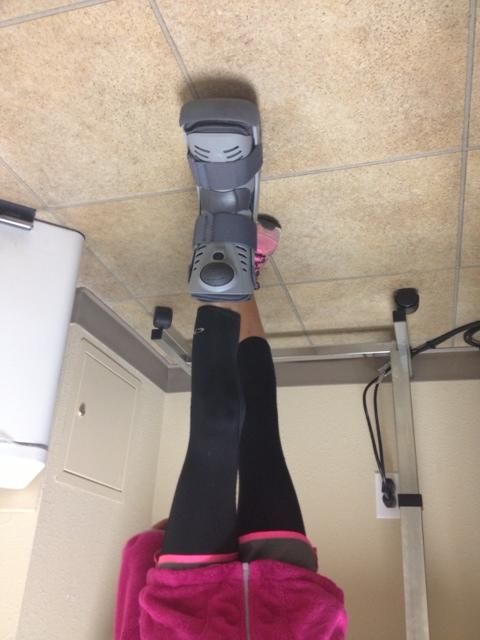 She turned into the Terminator.
Actually, that's her foot. In a boot.
Which I like to say in a Canadian accent.
Even though the only time I've actually been to Canada was a quick trip to Vancouver back in 1999 and all I saw was the inside of a Hilton because it was for a pharmaceutical sales meeting and it always seemed they had a strict policy against allowing us to actually see the city we were visiting.
So basically what I'm saying is that I'm just making a complete stereotype that Canadians really say "A boot". And you should also know that my sense of humor was totally lost on Caroline as I kept saying, "You're A Boot to get A Boot".
But considering this is the face she made when I asked her to smile for the camera, I don't feel like she's in a position to judge my Canadian humor.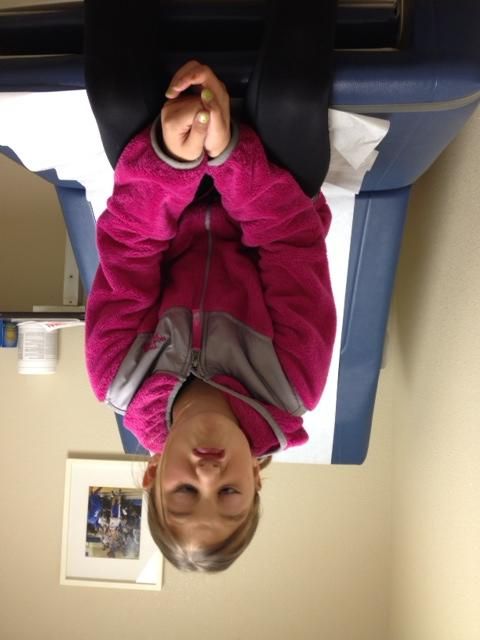 Clearly the big question is what happened?
Yes. We don't really know for sure.
For the last week Caroline had been complaining about her ankle. And so she'd come home from school and we'd put some ice on it and take an Advil. (Yes. We would take an Advil. One for her, one for me because the whole ankle thing was making my head hurt because I wasn't sure what to do about it since there'd been no definitive injury.)
Finally P said I should probably take her in to see the doctor. So I picked her up from school early on Friday and we went to the doctor so we could shell out any money we hoped to save for something fun on X-Rays and an exam.
As it turns out, she has a fractured growth plate. Which sounds a lot worse than what it really is. The truth is it's a kid version of a sprained ankle, but kids still have soft growth plates to allow their legs and arms to grow to normal size because ideally no one wants T-Rex arms.
However, these growth plates can be traumatized (Can't we all?) and that is what happened to Caroline at some point during soccer practice or jumping down repeatedly from the tree in our backyard or while trying to do flips off the monkey bars at recess. There is really no telling.
But she has to wear the boot for two weeks and keep it immobilized.
Which translates to no soccer games for two weeks.
However, she and P still went to the game on Saturday morning to support her team. I did not feel called to such dedication and showed my support by staying in my warm bed until I woke up at 9:45 a.m. and watched an old episode of 90210. I felt like it was the right decision.
They came home around 11:00 with breakfast tacos because they'd missed the chicken biscuit at Chick-Fil-A by six minutes. Which is almost just cruel. P asked me why I didn't run over to Chick-Fil-A to get us all biscuits and I had to wonder what alternate universe he has ever lived in where I get out of bed on a cold Saturday morning even for a chicken biscuit. We've been married almost sixteen years and I feel like he should know me better than that.
But the breakfast tacos were delicious and seemed a fitting choice since Saturday was Texas Independence Day. And while we didn't want to be a part of Mexico, we are certainly grateful for their food.
Then Saturday night P grilled quail and we sat outside and listened to Waylon Jennings and Willie Nelson and Merle Haggard. And looked at the stars in the sky and made a toast to all things Texas.
God bless it. It's a boot the best place on earth.
Copyright secured by Digiprove © 2013