Our weekend was fairly uneventful. Caroline had soccer practice on Friday night and a soccer game on Saturday morning. And then we went to watch Gulley's boys play baseball on Saturday afternoon because San Antonio has decided to have a real spring this year and the weather was absolutely gorgeous. Later that night, we ate dinner at our friends' house and then we slept in Sunday morning because we've all been experiencing a touch of the tired and run down.
But about 10:30 a.m. on Sunday, things got interesting. That's when P called me into the playroom and we began to talk about our options. You may remember that we pulled the sheetrock off the walls and painted them about this time last year and since then the room has pretty much just stayed the same. Which is to say that it was a random assortment of old furniture, a T.V. best described as a dinosaur, and a twin mattress and box springs on the floor.
It was a look I'd call White Trash Chic.
(Also, to assure you that I'm not exaggerating when I say the T.V. was a dinosaur, I'll tell you that we sat it out on the curb WITH the remote control with a sign that reads "FREE WORKING T.V.!" and it was still there last I checked. We literally can't give it away.)
I'd spent many, MANY, hours on Pinterest looking at various decorating options and naturally decided we needed to build a bed out of pallets. Because that's what people do on Pinterest. They build beds out of pallets. And then they add big caster wheels to make sure you know it's very industrial. You can wheel that pallet bed all over the room if you want to, but you just need to make sure you don't hit the nightstand painted turquoise with a mosaic scene on top that someone made from nothing but a broken teacup, some Elmer's glue and a Jedi mind trick.
So over the last few months I've shown P various beds made out of pallets and he's pretended to be interested. That's the key to a successful marriage.
But on Sunday he was ready to figure it out. We looked at all the various pins I've pinned and brought Caroline in to get her thoughts and, before I knew what was happening, we had a plan. He headed off to Home Depot with a dream and his checkbook and came home with a truck full of lumber, some chain, and a box of screws.
And I was excited. However, I was also a tad nervous because these home improvement projects always require team work. I knew it was just a matter of time before he started asking me to read measurements off the tape measure while he held it at a certain point. And you know what P doesn't consider a real answer?
"Umm. I think it's like 17 1/2 inches."
"You think? Or you know? These are measurements. You need to know."
"What am I? The Metric Man? It looks like 17 1/2 to me."
Then he'll look at it to double-check and declare that it is actually 17 3/8. The problem is I don't deal in eighths of anything. I don't understand them and, frankly, it just seems like nitpicking. Are you too good to just be a 1/4 or a 1/2? Then I don't need you in my life.
Before the day was over, P had used a small level, a large level, an industrial tape measure and a chalk line. He enjoys the satisfaction of doing a job right the first time and eliminating superfluous nail holes in a wall whereas I am from the school of CLOSE ENOUGH and would have counted off measurements using the width of my thumb.
But after fifteen and a half (Or is it 3/8?) years of marriage, we made it all the way through a project and were still on friendly terms at the end of the day. I think this was at least partly due to Caroline's enthusiasm for the project and the fact she appointed herself as P's official helper while I left for an hour to drive to World Market and look at bedding. And then also went to Target. And then may have stopped at Sonic for tater tots.
When the day ended Caroline had new beds in the playroom. And I'll be honest, they're so much better than just a silly old pallet bed with caster wheels.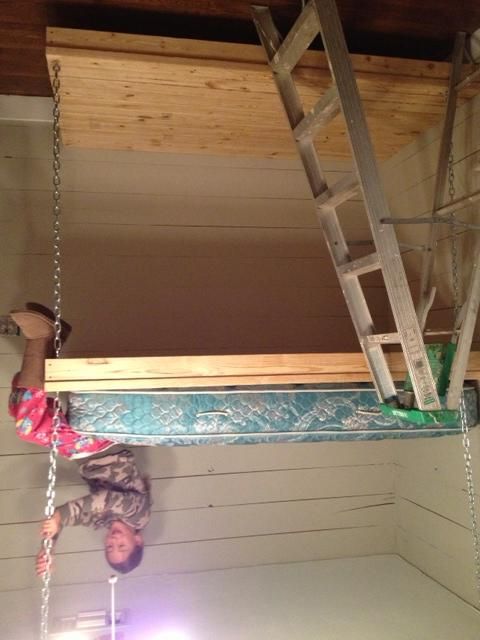 Now we just have to sand them. And stain them. And find bedding that Caroline and I agree on.
The good news is all of those things should be easier than trying to figure out what 3/8 means.
Except maybe the bedding part. I think we all know by now that Caroline and I are going to have different opinions on that. Specifically, I do not care to have any sort camouflage comforter or quilt.
Although that might make this guy feel right at home since the playroom is his new home.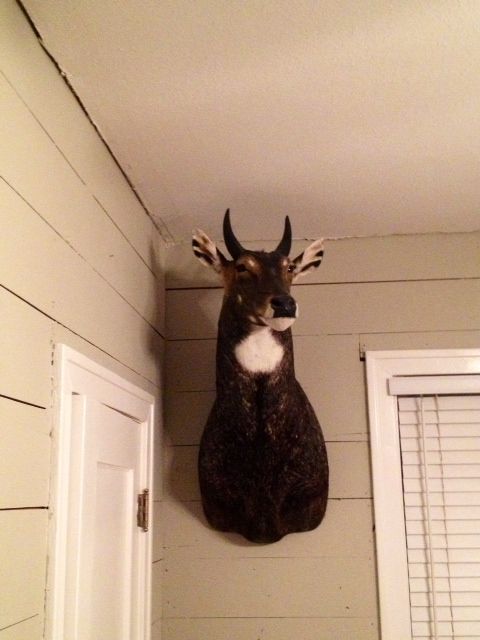 And, lo, an antelope of the Lord appeared and he was not in my living room and the people said Hallelujah.
Copyright secured by Digiprove © 2013