School was officially out on Thursday. Which meant we spent all day Friday in our pjs watching a Jurassic Park marathon. Because what says summer more than watching people get hunted by dinosaurs?
This is Caroline before school on the last day. Yes, she insisted on climbing the tree for the picture. She also does have bangs now, but she's already pinning them back while I bite my tongue and resist the urge to say I told you so.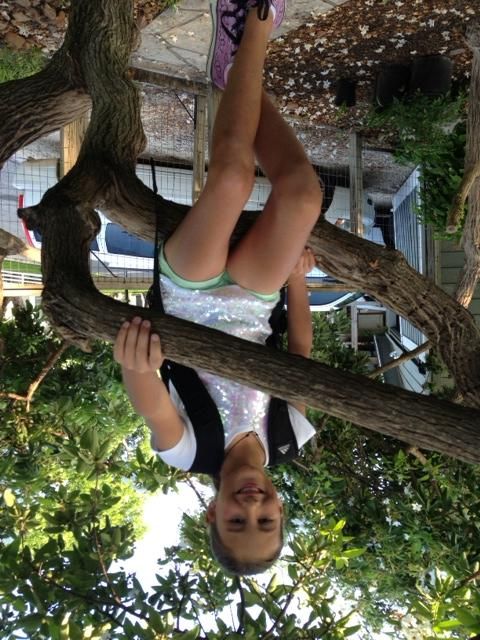 In truth, we needed a day to recover from the last week of school festivities. I think I've mentioned before that Caroline has had the same teacher for first, third and fourth grade along with most of the same classmates. It has been one of the biggest blessings of elementary school, but we knew by mid-May that our beloved Miss C. isn't going to be moving up to fifth grade and so there were a lot of tears and emotion leading up to the last day of school. And Caroline was upset too.
I knew it would happen eventually but it was sad to say goodbye knowing we wouldn't be back in her classroom next year. She's pretty much become a member of our family at this point. And I owe her a debt of gratitude I can never repay for teaching Caroline fractions because otherwise I would have had to do it. Which means she would have gone through life not knowing if 2/3 or 3/4 was more.
We had an end of the year party at the pool. And I'm sad to report that it took an hour for us to get our nachos. This doesn't bode well for the summer. Usually June is the good month for the grill and you have to wait until July before the kids that work there say things like "Yeah, we're not making any more chicken fingers today because they're too much trouble" or "Do you mind eating that salad without dressing because we're out?"
But it didn't dampen our pool enthusiasm. We stayed until closing time and came home exhausted. And that's why I felt like we could spend Friday in our pajamas. However, we did stop watching dinosaurs terrorize the earth long enough to shower and put on clothes to go eat dinner with Mimi and Bops and my sister and her family.
On Saturday morning Caroline was playing in a soccer tournament. And by morning I mean we got there at 9:00 in the morning and stayed until 4:00. I made the mistake of declaring early in the day that the weather wasn't too hot considering it was June. And it wasn't at 9:30 a.m. But the sun has a funny way of significantly heating things up as the day goes on and by 2:00 p.m. I was looking around to see if anyone had a cooler large enough for me to crawl inside.
By the time we got home I was in need of a shower, some food that wasn't a concession stand hamburger, and a bottle of wine purely for medicinal purposes. We were all in bed by 9:30 and I can't speak for P and Caroline but I was asleep by 9:30 and 1/4 seconds.
Look at me! Using fractions!
Sunday morning we went to church then Caroline went to go swim at her Gigi's house with her cousin. Meanwhile I decided to make a trip to HEB because we were out of milk and it's summer and that means Caroline is going to expect food to eat during the day.
Of course I forgot to factor in that the Spurs were playing later on which meant all of San Antonio was at the grocery store buying all manner of dips and chips and party supplies. I can't even explain the chaos and the lines.
But I managed to persevere and foraged for food for my family in spite of the harsh conditions, just like a modern day Caroline Ingalls. You would have been especially inspired by my bravery in the cereal aisle as I dodged all manner of grocery carts and amateur shoppers.
I'd had big plans to bake a cake when I got home, but after my harrowing grocery store experience I didn't have the strength. So I chose Option B which consisted of passing out in a dead sleep on the couch for two hours. I slept so hard that I woke up and didn't know where I was, what day it was, or how I got on the couch in the first place.
After I revived myself with a Diet Coke, I found the strength to bake the aforementioned cake. It was a recipe I'd seen a week or so ago on Shay's blog and Shay knows her bundt cakes. It's a peach upside down cake and it was delicious. It would be perfect with a scoop of vanilla ice cream. It has the added benefit of not being chocolate which means I won't be tempted to sit down and eat the whole thing in one fail swoop leaving behind only a few crumbs and deep remorse.
And just in case I haven't bored you enough at this point, I'll also report that I accomplished one of my goals for summer. Cleaning out my bathroom cabinet. I threw away a bunch of old makeup, a few hair products that had proved to be a disappointment and a bottle of Nivea Shimmer Tanning Lotion. I can't remember at what juncture in my life I thought it was necessary to be both tan and sparkly, but it felt like an idea who's time has passed.
So that was pretty much our weekend. I hope you had a good one, too.
Copyright secured by Digiprove © 2013