Listen. We have been movers and shakers this summer. In fact, I think Caroline and I have spent a total of three days at home over the last two weeks. And we're leaving again tomorrow for our annual road trip with Gulley and the boys.n
So I guess I better recap our trip to Nashville while it's still fresh in my mind because once we hit the Snake Farm tomorrow there's a good chance that my brain will no longer let me have any kind of long term memory.
We left for Nashville on Wednesday afternoon. Caroline was so excited about the flight and really wanted a window seat. Unfortunately, her lame, forgetful mother forgot to check in on Southwest until later in the day and we were B29 and B30 in the boarding group. Which, technically, still could have given us a shot at a window seat, but it was a full flight that had a number of passengers who'd already been on the previous flight. And so it almost looked like we were going to have to sit separately, but a nice woman offered us her seat so we could sit together. Caroline took the aisle seat and I ended up crammed in the middle with an older man next to me who appeared to have undergone a full personality transplant. He never even looked up for the entire flight. And I'm not one to make new friends on an airplane, but sometimes a smile at your fellow passenger is a nice touch. You know, just in case the plane goes down and you end up dying together.
Caroline was especially grieved that he didn't even seem to be taking any enjoyment from his coveted window seat. In fact, she asked me at one point if I thought he might trade seats with her, but he didn't seem to be the sort of person who would appreciate that request. Not to mention that his noise canceling headphones wouldn't allow him to hear me anyway. So I told her we'd just have to hope for better seats on the flight home.
When we landed in Nashville, Caroline said, "That old PaPaw didn't even look out the window. He just drank two Miller beers and went to sleep." I really couldn't have said it better.
But then Sophie picked us up and we drove straight to my friend Kelly's house. And all the sad times without a window seat were forgotten once Caroline saw the enormous oatmeal raisin cookies Kelly had bought for her.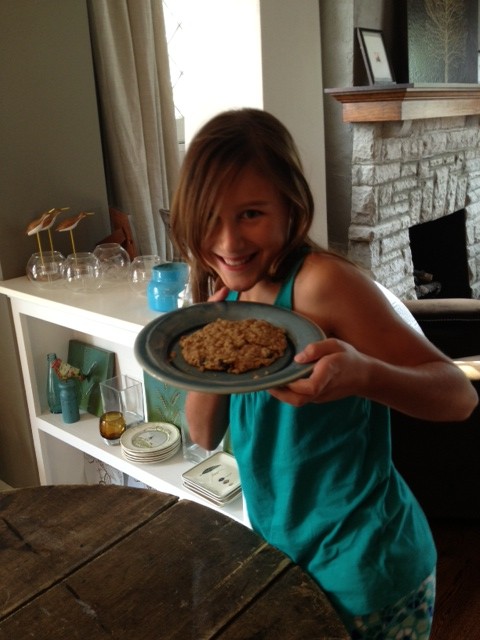 Then they headed out to the garden to pick some vegetables. I'm not kidding when I tell you there were at least fourteen different kinds of tomatoes. And I ate these little orange ones off the vine that tasted like candy.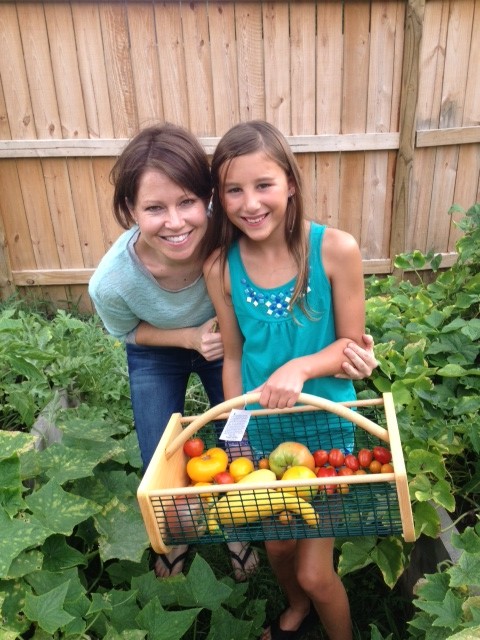 Later on we met some more friends at Burger Up and then went back to the house for blackberry cobbler and lots of solving of all the problems on the back porch. Meanwhile, Caroline ran around and caught fireflies in the backyard because apparently the entire firefly population resides in Nashville. I'd never seen so many in one place.
Sadly, the next morning we had to be up at 6:00 a.m. and report to the set of the video shoot by 7:30. No one seemed to care that this meant I'd still be asleep and have two deep creases across my forehead So I caffeinated myself within an inch of all reason and powered through. The first part of the shoot required me to pour coffee into a mug until it overflowed over and over again and it was relatively easy given my mental state and slow morning reflexes.
Meanwhile, Caroline did exactly what I would have done given the choice and curled up under a blanket to wait for it to be a decent hour of the day. And that's where she remained until she realized that the backyard of the house where we were shooting was basically a mini forest complete with a pond and chipmunks and all manner of frogs and she set out to explore nature. Personally, I would have stayed under the blanket.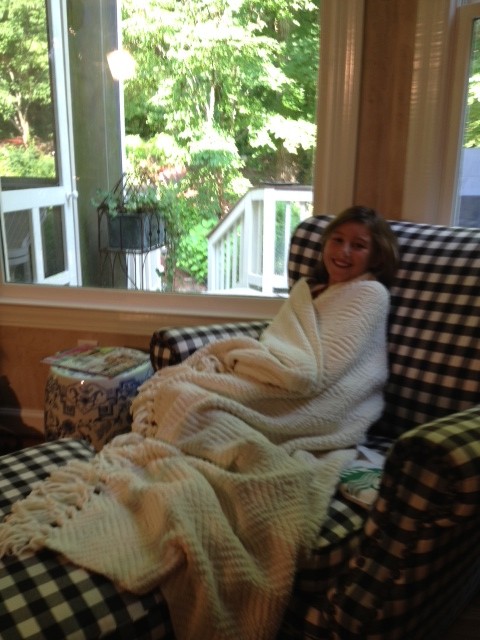 By the time Angie and her oldest girls arrived, Caroline was well-aquainted with the forest and, after a brief introduction to Angie's daughters, she told them to "Come on" and had them follow her out the door. We didn't see any of them again for the next several hours until they ran in to announce they'd found a new pet turtle.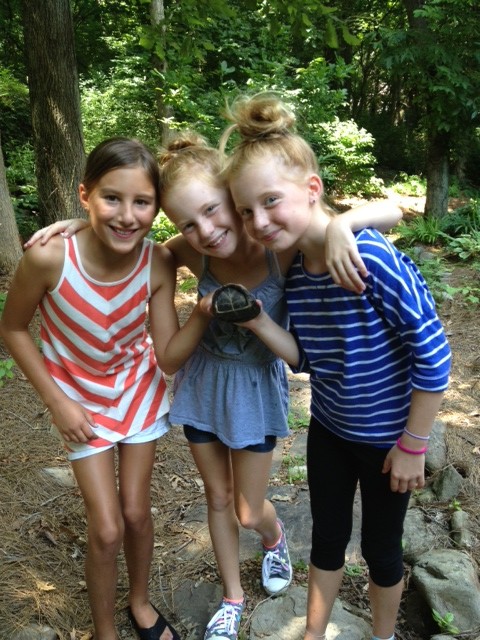 I feel like this is more than this poor turtle was really equipped to handle. He remained in his shell for the remainder of the day. But that didn't stop them from building him a proper habitat.
In the meantime, Angie, Sophie and I shot our various scenes in the video that will be shown at this year's DotMom Conference. Did I mention there was a tiara involved?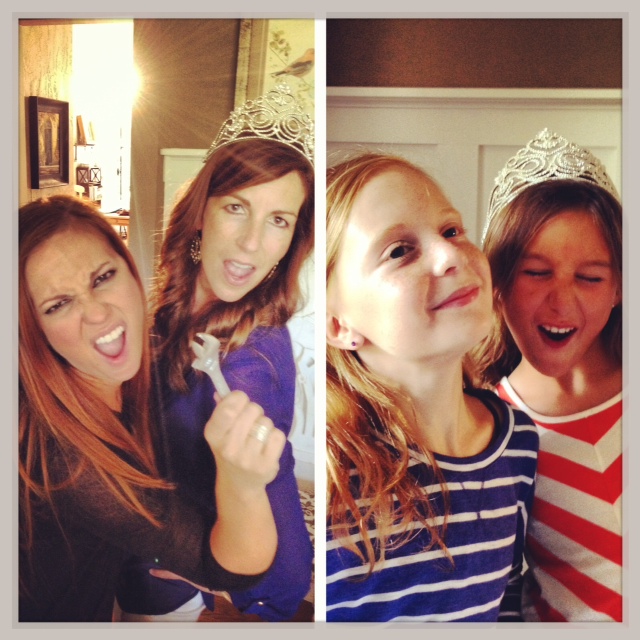 Sophie titled this picture "The apples don't fall far from the trees". Truer words were never spoken.
When we finally wrapped up the shoot twelve hours later, we were all exhausted. We took the girls to swim at the neighborhood pool while we ate pizza and visited. Then we went back to Angie's house and visited some more. And then at some point we finally had to give in and go to bed which was so sad because it meant the trip was almost over.
The next morning Caroline and I explored downtown Franklin with Angie and the girls (shout out to Christy at Philanthropy!), ate at Merridees, visited Honey's Candy Store where I had a basil lemonade that was a game changer and then headed to the airport. By the time we arrived at the airport the girls were all hugging each other and doing their newfound secret friendship handshake "just one more time". They said they missed each other already.
We'd kind of done a bad job of calculating our time and, between that and a traffic jam, I was a little concerned we might miss our flight. And even more concerned that Caroline might not get a window seat for the second time which would have qualified as a genuine tragedy in her book.
We made our way through the longest, slowest security line ever and got to our gate just in time to board. All the while, I was preparing Caroline for disappointment and praying that wouldn't be that case. I realize this is supremely high on the life list of things that are American problems, but she wanted it so much. And I felt like she'd never quit talking about that old PaPaw with his two Miller beers if she was denied a window seat again.
But I said a little prayer as we headed to the back of the plane and, lo and behold, there was one window seat left.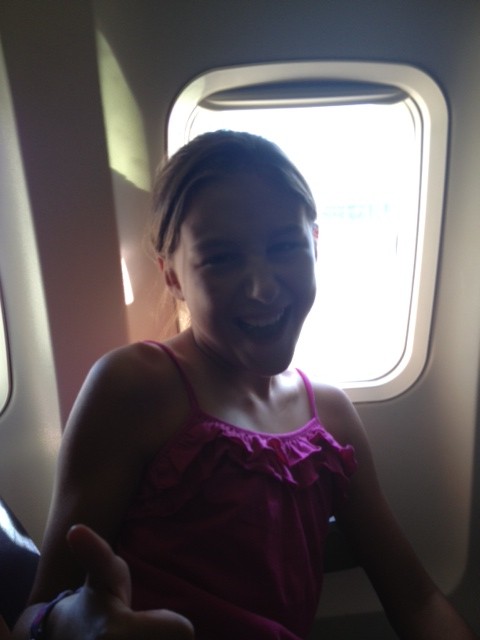 And our trip to Nashville officially became the best ever.
Caroline sat back with her bag of candy from Honey's Candy Store, put in her earbuds to watch her movie, sighed with contentment and said, "I don't know when I've ever been this happy."
Nashville, you might be our favorite.
Copyright secured by Digiprove © 2013