So it's the first day of fifth grade at our house.
Actually, it's the night before the first day of fifth grade, but by the time most of you read this, Caroline will be sitting in her classroom writing her name on all her new school supplies.
The good news is that getting to bed at a decent hour wasn't an issue like it's been in the past because Caroline played in a soccer tournament all weekend. We had to set the alarm for 6:15 a.m. on Saturday morning and I will tell you that it wasn't a kind and gentle re-entry to the real world. There was wailing and whining and cries of "WHY IS MY LIFE SO HARD?" And Caroline wasn't that happy either.
(That's not true. She was ecstatic to play soccer and leapt out of bed. I blame her father's DNA.)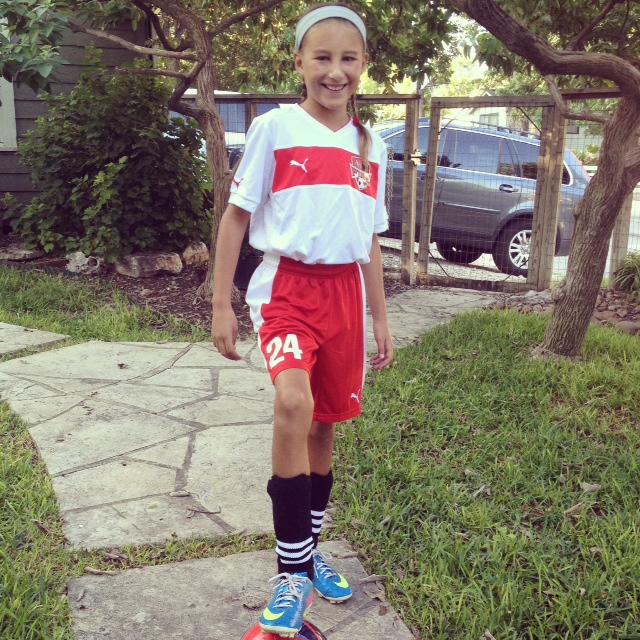 We were at the soccer fields way across town by 8:00 a.m. I didn't even have time to drink a cup of coffee. Which is why my first order of business, after getting Caroline settled with her team and leaving P to set up our tent and chairs, was to find a Diet Coke. And a breakfast taco.
Let me tell you about morning sporting events in San Antonio. There are almost always breakfast tacos available for purchase. I find it to be a very civilized way to live.
Caroline's team tied the first game and then we had to wait almost three hours between games. By the time they lost their second game and we got in the car to head home it was almost 2:00 p.m. The thermometer in the car read 126 degrees. You know when Dorothy throws water on the Wicked Witch in Wizard of Oz and she shrieks, "I'm melting! I'm melting!"? That witch had it good compared to my situation.
Sadly, when we got home I realized we needed some things from the grocery store. So I got back in the car and ran to HEB before I lost my will to grocery shop. Or live. And this is where I need to issue an apology to everyone in that HEB on Saturday at 3:30 p.m. That smell was me.
I unpacked the groceries and headed straight to the shower, put on my pajamas and got on the couch. And that is where I remained until 9:05 p.m. at which time I went to bed. Ironically, Caroline said she didn't feel tired at all. Which kind of makes me feel like a loser considering she's the one that actually played soccer for two solid hours in the blazing heat while I drank Diet Coke under a shade tent.
On Sunday morning we had one more soccer game so we drove back across town to sweat some more. But before we left the house, I cut up onions and carrots and put a roast in the crockpot so we could have a delicious back- to-school dinner waiting for us later that evening. I have never felt more "I AM WOMAN, HEAR ME ROAR".
(I'm sure the feeling of accomplishment that comes with putting a roast in the crockpot was exactly what the feminist movement was aiming for.)
Anyway, the girls played so hard, but ended up tying the final game and were eliminated from the tournament so we were back home by noon. And as soon as we walked in the house Caroline asked, "What's that terrible smell? It smells awful in here."
P replied, "That's your dinner cooking."
Sadly, it was the truth. But it didn't really smell bad. It just smelled like meat and onions cooking in the middle of the day after you've been out in the heat and not the usual smell of our house.
(I don't know what our usual house smell is but you know it has one. All houses have a smell.)
(And now I feel like the word "smell" sounds weird.)
The rest of the day we just relaxed and figured out what Caroline was going to wear for the first day of school until it was almost time for dinner. I had been relieved of all my roast insecurities after taking a quick taste test and decided it was a good time to pull out Caroline's school bag and lunchbox so we'd be ready for the morning. The only problem was I couldn't find her lunchbox. We'd bought a new one right at the end of last school year and Caroline told me that she was perfectly happy to just use that one since it was practically brand new. So I put it away somewhere for the summer. If you could tell me where "somewhere" is, I'd give you fives of dollars in cold, hard American cash.
It was nowhere to be found. There is no one that can hide things in a more obscure place than me. I once lost an entire Nativity scene. How is that even possible?
Caroline and P helped me look but, alas, our efforts were for naught. Caroline announced that she could just bring her lunch in a brown bag. And I decided we just needed to sit down and eat dinner before it got cold. After all, I'd slaved over that roast for five minutes.
For all her concerns about the smell, Caroline pronounced the roast as "heaven on earth" and asked if she could take the leftovers for lunch. Then she said it wasn't so much the meat she cared about, but the "meat juice". She asked if she could just take the "meat juice" (some people call it gravy) to school in a thermos.
And that's when I knew I was going to have to drive to Target after dinner to buy her a new lunchbox. Because I just felt like it would be a new low to send my child to the first day of fifth grade with a thermos full of "meat juice" in a brown paper bag.
I had visions of every other little girl in her class opening up their monogrammed lunchboxes with sandwiches cut to look like butterflies while Caroline ripped open her brown bag and slurped up some "meat juice".
There are so many things as a mother that you can't control. I feel like the first day of school is such a reminder of that. You hope they make new friends, you hope they'll remember to be kind to everyone, you hope they remember their good manners. You can beat all those drums loudly every chance you get, but ultimately they have to figure it all out for themselves once they walk through the doors of that school.
But you know what you can control?
Not sending your baby to school with a thermos full of "meat juice" in a brown paper bag on the first day of school.
Which is why I was in the lunchbox aisle at Target at 8:00 p.m.
Copyright secured by Digiprove © 2013