You guys.
I have a fifth grader.
I realize this isn't necessarily breaking news to most of you and certainly shouldn't come as a shock to me, but it hit me loud and clear yesterday morning as I took the obligatory first day of school pictures of Caroline.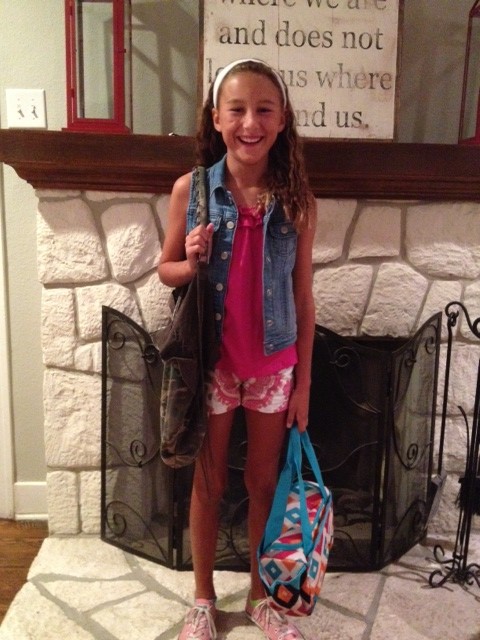 That does not look remotely like this picture taken on the first day of Kindergarten.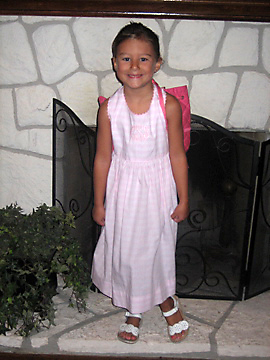 All of a sudden I have a ten year old with long legs and size six feet and no sign of baby fat on her face. She's one of the big kids at her school now. And that all sunk in as I walked away from dropping her off at her classroom yesterday morning. This is our last year of elementary school. Next year she'll be walking into junior high.
As you can imagine I was totally emotionally stable once I reached the safety of my car and let the full weight of that sink in. I'm sure none of the other parents felt frightened at all if they happened to look my direction.
Fortunately she was nothing but thrilled at the realization that she's the king of the hill this year and jumped out of the car with an emphatic "Let's do this!". I could tell she got a little nervous as we walked in her new classroom, but she seemed to be okay once a few friends began to filter in.
(Side note before you all ask about her bangs: She still loves them. She just chose to wear them pulled back in a headband for the first day of school because she doesn't care that her mother might have wanted proper documentation of the current state of her hair. We also had to braid her hair the night before so it would be wavy. Heaven help me if she ever discovers the 80′s wonder known as the waffle iron.)
After I regained my composure, I went to Smart Barre. For the first time since June. And then I cried some more. But not from emotion, from pain. At one point we had to do that loathsome chair sit move with a ball between our legs until I thought I was going to pass out. The only thing that got me through was imagining myself hurling that ball right at our instructor like I was Ben Stiller in Dodgeball.
The rest of the day I ran errands and other various things until it was time to pick Caroline up from school. The carpool line was filled with approximately all 1,000 parents whose children attend our school, including at least 300 first grade parents who had no idea how the carpool line actually works.
But eventually Caroline hopped in the car and announced it had been a great day. And that's when I got the bad news.
She forgot her new lunchbox at school. Her new lunchbox. With her new thermos. That's full of meat juice remains.
I can only hope for the sake of her teacher and fellow classmates that she put the thermos lid back on tight. Otherwise there is going to be a "smell" situation in that classroom tomorrow.
And see how in just twenty-four hours you can feel like you should have just let your child take their lunch in a brown bag?
The thing about a brown bag is you can throw it away and not worry about bleaching the two day old meat juice smell out of it.
Live and learn.
After the announcement of the sorrowful lunchbox news, we stopped by Mimi and Bops's house to fill them in on the day and then met Gulley and her boys at Baskin-Robbins for ice cream. This wasn't an original idea. Every child in our zip code was also enjoying ice cream as a delicious back to school treat. Which is why I felt completely justified in getting myself a scoop of peanut butter and chocolate ice cream as a reward for waiting in that line. Between that and my morning at Smart Barre, I'd more than earned it.
And the nicest part of the day was when I looked up and realized that my sweet baby may be a sophisticated fifth grader, but it doesn't mean she's figured out how to eat ice cream without making a mess.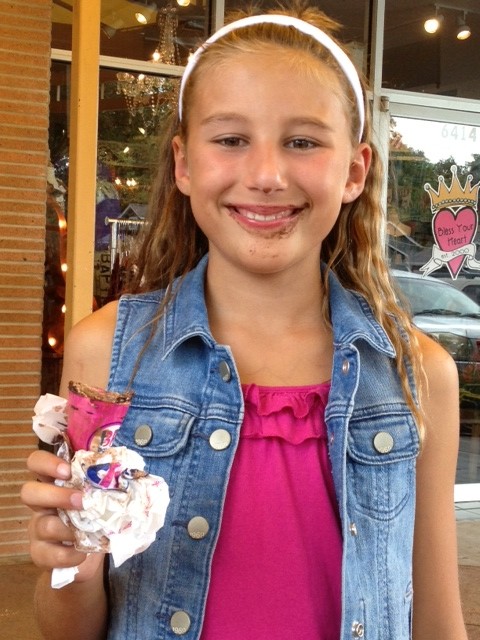 Copyright secured by Digiprove © 2013