Here's what you need to know. At this very moment P and I are sitting side by side on the couch watching Any Which Way You Can starring Clint Eastwood as Philo Beddoe and his pet orangutan, Clyde. Some of you more sophisticated cinema viewers might remember that this is the sequel to the highly acclaimed film Every Which Way But Loose.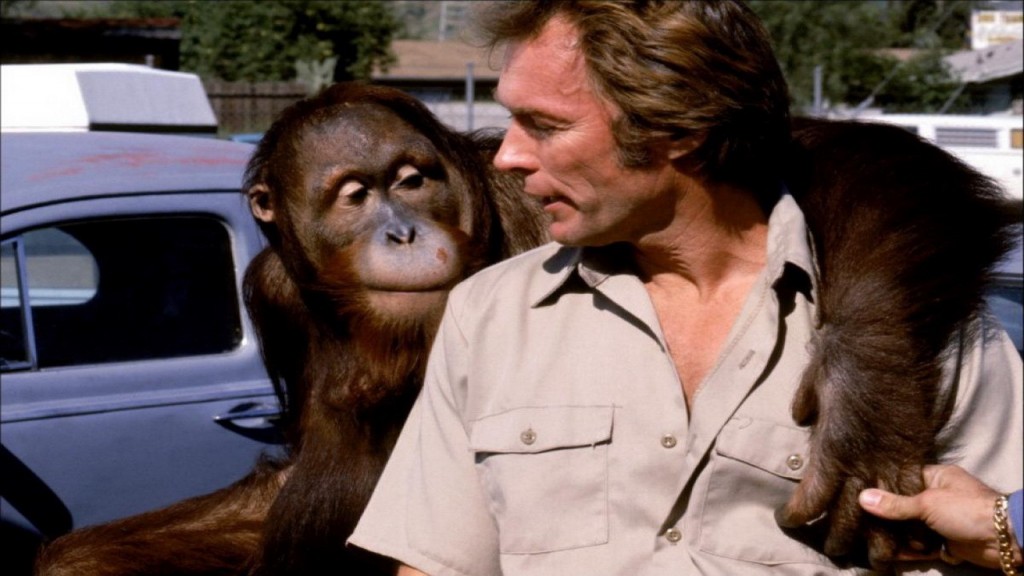 And I will also confess that as an eight-year-old girl I owned the soundtrack to Every Which Way But Loose on eight track tape. My personal favorite song on the album (besides the title track obviously) was Send Me Down to Tuscon by Mel Tillis.
Watching this movie as a forty-something woman confirms something I have always suspected. The 1970′s were a weird time for movies. Between movies like this and Urban Cowboy and Smokey and the Bandit, it's really no wonder that as a child I believed bare knuckle brawler or professional mechanical bull rider were viable career options. I mean what more could one want out of life than to travel cross-country dodging deputies and running beer across state lines with your boyfriend in his Trans Am?
The only explanation is that 1970′s Hollywood ran out of legitimate plot ideas, brainstormed while they were drunk and said "Clint Eastwood with a pet orangutan? HILARIOUS."
Bottom line. I am watching this movie. With my husband. In 2013.
Please don't envy my incredibly glamorous life. Would it help if I told you P has a cold and might hack up a lung before the night is over? We are practically just like Will and Kate.
In other news, I think I'm close to being caught up on sleep. Yesterday I functioned like a normal person and managed to go to Smart Barre, drop clothes off at Goodwill, go by the library, finish all the laundry and return two shirts to Old Navy. I realize this doesn't seem very impressive, but it's more than I could have imagined on Monday.
I think the tiredness was just a cumulative effect. Caroline was sick for three days last week then I left town on Thursday for all the fun and then proceeded to not sleep for the next three nights. And so I am thankful that this week is just a normal week with our normal activities.
But I also have to share some news.
Caroline had soccer practice Monday night. And after we got home, she showered, put on her pajamas and walked in the kitchen and said the words I've been dreading for several weeks. "Mom? Do you care if I want to grow my bangs back out?"
Oh bangs. You are a cruel invention.
I resisted whatever urge I had to remind her I was the one who told her not to do it in the first place and said, "Whatever you want to do is fine with me."
Then she asked, "How long will it take to grow them out?"
Well. This is going to be painful.
I replied, "It's going to take at least a few months. But you can just wear them back in a headband."
She looked at me blankly for a minute before inquiring, "Isn't there a way to make them grow faster? I just want them gone."
Welcome to the story of my hair life.
The irony is I've looked at a lot of pictures of women with bangs recently on Pinterest and had almost convinced myself to go get them. But Caroline reminded me why it never ends well. Bangs are great for about five minutes. That's their official shelf life. Five minutes.
Much like the cinematic treasures of the 1970′s.
Copyright secured by Digiprove © 2013