Well.
Now that it has happened I can actually speak it out loud. I had a bad feeling the Aggies were going to lose to Auburn. It had been there all week but when Louisville was upset on Friday night, I just knew somewhere deep inside that we were going to be next.
But, naturally, I didn't speak of it because I hoped against hope that the sinking feeling in my stomach was from the greasy, crispy beef taco plate I'd eaten earlier on Friday night and not because the Aggies were actually going to lose. And also because speaking such a thing out loud for others to hear guarantees it will happen.
Not that I am superstitious when it comes to college football at all.
Sure enough, in spite of my best efforts to help Coach Sumlin by not voicing my concerns, we lost. And I'm only mildly despondent about it because, frankly, we'd already won a few games that we easily could have lost and when your defense is ranked dead last in your conference it doesn't bode well for the season.
So I will gracefully say well played, Auburn.
It helps helps tremendously that I have lived through darker days than this with the Aggies. I mean I proudly waved my Aggie flag all through the Dennis Franchione era. I know what real pain feels like and this isn't it. Our future is bright just as soon as our defense learns that tackling means you actually stop someone from running into your end zone. And I will love Johnny Manziel forever because he is a warrior. He literally played his shoulder off and, like someone on Twitter said, it kind of felt like Bela Karolyi should have been there to carry him off the field when the game was over.
The good news is the rest of the weekend was delightful. The weather was perfection after another cold front blew through late Friday night and I even had to wear a light jacket to Caroline's soccer game on Saturday.
And my dear friend Kelly was in town and spent the night with us Saturday night, which totally helped with the whole Aggies losing thing because we went out for Mexican food after the game and it was all very festive and fun. As opposed to what I would have done had she not been in town which would have involved reading all the various college message boards and becoming convinced the end times were upon us because WE HAVE NO DEFENSE.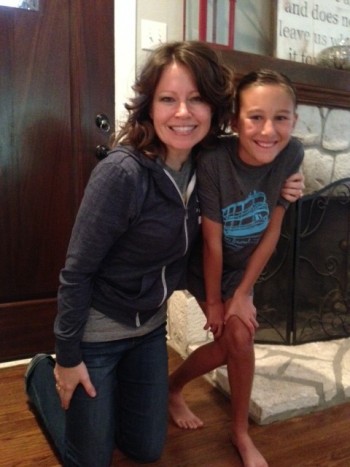 In other weekend events, it appears that I gave birth to Katniss Everdeen.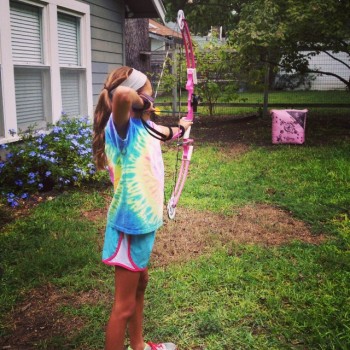 Except her bow is pink and she's not fighting for her life in an arena. Other than that, totally the same.
This is also the weekend that I discovered the song "What Does the Fox Say?" I realize this probably makes me the last person in North America to hear it, but I feel like it explains so much about the world right now in that it makes no sense at all, yet it's oddly compelling.
Copyright secured by Digiprove © 2013