You know what I wish? That every Monday was a holiday. Of course then it wouldn't so much be a holiday as just turning the weekend into three days instead of two, but whatever. I'd be a fan of the three day weekend. It allows enough time for the right mix of relaxation and productivity with the added benefit that now there are only four days of getting up early and packing lunches and doing homework until Friday.
This past Friday night we went to eat Mexican food with Mimi and Bops and my sister and her family. My nephew Luke just started wearing glasses last week and I wish I had a picture to show you because now our normal Friday night dinner feels a little bit special because he resembles a young Harry Potter and when he does something particularly cute, like look down over the top of his glasses while telling us something, it makes me want to announce "TEN POINTS TO GRYFFINDOR!"
On Saturday Caroline had her first basketball game of the season. It was a nail biter that was heavy on defense and the final score was 8-6. Caroline's team won, but it's safe to say that both teams need to work a little more on their shooting accuracy.
After the game, P and Caroline headed to the ranch and I spent the rest of the afternoon doing productive things like getting my car washed and going to the grocery store and folding laundry and checking the ants to see if they had left any new messages for me.
(As of this writing, they appear to have settled into normal ant-like behavior with the digging of very average, boring tunnels, but I'm keeping my eye on them because I bet Zuckerman thought that same thing about Wilbur and then RADIANT.)
Then Sunday morning Caroline and I met Gulley, Jon and the boys at her house and followed them to Bryan because the family was throwing a ninetieth birthday party for Nena that afternoon. We had the easiest trip we've ever had and didn't even have to stop for anyone to go to the bathroom. I believe that's what some people call travel maturity.
(Actually I've never heard anyone use that term and I just made it up. I think it had more to do with the fact that Jon was part of the trip and men are not typically big fans of unnecessary road trip stops whereas Gulley and I have been known to stop just because we saw a gas station owned by Willie Nelson.)
We arrived at Nena's assisted living facility just in time for the party. Honey had arrived earlier to get everything set up and to get Nena ready. She said she'd been preparing Nena for the party all week, calling her every day to say, "Mother, your party is on Sunday" and "Mother, I'm taking you to get your hair done on Saturday so it will look pretty for your birthday party on Sunday" and "The kids are all coming in town for your birthday party on Sunday".
Yet when she walked Nena into the large room where the party was going to be held and Nena saw the cake and the balloons and the flowers, she turned to Honey and exclaimed, "How on earth did you manage to keep this party a surprise?"
Who says there isn't an upside to turning ninety? You get to have a surprise party that was in no way supposed to be a surprise.
Then later in the party Nena seemed a little confused and Uncle Johnny said, "Mama, this is your birthday party!" And she rolled her eyes at him and exclaimed, "Of course I know it's my birthday party. I haven't lost my mind."
Here's a picture of Gulley and me with the birthday girl.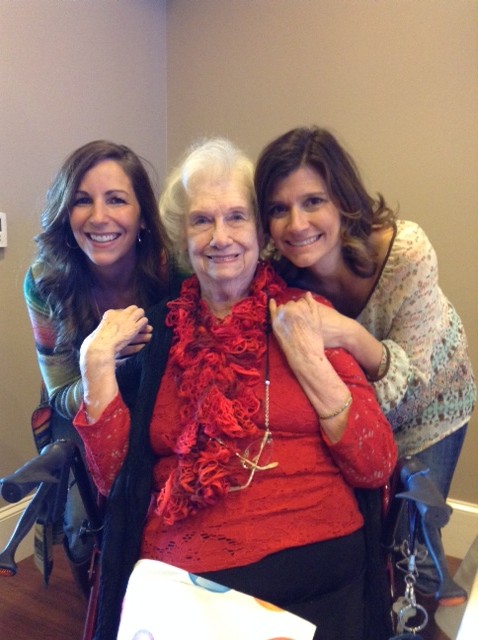 Doesn't she look good? She told us her hair looked so good because she'd combed it out after the hairstylist at the salon just "ratted it and teased it and curled it until she looked like an old lady".
A little before five o' clock, everyone cleared out before the dinner rush at the assisted living home began and headed back to Honey and Big's house to relax. We went to eat burgers at Grub and then watched some football and that was it. I think we were all in bed by 10:30 or so which is a testament to how tired we've all been after two weeks of being back in the real world.
We slept in late on Monday morning and eventually headed back to San Antonio around 3 p.m. And I'm proud to report we only made one stop on the way home and no one got car sick.
See?
Travel maturity.
Maybe it's a real thing after all.
As long as you overlook the fact that we had to tell the kids they couldn't have a tooting contest in the car during the last twenty minutes of the trip.
Copyright secured by Digiprove © 2014