Well I'm sure you'll be relieve to know that I am finally feeling better. My voice has returned to normal and I no longer walk through my days sounding like I'm in need of an iron lung.
But I have two pieces of bad news.
First, P is now sick. He just told me that he feels so bad that he almost understands how miserable I was that time I had surgery on my belly button and had to drag myself across the house.
I don't know why he even wants to joke about that. No one has ever felt that miserable.
Secondly, it appears that once upon a time someone else took that same cough medicine I took a week ago and had the same hallucination I did. A reader sent me this picture.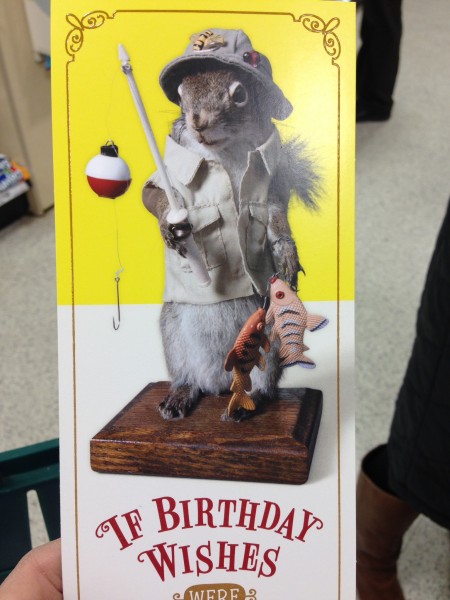 Granted, I don't know if this squirrel's name is Sitka, but he is definitely holding a fishing pole and may also be allergic to peanuts. Of course I guess the upside is if my line of children's books pans out, I can check to see if that particular squirrel model is looking to expand his resume beyond the world of greeting cards.
In other news, we all nearly froze to death at Caroline's soccer game Sunday afternoon. I realize those of you in the Northern states might feel like this is an exaggeration, but I assure you it was an extremely blustery 40 degrees. And it didn't help that we weren't really dressed for it. Mainly because it had been 75 degrees just a couple of hours beforehand and I underestimated how quickly temps could drops.
But that was the most unpleasant moment in a weekend that was actually really great.
On Friday afternoon I drove to College Station because I was speaking at Grace Bible Church that evening. It was an event I'd been looking forward to for a long time because I think we all know how much I love that city. And, honestly, I was really teary for a large part of the drive there because it felt kind of like a full circle moment in my life. I never could have imagined when I was a student at Texas A&M that some day I would be back speaking at a women's event at a church.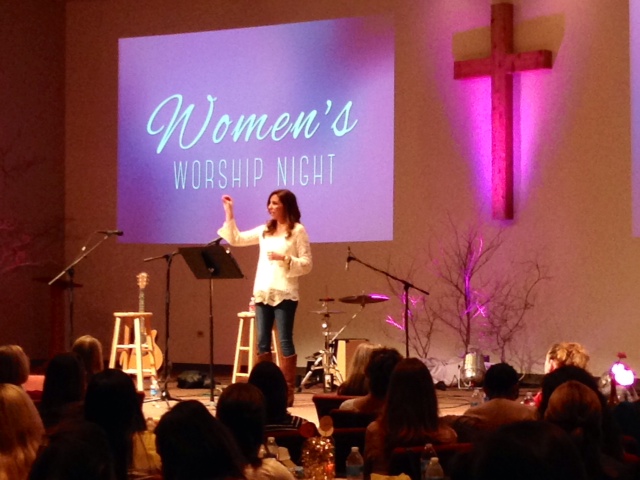 That's me speaking. I have no idea what I'm doing with my arm.
And it was even sweeter because I had dear friends there with me.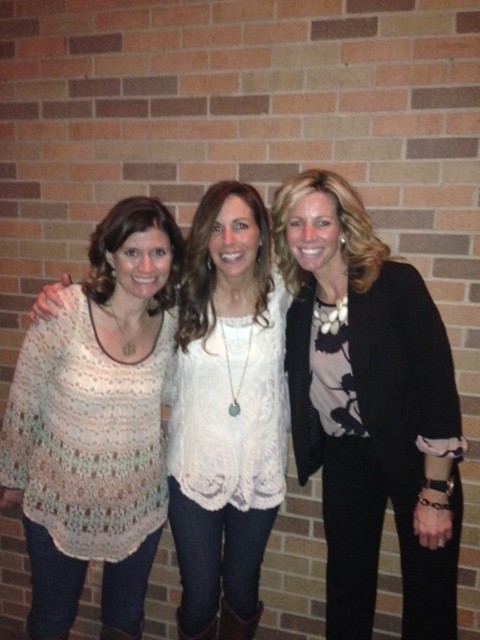 That's Gulley and my friend Tiff. We all lived together in college. Well, technically Tiff didn't live with us but she was at our apartment so much that she might as well have.
It was a great night and confirmed that I have reached an age where I think all college girls appear to be about thirteen. It's amazing what faces look like before the sun damage sets in. They were precious.
The next morning I did a book signing/reading at the Barnes and Noble in town and it was fun to meet some new people and see some familiar faces. I think the thing that always strikes me is how much I enjoy meeting everyone. It really does feel like we're just friends that haven't met yet.
Here's a video that my friend Debbi did from the reading in case you're interested and don't mind that I read really fast.
And then I drove back home to San Antonio and fell asleep on my couch for two hours.
The end.
Copyright secured by Digiprove © 2014