You know what's a shame about Mother's Day?
That people don't post much on Facebook.
What did we do in the days before social media when we just celebrated with a lowly greeting card?
And, listen. I totally buy into it. I lasted until ten a.m. on Mother's Day before I posted this picture of the day Caroline was born.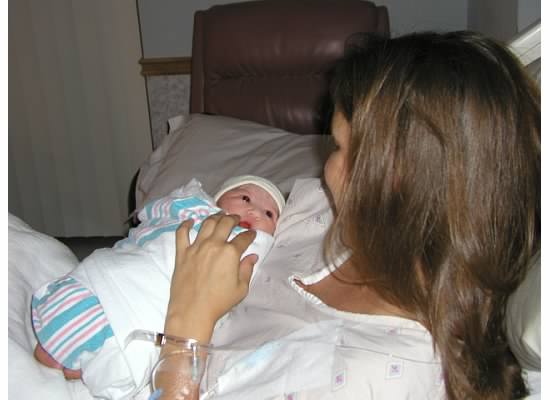 She had no eyelashes and looked like a frog. I'd never loved something so much.
After a crazy busy week full of soccer and swimming and speaking and such, we had a nice relaxing weekend. In fact, some thunderstorms rolled through about 4:00 p.m. on Friday and it was like I had some sort of Pavlovian response and immediately fell asleep on the couch while P and Caroline sat on the back porch watching the rain and the lightning.
I woke up about thirty minutes later feeling like I'd slept for days. I had no idea where I was or what happened, but I did know that nothing sounded better for dinner than a tostada burger from Chris Madrid's.
(For those of you not familiar, a tostada burger is a cheeseburger with refried beans and tortilla chips on it. And jalapeños if you're really brave. It's possibly one of the best things ever.)
We picked up burgers, ate dinner and then collapsed on the couch for the rest of the night.
Saturday morning, Caroline went to a volleyball clinic with a few friends for part of the day because I thought it was a good chance for her to determine if she has any interest in volleyball. The verdict is a firm "maybe". So at least that's settled.
After I picked her up we ran to Soccer Factory for more soccer socks and then decided to eat lunch at Luby's. Caroline ordered the LuAnn with chicken fried steak with cream gravy, corn and macaroni and cheese. I ordered the veggie plate, which she looked at with a frown of condemnation as she declared, "You have absolutely no protein on your plate". And so I had to point out that her entire lunch was the color beige and maybe she shouldn't cast judgmental, culinary health stones.
Later that afternoon she was invited to a friend's house to swim and eat dinner which left P and I with an unexpected window of time to go out on an actual date. To a restaurant. Where we ate food we didn't order at a counter. We thoroughly enjoyed ourselves and it was great to catch up after one of those weeks where we both going two different directions the majority of the time and too tired to really talk at the end of the day.
Which brings us to Mother's Day.
It was a nice day. I managed to squeeze in all my favorite things. Quality time with P and Caroline, Mexican food brunch with Mimi and Bops and my sister and her family, a nap, and sitting in the swing in Gulley's backyard while the kids ran around and shot each other with Nerf guns.
Now I have Turn waiting for me on the DVR.
In case you haven't watched Turn on AMC, I highly recommend it. It's about the first spy ring during the Revolutionary War. I'm completely intrigued by it. But you'll have to watch it from the beginning because it has enough twists and turns to make your head completely spin around.
As for the rest of this month, I'm probably not going to be posting here every day. May snuck up on me with all the commitments and obligations and then mix in writing deadlines and life and the fact that I only have three and a half weeks left until I'm a full-time social director for the summer and, well, it's a sign that I need to take a little time away to catch my breath and make sure I'm focusing on the people who live in my house.
So what I'm saying is I'll be here when I'm here, but I'm giving myself the out to take a break when I need to. Thanks for understanding.
Hope y'all had a good weekend.
Copyright secured by Digiprove © 2014