You want to know what's been going on around here this week?
Let's start with this.
The puppies locked themselves in the bathroom on Sunday night. It was every bit as peaceful of an experience as you might imagine.
Since the first day we brought them home, we've put them in Caroline's bathroom to sleep at night. This is the benefit of having a room you're about to completely redo. You can use it to contain two small animals who find new and unique ways to destroy everything they touch. So we put their kennel in there with the door open, a few chew toys, food and water and then shut the bathroom door.
And most nights they whine for a few minutes and then they're out like a light. As well they should be considering they spend most of the day expending enough energy to run a nuclear power plant. But on Sunday night I put them in there and they were quiet at first but then proceeded to lose their minds.
There was barking and whining and door-scratching and enough canine theatrics to make Cujo say "That's enough". (Assuming Cujo could actually speak and not just growl.) And I became concerned that something was wrong. Specifically, I kind of worried maybe I'd forgotten to close the toilet seat and maybe one of them had gone for a swim. So I went to open the bathroom door to give myself the peace of mind that neither puppy was in the toilet (there's a sentence you don't really think you'll ever write) because I knew I'd never sleep for worrying about it all night. And that's when I discovered that in all their jumping up and down at the door that they'd managed to lock it.
Here's where I found myself in a quandary.
Do you wake your husband up at midnight to inform him that the puppies have locked themselves in the bathroom and you're worried that one of them might be in the toilet?
I decided yes.
So P stumbled out of bed in his boxer shorts to come to the rescue like a real live superhero. I think it goes without saying that his excitement over the entire situation was palpable.
Then Caroline heard the commotion and came rushing out to see what was going on and when I explained the puppies had locked themselves in the bathroom she wailed, "OH NO! What will we do? Are we going to get them out?"
No. We're just going to seal up the bathroom like it's the Titanic.
The problem is this is an old house and the bathroom lock requires a skeleton key. Which we do not have. In fact, we had this same problem when Caroline was three and she locked herself in the bathroom, which led P to glue the lock shut so you couldn't lock the bathroom door anymore. However, the puppies managed it just fine.
(When Caroline did this when she was little, I coached her through the door on how to unlock it. Our puppies did not seem to understand what I was saying in spite of my very specific instructions.)
Ultimately, P had to unscrew the door plate and use pliers to unlock the door. Piper and Mabel rushed out, neither having been in the toilet which was indeed closed. In other words, it all could have waited until the morning except that I wouldn't have slept all night. Of course after all that excitement, it wasn't like I slept that great anyway.
As for the rest of the week, it's just been busy doing all the things that come with the last week of school. P and I went to eat lunch with Caroline on Monday because we wanted to have one last lunch with her at elementary school even though my mind can't really take in that she's moving on to junior high. I've been trying to get 1,046 things done that have been on my to-do list since the beginning of the year yet haven't gotten finished. And we still have a pool party and 5th grade graduation to go.
In totally unrelated news, a reader named Heidi sent me a shirt a while back from her store called The Ikat Elephant. Here's the link to the store on Facebook. Every Wednesday night at 8 p.m. CST she puts several really cute things up for sale and this week she's offering my readers 15% off your entire purchase when you use the code BIGMAMA15 at checkout. Quantities are limited and the sale only lasts for 24 hours.
Here are two things she has this week that I adore:
This comes in several different colors.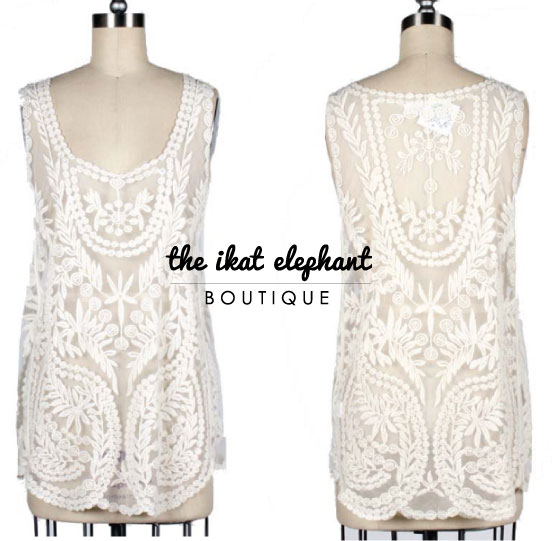 And I love this with white jeans and turquoise jewelry.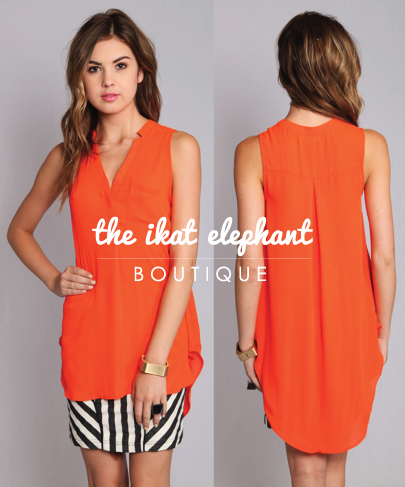 Plus there are some great long camis and a few other cute tops. So don't forget to go check it out.
I also have a post up on Pioneer Woman about my thoughts on Mad Men this season. You can find it here.
Now I'm going to go put my puppies to bed and hope they don't lock themselves in. You can guarantee I'm double-checking the toilet seat is down so I can have peace of mind.
Copyright secured by Digiprove © 2014