First things first, I'm the realest.
Wait.
That's something else.
So yesterday was the first day of school.
But, first things first, I need to briefly mention that Caroline played in a soccer tournament all weekend. This information is really not pertinent to anything else I plan to write about today but I need to share it so you will know that I spent the weekend feeling somewhere between the range of surface of the sun and Amazon jungle hot.
I know of what I speak because when I was in the Amazon a few years back I had no doubt that I'd never been hotter in my life. The only differences between sitting at this soccer tournament and being in the Amazon were that I didn't throw up on a bus, no one acted like a grub worm was an actual meal, and I wasn't wearing a fishing shirt doused in 100% insecticide. Other than that, it was uncanny.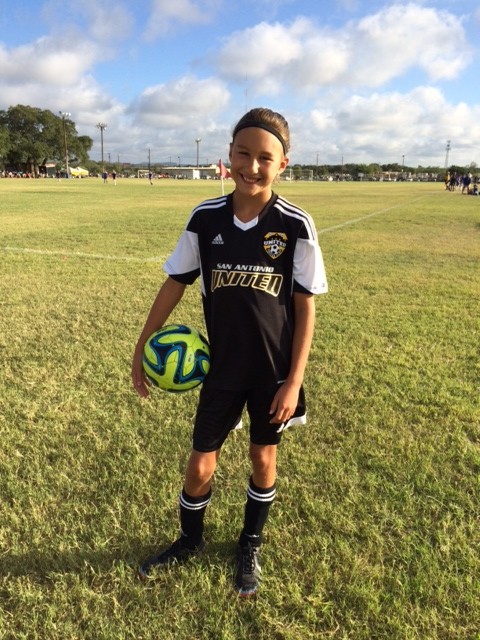 At one point I laughed at all of us yelling at our kids to "run faster" and "get the ball" and "why are you dragging?" as we sat under our tents and some of us may have broken a sweat just opening up our folding chairs from Academy. There was even one dad I observed who kept moving and kicking his feet like he could control his son's movements on the field like a virtual reality game. Bless us.
But Caroline had fun and her team came within one goal of winning the whole tournament so that almost made all those hours in the heat worth it.
We got home around six on Sunday night and I have to confess I was feeling pretty pleased with myself because I had the foresight to put a roast in the crockpot earlier in the day. There are really few things in life that make me feel more accomplished than having a meal totally planned out and ready to go at the end of a long day. Which makes me wonder why I don't do it more often. I think it has something to do with the words "planned out".
However, I am currently embracing the September version of myself and that means I am organized and focused and making meal plans and grocery lists full of nutritious ingredients and experimenting with various all-natural juices to enhance our vitamin intake. This is essentially the high point for me in the entire calendar year and I embrace it because it will give me something to look back on to make myself feel better when we get to the point in the year when I consider the pepperocini that comes with a Papa John's pizza to be a sufficient vegetable.
Anyway, I was making some mashed potatoes and a salad to go with our roast while simultaneously helping Caroline get her name on all her school supplies and label her dividers according to her schedule (It was like someone might as well have recited the 31st chapter of Proverbs over me.) when P came limping out of the bedroom and declared that he'd pinched a nerve in his back. This never happens in an exciting way. It's always a matter of bending down to pick up a sock or something. And we know that means about three days of ice packs, lying in bed, and muscle relaxers. Or as I call it, a vacation.
Oh I kid.
My stress level immediately went up when I realized P was having a difficult time just sitting down to the dinner that – I don't know if I've mentioned this – I'd prepared ahead of time in the crockpot. It's like I was watching his pain get worse and then, insult to injury, he managed to swallow a bone that had found its way into my boneless roast and felt like he was choking. None of this really fit into my night before school agenda. I went from feeling like I was every woman, it's all in me to being one step away from a Xanax with a Reeses Peanut Butter Cup chaser.
But I eventually got everyone in bed and then spent the night thinking about super important things ranging from Caroline's first day of school to P's back and whether he needed to see a doctor to the Madewell transport tote. And before I knew it, the alarm went off and I'd gotten a totally refreshing six minutes of sleep.
On the upside, Caroline decided she wanted to buy her lunch at school instead of bringing a lunch so I really had very little to do besides help her straighten her hair and throw on some clothes that wouldn't mortify her in case I had to get out of the car for some reason. Sadly, this was to be my last day to not pack a lunch because she reported the line was too long and the food was "just okay". I wish I had known that was the case and I would have enjoyed it more. But "Don't let it be forgot, that once there was a spot – for one brief shining moment that was known as Camelot!"
We took the obligatory first day of school pictures. Please don't feel like you have to pin my fabulous, creative first day of school chalkboard on Pinterest.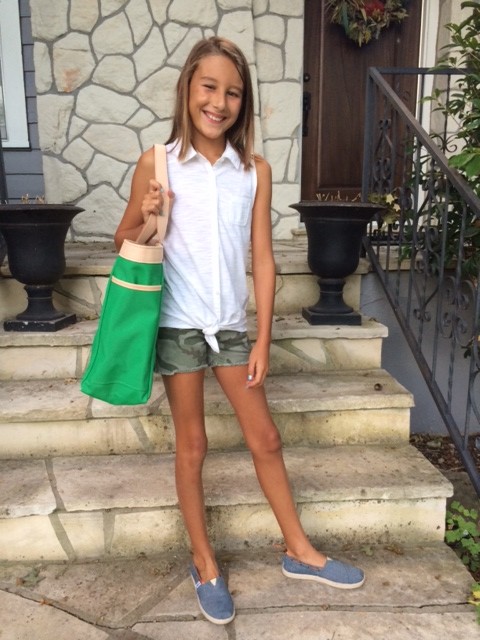 Oh wait. There is no chalkboard.
Also, please note that there is nothing in those urns but some zinnia remnants that died with my good intentions sometime in late June.
One of Caroline's best friends rode with us to school so they could walk in together and as we pulled into carpool line and saw all the big kids standing in the courtyard, Caroline said, "Well. This is intimidating." But she hopped out of the car without a look back and I did my traditional first day of school cry session as I drove to Chick-fil-A to find solace in a chicken biscuit. Then I came home and spent the day trying to figure out if we needed to take P to the doctor until all those muscle relaxers and Advil started to kick in around noon. The good news is it kind of took my mind off of what was possibly going on at the junior high and whether or not she was able to figure out her locker and find her classes and if we'd bought the right folders and all manner of absurd thoughts.
I watched her face as she walked to my car after school and I could immediately tell it had been a good day. She got in the car beaming and declared junior high to be "AMAZING" and "AWESOME" and "PERFECTION". Her personal favorite were the teachers who said they didn't believe in giving a lot of homework. But she honestly enjoyed the whole day, had at least a few friends in every class and loved how fast the day went when you change classes every forty-five minutes.
It was better than I could have hoped for.
So we celebrated with a Frappuccino from Starbucks, a new straightening iron from Ulta and at least a half dozen puppy hugs as soon as we got home.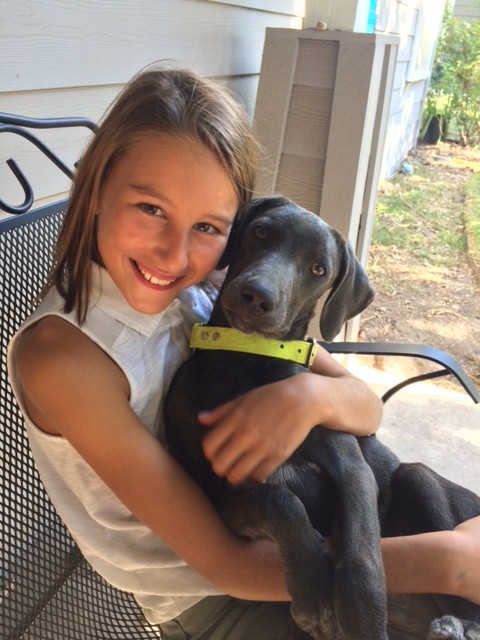 Copyright secured by Digiprove © 2014