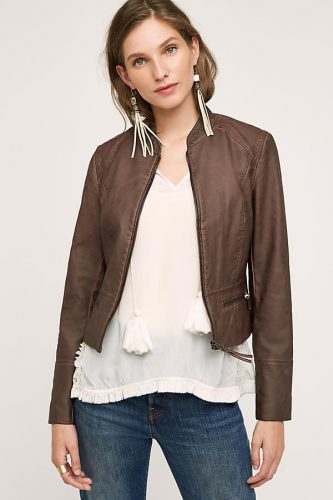 I bought a jacket that's almost identical to this one last year when it was on sale and I think it may be one of my best purchases ever. It goes with everything from dresses to jeans and feels like real leather.
This is on sale for $99.95.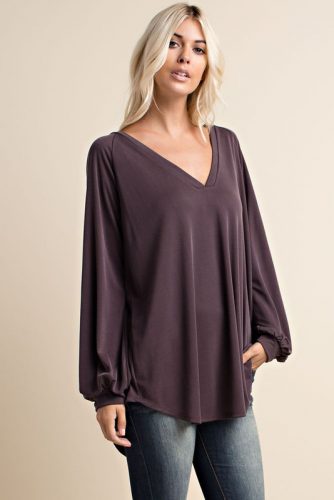 I bought this top in the fall and wore it last night to speak and several people asked where I bought it. Well, here you go. It's currently out in the black (which is really more of a dark gray) but still available in the brown. I love how loose and drapey it feels, almost more like a silk top but more durable.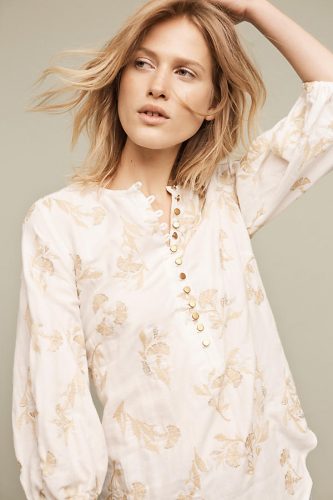 I've had my eye on this and was waiting for it to go on sale. Today is that day. It's now $69.95. It's the perfect transition top for this time of year and I love the gold buttons.
4. AG Stevie mid-rise ankle jeans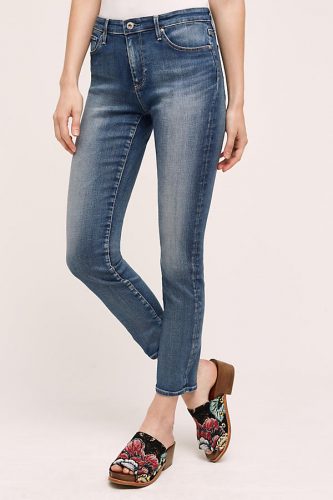 These AG jeans are my absolute favorites. They fit like a dream and they never stretch out. They are on sale for $139.95 which may sound high, but if you wear jeans like I do then you'll more than get your money out of them.
5. gingham off the shoulder dress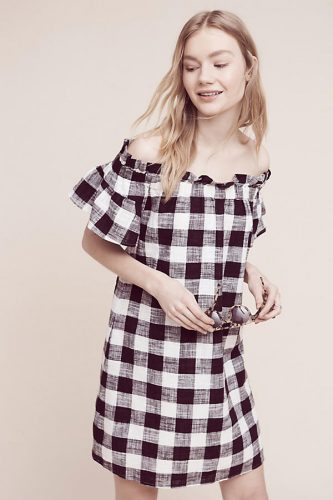 All dresses at Anthropologie are 25% off right now.
When I was in college, Gulley and I both loved this red gingham dress from Gap that I think I stole from my sister when I was home for Spring Break that year. (Sorry, Amy!) Any time one of us had a big date or a night out, we wanted to wear that dress. Looking back, gingham seems like an odd choice but it was the early 90s and the odd choices in my life were plentiful back then.
However, maybe I am true to myself because I think this gingham dress is precious. I think I may be past the point of actually wearing it, but one of you on the south side of forty-five should totally get it because it is the cutest.
For the rest of us, I really like this brindisi lace tunic dress
It would look great with boots now (Rodeo time for you San Antonio and Houston girls!) and sandals later. But there are some really great dresses at Anthro right now so you should look around.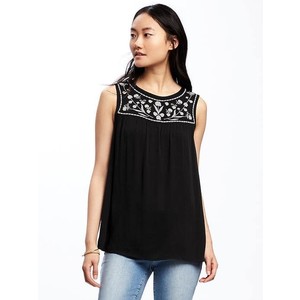 I love the dress version of this at Old Navy, but I also love this tank. It comes in yellow and white, blue and orange and this black and white. It's on sale for $16.
7. articles of society skinny jeans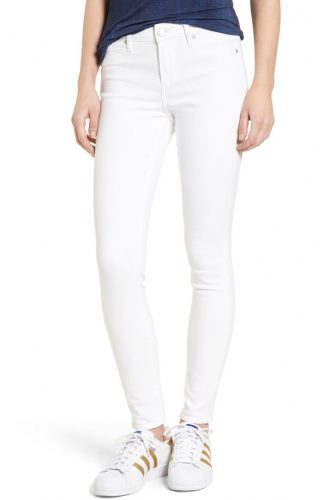 I believe I mentioned I'm on the hunt for a new pair of white skinny jeans and I'm intrigued by these because they 80% cotton, 18% rayon, and 2% spandex. I'm thinking the rayon may make them feel a little lighter than all denim which is nice in a white jean since you wear them most when the weather is warm.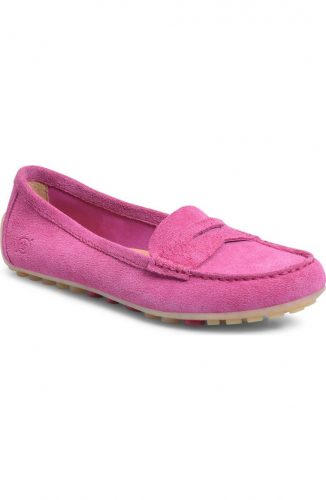 I know. It's a loafer. Loafers are making a comeback. Back in 1986 I had a pair of silver penny loafers. I wore them to my high school's Bruin Bash along with a Guess miniskirt and a white fringe t-shirt with silver bedazzling. I've never loved myself more. And now fashion may be lining up so that Caroline may also want to own a pair of silver penny loafers.
Or maybe not.
However, I do love these pink ones. They would be so cute with cuffed jeans for spring. And they come in several different colors if pink isn't your thing.
And these are straight up bass loafers. I had a pair of these in navy. But how cute are these?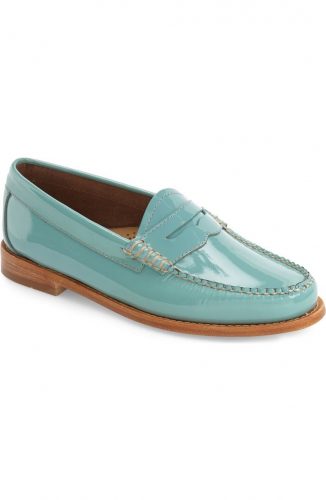 That's not your mama's penny loafer.
9. j.crew factory crosshatch tunic shirt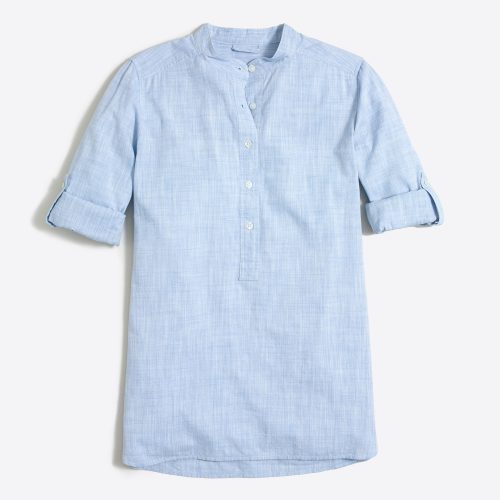 This is the shirt I would wear with the aforementioned cuffed jeans and pink penny loafers. It also comes in white and a cute gray stripe. I kind of want one of each.
10. gap fitted embroidered shirt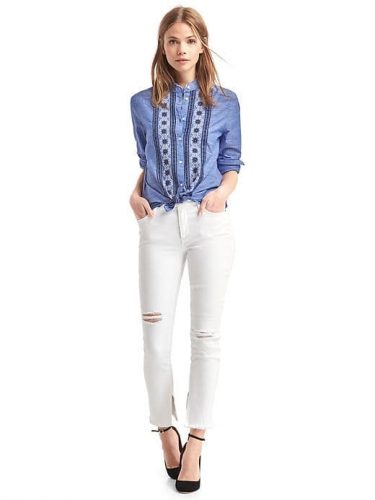 Gap is killing it with the embroidered shirts for spring. I love this one. It's longer than it looks if you don't tie it.
And I adore this denim embroidered blouse. It looks so good with those white jeans.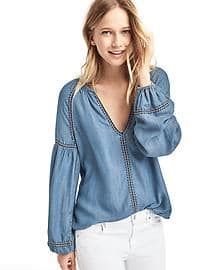 11. be my girl top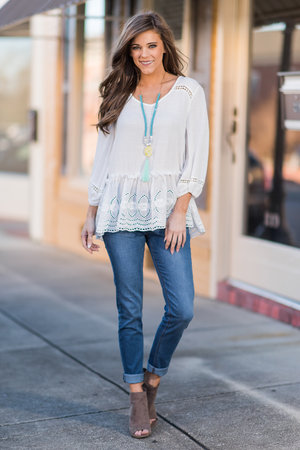 I saw this top online earlier this week and just think it's really cute and perfect for spring and summer.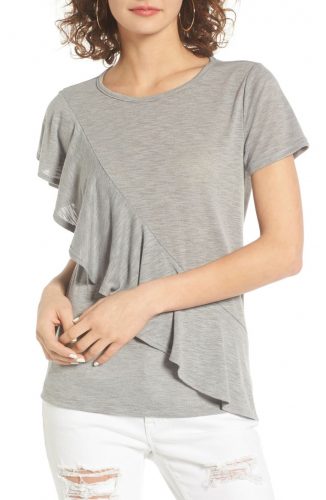 Ruffles are a huge trend for spring and they scare me in some forms, but this tee totally works because it's a little more subtle. This would also look cute with some white cuffed jeans and pink loafers.
That's it for today.
Have a good Friday.