That's right.
Today is Valentine's Day. Otherwise known as the day of mismanaged expectations and mysterious chocolates that nobody really enjoys.
I feel like Valentine's Day back in the 90s was much simpler because you could get your significant other a bottle of CK One and call it a day. But like everything else, Valentine's Day has jumped the shark. I actually saw a yard that was decorated with Valentine hearts and lights and NO. Stop it. I thought an inflatable turkey was bad, but I think this is worse. Can't we just exchange a few candy conversation hearts that taste worse than Tums and call it a day?
In other news, we spent most of our weekend at – you'll never guess – a soccer tournament. Actually, I spent Friday night in Lake Jackson, Texas where I spoke at Brazos Pointe Fellowship Church and had the best time with the women there. Caroline had a game on Friday night that I missed so I woke up at 5:30 on Saturday morning to get back to San Antonio to watch her play at 10 a.m. Needless to say, I'm not usually up and moving while the moon is still up,so I needed vast amounts of coffee and loud music along the way. But I made it in time to watch her play and her team won which put them in the semifinals for Sunday and I was glad I was there to see it.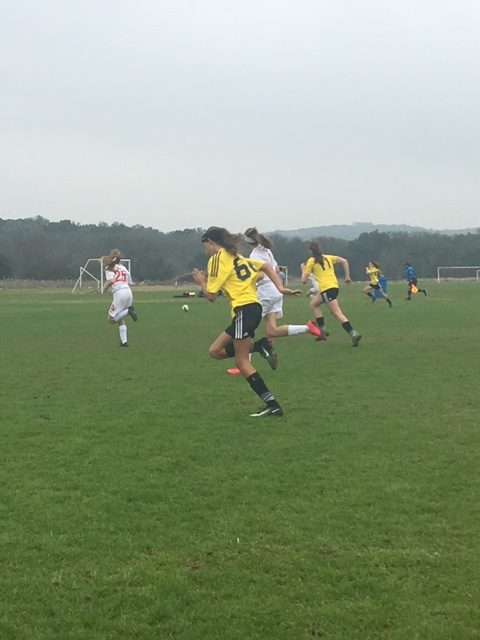 I think I was in bed by 9:30 on Saturday night and then P did church while I took Caroline to soccer on Sunday morning. He met us out there for the 2:00 championship game which they ended up losing in overtime on penalty kicks. By the time the game ended and we were awarded our second place medals it was almost 5:00 p.m. and so I had to laugh when her coach finished his post game talk with "Go enjoy the rest of your weekend!"
Yes. We will savor this fifteen minutes of rest immensely. I already feel refreshed and ready to take on a new week.
It didn't help that it was so hot that the refs gave the players mid-game water breaks. This is totally normal in May, August and September but not usually necessary in February. Apparently winter decided to show up for six non-consecutive days this year and that's the end of it. I'm even debating putting all my sweaters up but I feel like as soon as I do it might decide to get cold again and then I'd have to spend precious minutes getting out the step-stool to get the sweaters back down from the top shelf.
So that's really all that's going on here right now. I also wanted to mention two things:
1. Samford Legacy League Luncheon
On Thursday, February 23rd I'm speaking at the Samford Legacy League Luncheon at 11:30 a.m. at the Vestavia Hills Country Club in Birmingham, AL. You can register and find out more here. This is the only non-Texas event I'm doing this spring, so if you're anywhere near Birmingham I'd love to see you.
2. Are My Kids on Track?: The 12 Emotional, Social, and Spiritual Milestones Your Child Needs to Reach by Sissy Goff, Melissa Trevathan, and David Thomas
This book releases today and I cannot recommend it enough. I first met Sissy, Melissa and David through the Dot Mom Conference and I don't know three people I'd trust more to offer real and practical insight and advice into raising kids. They are compassionate, wise and just so real. It's temporarily out of stock on Amazon, but you can find it here at B&N or in your local bookstore!
This is from the back cover:
"We have many tools for tracking our children's physical and intellectual development, but what about their hearts and souls? After all, how they develop emotionally, socially, and spiritually will determine who they become as husbands and wives, mothers and fathers, friends and co-workers.
In Are My Kids on Track you'll learn the answers to such questions as:
· At what age should children be able to manage their emotions?
· When will they learn to empathize?
· How do they make their faith their own?
As you discover appropriate milestones for your child and encourage healthy development, you'll also learn the unique patterns of boys and girls, helping both genders flourish. Every chapter is filled with decades of experience, valuable research, and user-friendly practices to make supporting your child's heart and soul development a part of daily family life.
How can you raise courageous, compassionate, resilient, and empathetic kids? This book will help you answer those questions and more."
So what I'm saying is you're a parent, then you should treat yo' self to this book for Valentine's Day.
Because nothing says romance like a book on parenting.
Although I will tell you that there was a moment this weekend when P let me cut in front of him in the line for the Porta-Potty at the soccer fields and so maybe nothing says romance as much as that.
Happy Valentine's Day!
Copyright secured by Digiprove © 2017