Greetings from the House of Knee Rehab and Spring Break.
If you're wondering where I've been the last few days the answer is one of these options:
1. Attempting to serve as Caroline's stylist.
2. Acting as a cruise director to come up with fun activities.
3. Helping P get his shoes on.
4. Adjusting to Daylight Saving Time
Let's discuss that last item first. DEAD TO ME.
That's all.
P had his first follow-up visit to the doctor last Friday where he was cleared to begin putting weight on his leg and, most importantly and all the hallelujahs, to drive. This put him way ahead of what we thought his original schedule would be and so we celebrated that good news and the start of Spring Break by going out to dinner and then sitting in the rain at a high school soccer game. Then on Saturday we drove to Austin in the pouring down rain to watch Caroline play soccer in the pouring down rain and then drove back home in the pouring down rain. Are you sensing a theme? The good news is it quit raining about a mile from our house so that was super helpful after being in the pouring down rain for the better part of six hours.
On Sunday morning we faced the awfulness that is literally losing an hour of your life and went to church. Then we all came home and took naps before I decided to clean out my closet. The problem was I didn't check the time and my internal clock was all off kilter and so this is what my closet looked like at 6:00 p.m.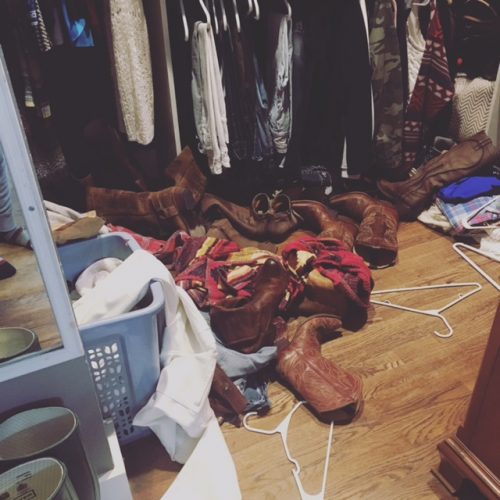 I posted that picture on Instagram and several people commented that I appear to have a brown boot problem. I prefer to look at this situation as a brown boot opportunity. Different outfits call for different boot options and all boots are not created equal. I didn't actually end up getting rid of anything yet, but I have a section of clothes in my closet that are now on notice that our time together may be coming to an end if I can't find a way to fit them in my life. And with that statement, all my sweatpants (aka "joggers") just breathed a sigh of relief because they know they are as safe as kittens.
On Monday, Caroline and I decided to go shopping. She needs a couple of dresses for some upcoming events and we never have time to go shop when school is going on. And so we ventured out to La Cantera along with approximately 64,000 mothers with daughters looking for prom dresses. Every single dressing room we went in was piled high with tulle and taffeta and sequins and the lingering scent of disdain and eyerolls along with the faint echo of "But MOOOOOOOOM, I'll never find a dress I like better than this one!" It made me thankful that Caroline and I were just looking for a few simple dresses even though we didn't find what we were looking for until our very last stop. She still needs some shoes but I am but one woman with limited endurance so that will have to wait for another day.
The rest of the week has been filled with cooking out, enjoying the gorgeous weather, more shopping, staying up way too late and a glorious amount of sleeping in. Today we made plans to hang out with Gulley and her boys and decided Top Golf would be a fun choice. Apparently everyone else thought so too because there was a three hour wait. Um. No thank you.
So we ended up going to eat lunch and bowling instead. And we were all happy just to be together because we're all so busy that we hadn't just hung out in forever. No one tells you how busy this stage of life is with pre-teens and teens and all their social and athletic commitments. Or maybe people do tell you but you don't listen because you're too busy counting down the hours until nap time with a toddler who thinks throwing food is a fun activity. Whatever the case, we are just in a stage of life right now that has us going all different directions constantly. But it warms my heart to see how much Jackson, Will and Caroline still love being together and they begged us today to make sure the road trip this summer was "an actual road trip" and not just a couple of days like last summer. So we're already trying to figure out how to make that happen and plan where we should go. Suggestions welcome although I will tell you about a six hour drive is our limit.
As for the rest of our week, I'm hoping to take a page out of Piper and Mabel's book and do a lot of this.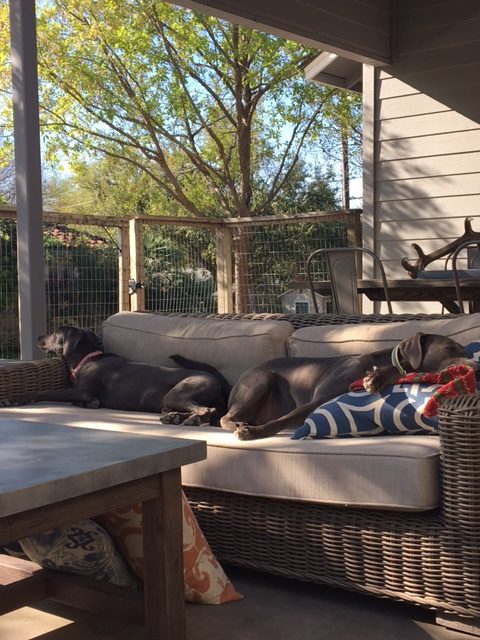 Because goals.
Copyright secured by Digiprove © 2017