I'm sad to say that we have reached the end of our Spring Break and it didn't feel nearly long enough. I was a little worried that we might get bored since we ended up just staying in town since P's mobility is still pretty limited and he's still recovering, but the time flew by anyway.
But I am heading to Round Top for a couple of days next week (more on that later) so that should be fun and, like I told Caroline, the sooner we go back to school just means the sooner it'll be summer.
Here are a few cute things I found this week: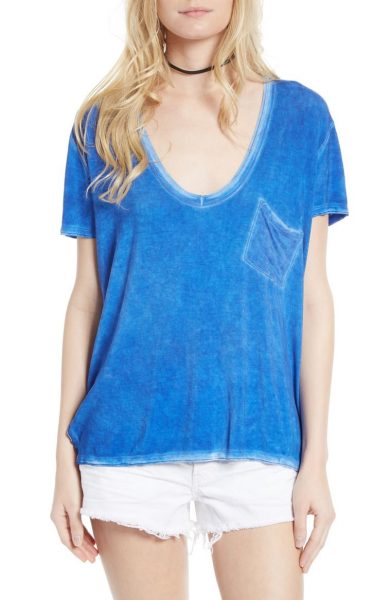 Free People tees are really hard to beat. They are super soft and the colors are always so rich. This one is on sale for $40.60 right now and comes in a bunch of color options. I think a good tee with shorts or a skirt in the summer is about the best way to go.
And if you're looking for a less expensive option, I saw these soft v-neck tees while I was shopping with Caroline earlier this week at American Eagle Outfitters and they are just $19.95 and are buy one, get one half off.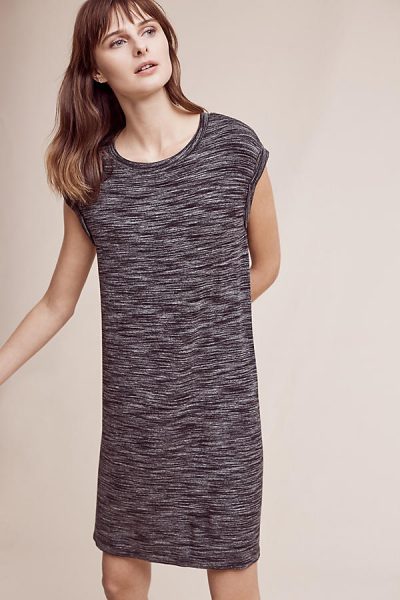 I tried this on in the fall and loved it but was waiting for it to go on sale. And then it never di and so I gave up on it. Then, lo and behold, here it is on sale for $69.95. It is super soft and flattering on and I love that you can wear it year round.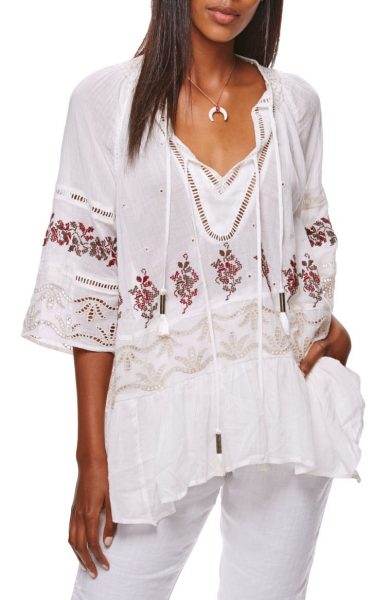 I first saw this tunic in gray on Zappos, but then I noticed it's on sale for $117.60 in white at Nordstrom. I adore it in either color, but the sale price makes the white more appealing. I think it's just left in small and extra small but Free People stuff always runs on the big side.
4. madelyn rae asymmetrical crepe fit and flare dress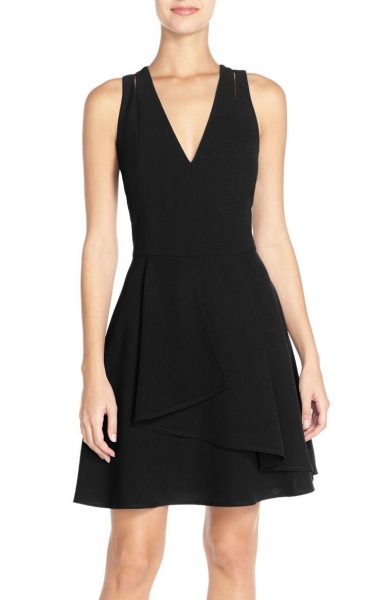 While Caroline and I were dress shopping this week, I saw these Adelyn Rae dresses at Nordstrom and they are so cute. This is a great basic black dress if you are in the market for something like that, but there are a lot of cute options in this brand.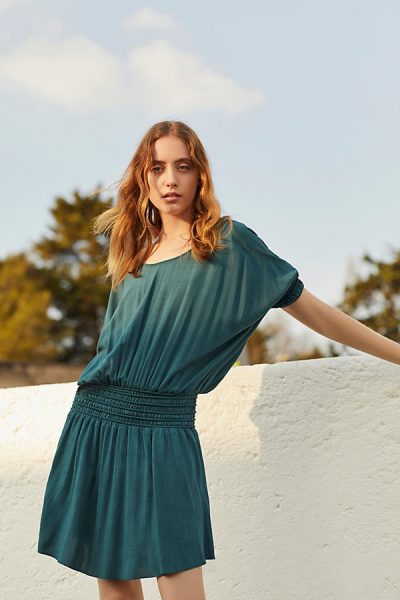 I saw this on the sale rack at Anthropologie and decided to try it on, mainly because it's just $39.95 and the color is really pretty in person. It is actually cute on and would be great with some wedge sandals.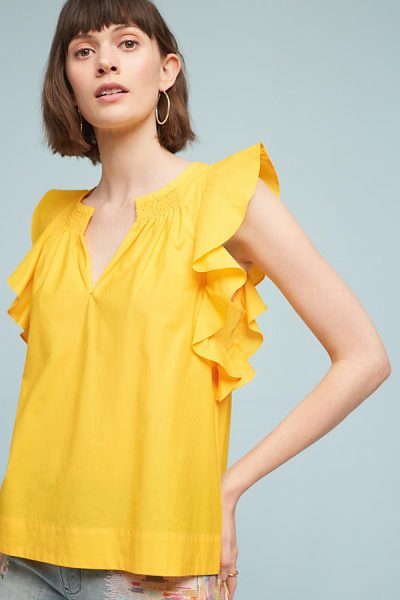 I love the style of this top and this yellow color. It also comes in royal blue and white. All of them would look great with white jeans.
7. seasons of the moon embroidered raglan blouse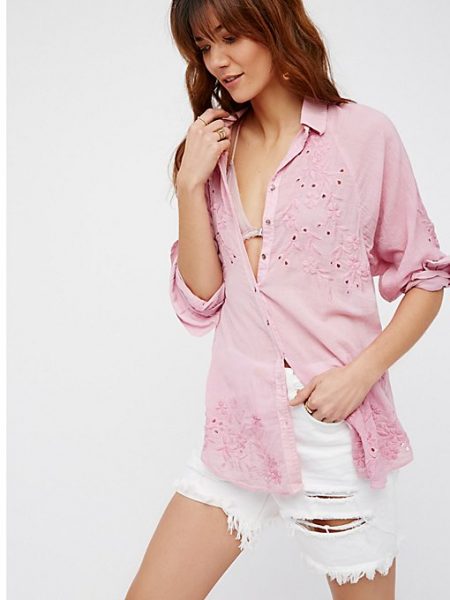 I tried this on in white at Free People and was so tempted to buy it until I remembered I don't need another white shirt. But it's super cute and lightweight and perfect with just a pair of jeans.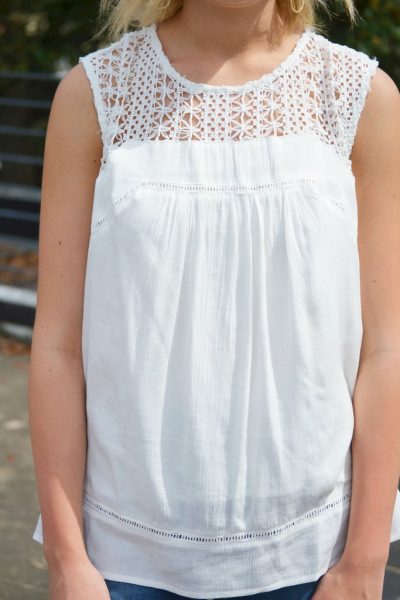 A cute sleeveless white top is always a good thing to have for summer and I really like this one.
9. sanctuary lace trim shift dress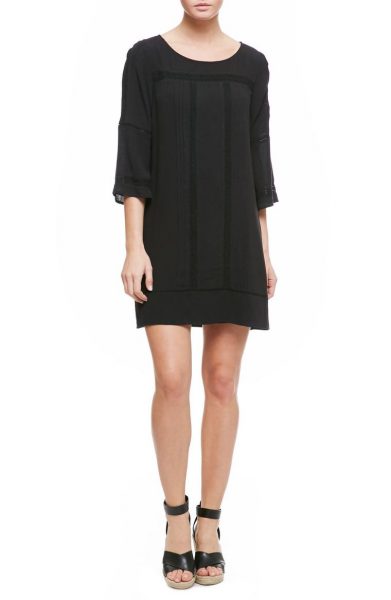 This Sanctuary dress is really pretty and on sale for $83.30. It also comes in white, but I kind of like the black. You know I'd wear it with turquoise jewelry because that's what I do.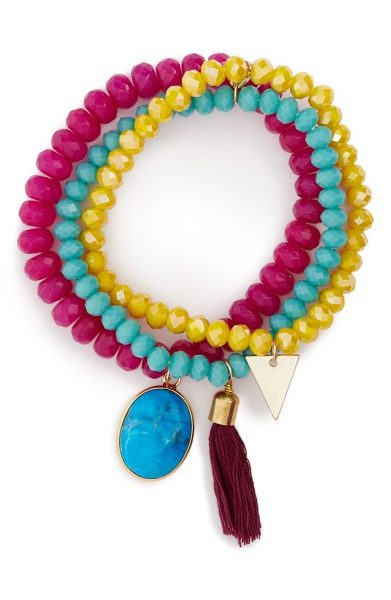 Or maybe I'd wear it with these darling bracelets. I love this bright pop of color as a spring and summer accessory. It's the perfect way to dress up a simple t-shirt and jeans outfit.
That's it for today.
Have a good Friday.
Copyright secured by Digiprove © 2017