I have been meaning to write a blog post all week and then every night I sit on my couch and something happens. It's called Netflix and lethargy.
Of course it's only Tuesday night at this point so I guess it's only two nights that I meant to write something and ended up paving the road to good intentions with Schitt's Creek and a glass of wine. I think I've just needed some downtime because this is the first week I haven't traveled in a while.
Speaking of travel, I mentioned that I went to New York last week. It was basically an advance trip to meet with various people about my new book that comes out in October. I flew into the city last Tuesday night and had meetings all day on Wednesday. And when I say all day, I mean I left my hotel room at nine that morning and got home a little before midnight. When they say New York is the city that never sleeps, they apparently mean it literally.
But it was such a fun day. The weather was a perfect sixty degrees without a cloud in the sky and we even had time to stop in the Anthropologie in Rockefeller Plaza which is the best of all the Anthropologies. And, in what was maybe my favorite part of the day, we got to visit the main Harper-Collins offices in the financial district.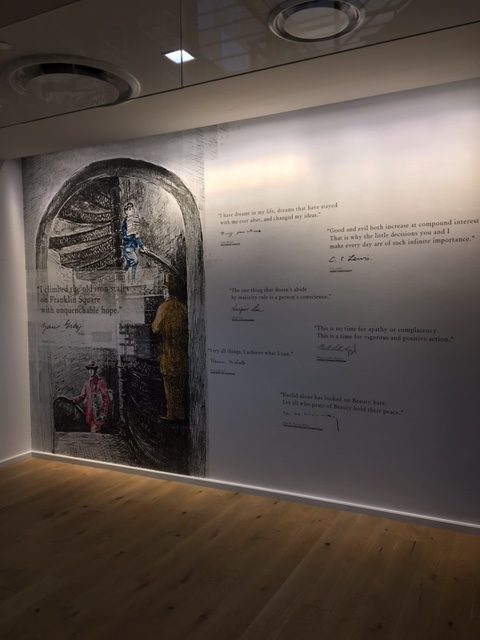 That is a terrible picture but the offices are amazing and they have all these walls with quotes painted on them. This year marks the two hundred year anniversary of Harper-Collins publishing and this nerdy bookworm found the offices completely awe-inspiring. To think of all the authors they have published and all the amazing words that represents was completely amazing.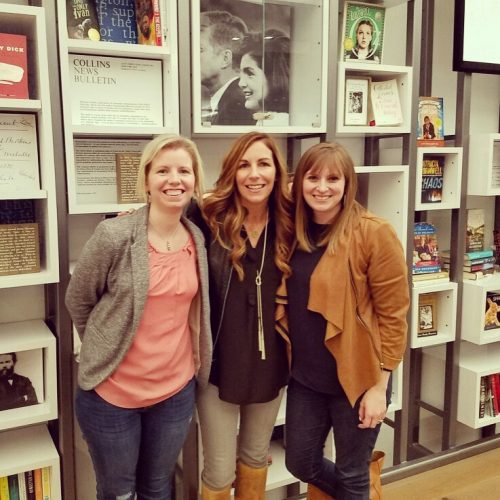 I fell into bed a little after midnight on Wednesday night which was especially unfortunate when you consider that my car to the airport arrived at the hotel at 5:00 a.m. which was really 4:00 a.m. to my central time zone brain. But I was relieved that I booked the early flight when we were boarding the plane at 7:00 a.m. and the flight attendant announced that the weather was getting increasingly worse and if we didn't leave the gate in ten minutes we wouldn't be leaving that day. I have never had to resist the urge more to yell "GET YOUR CARRY-ON AND GET ON THE PLANE, PEOPLE!"
I landed back in San Antonio about 1:45 that afternoon after a layover in Dallas and then took a quick power nap before P and I headed to Caroline's track meet that evening. She was supposed to run three events but strained a leg muscle during her first event and ended up not running the last two events. I was sad for her, but not sad to get back home at 9:00 p.m. instead of 11:00. I had no idea track meets last so long. It's like a thing no one tells you as a parent. I guess because then nobody would run track and Usain Bolt would have never happened because his parents would have said, "Nah, those track meets last for like seven hours."
I don't remember anything that happened Friday because I was so tired. I have a vague memory of working the popcorn booth at Caroline's school's spring carnival and hating myself for being optimistic enough two weeks earlier to think I wouldn't be too tired to work a popcorn booth at a junior high carnival.
Saturday morning was glorious because I was able to sleep in. Caroline had soccer at 3:00 but that allowed for plenty of time to stay in pajamas and drink coffee and just be leisurely. And then we headed to her soccer game.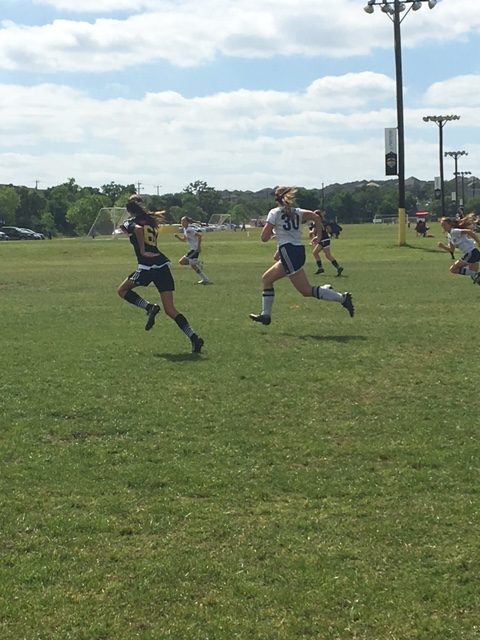 Her legs are officially longer than mine even though she is still three inches shorter than me. I don't know what this means except that she needs new jeans. Her leg was still bothering her from the track meet but she played a great game and we didn't realize she was playing in pain until the game was over. It also may explain why we looked over when we got home and she was stretching on the rug one minute and then dead asleep the next.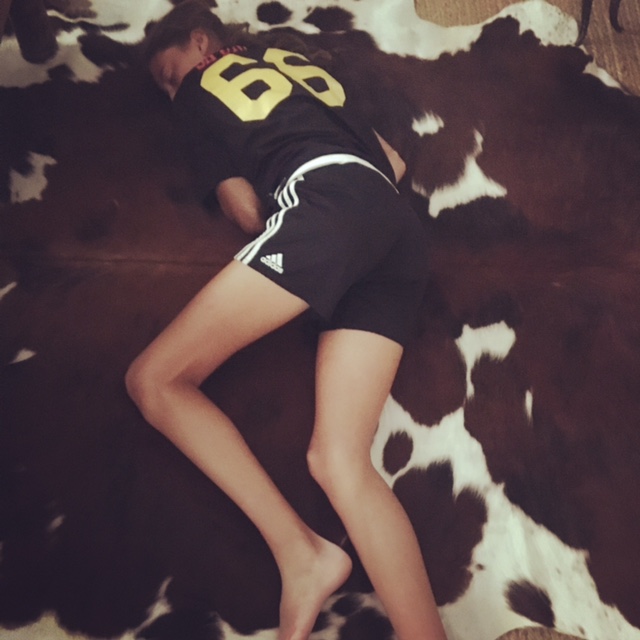 Bless her heart.
On Sunday we had church and then I took yet another nap. And now I'm just trying to get caught up on real life because I realized that maybe I should get our taxes together since they're due in a week and perhaps going to the grocery store is a good move since we were down to two bags of chips, a granola bar, and a questionable bunch of grapes.
I also managed to melt a straw from one of our water bottles on the heating element of the dishwasher last night and make the whole house smell like a chemical factory. It brought back terrible flashbacks to one Easter when I was little and the Easter bunny had hidden a plastic egg full of jelly beans on top of the lightbulb of a table lamp and then forgotten about it. You may not know what melting plastic and jelly beans smells like but people in hell do.
But to make up for the melted straw debacle and the lack of groceries in our refrigerator and the fact that P has been doing most of the cooking, I made this one pan balsamic chicken and veggies for dinner tonight. The only problem was I forgot that I really don't like chicken or veggies. There are some things that even balsamic vinegar can't fix. But it was healthy and we ate it and then I cleansed my palate with one of the Easter sugar cookies that my mother-in-law had brought by earlier in the day.
In summary, I am winning at real life right now.
And I will not cook chicken again for a long time.
Copyright secured by Digiprove © 2017