Well, I feel terrible because Monday was apparently National Haiku Poetry Day and I didn't even get Mabel a cake to celebrate. And don't think she didn't notice. I found this in her notebook just a little while ago.
It hurts when your mom
Fails to foster your talents
Haiku is my life
Guilt. The gift that keeps giving. I've already marked it on my calendar for next year.
We had a fun but busy Easter weekend around here which I'm sure is part of why it slipped my mind that Monday was National Haiku Poetry Day. It's almost as bad as that time I forgot when it was National Eat A Carrot Day.
Caroline didn't have school on Friday so we spent the early part of the day running errands and then had invited her soccer team over to go shopping and then eat dinner at our house later that afternoon. It's safe to say that it was not quiet anywhere within a five mile radius of our house on Friday night.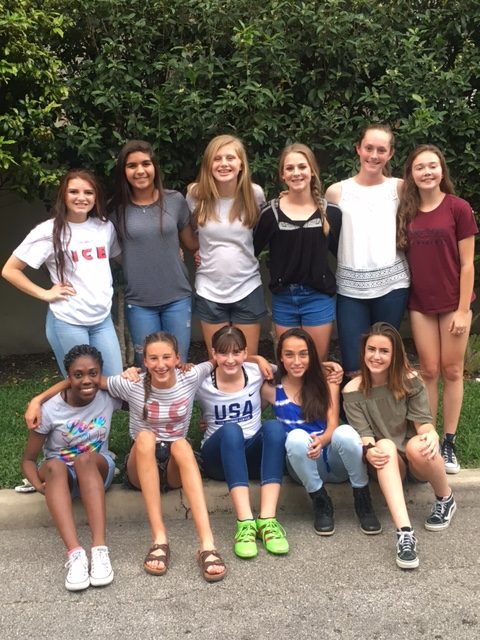 The girls had a great time and managed to not only eat a record amount of hamburgers but also clean out a plate of brownies and cookies in a shockingly small time frame. Filling them up with burgers and cookies must have worked because they managed to beat the number one team in their division 4-1 the next day. And since this is how sports superstitions are born, guess who's hosting a team dinner again this weekend?
We had the aforementioned soccer game on Saturday and went out to lunch with the team afterwards before coming home and doing absolutely nothing the rest of the day until we decided it was time to dye Easter eggs later that night.
Dyeing eggs with a teenager is definitely a lot calmer than dyeing eggs with a toddler. I only stressed out about getting dye on my new white cabinets 40% of the time instead of a full 100%.
Side note: Several of you have asked for a post about the kitchen remodel and I promise it's on my list and I'll do it soon. I've just been waiting for a few final things to get finished first.
On Sunday morning we got moving early to go set everything up at Community Worship. We were serving communion plus having an egg hunt for the kids afterwards so there were a lot of moving parts to get together. We also ended up being short on our childcare staff so I spent Easter Sunday morning with the kids and doing my best to keep the little girls from getting marker on their pretty smocked Easter dresses. I succeeded moderately at this.
After church, Mimi and Bops came over for an Easter brunch. I'd made a sausage, egg, and hash brown casserole the day before in a shocking change of pace from my traditional breakfast casserole and we all agreed we liked the hash browns in place of the bread better, especially since I always make a french toast casserole,too. I mean I'm not one to ever feel you can have too much bread, but I also believe that a potato is always a solid bread substitute.
We did manage to take a few pictures after church on Easter. Of course we didn't get a picture of all three of us together because we were all so ready to be back in our pjs.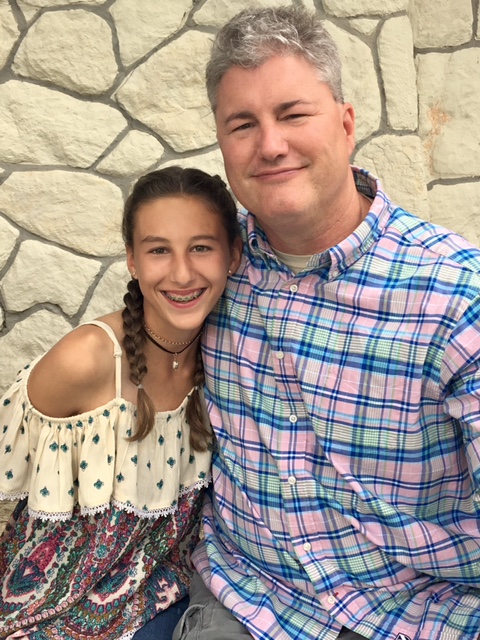 And Caroline was also happy to see that the Easter Bunny still shows up for teenagers.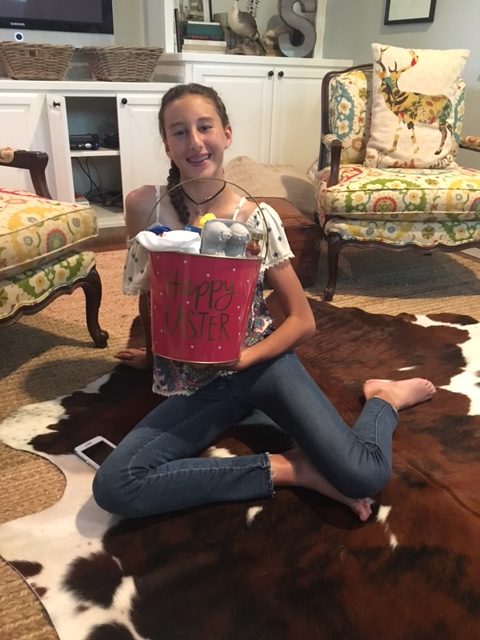 Although the Easter Bunny wasn't smart enough to hide that basket anywhere better than on top of the washing machine in the laundry room where it was actually discovered on Saturday night. Sometimes the Easter Bunny is as dumb as that tooth fairy who used to always forget to pick up teeth.
Hope you all had a great Easter.
And a lovely National Haiku Poetry Day.
Also, your taxes are due today.
Mabel wrote a haiku about it:
Today is the worst
I don't even make money
What is income tax?
Copyright secured by Digiprove © 2017