Happy Friday!
Before we get to the fashion portion of the day, I thought you might want to know about a great Mother's Day Special that my friends at Hummingbird Farms are having right now. If you've read here for long, then you know that I tend to be a little fickle about my beauty products, but I consistently love everything from Hummingbird Farms. This would make a great Mother's Day gift if you're looking for something. Here are the details of the special:
You can choose from 2 wonderful boxes filled with great products.
Save $17 on either box or Save $39 when you buy 2 boxes and ship to the same address.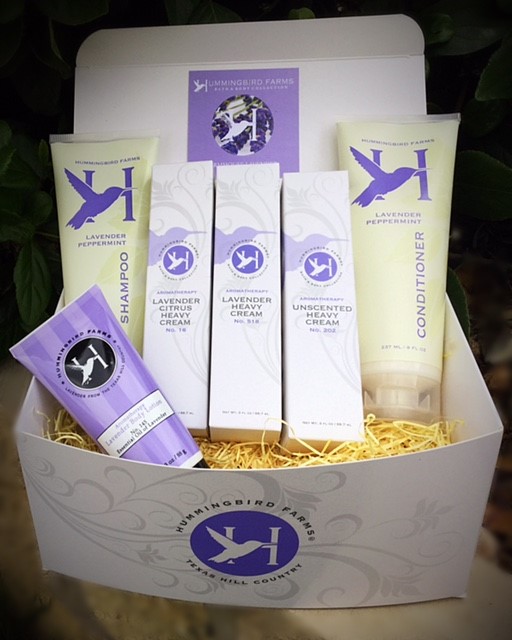 The BigBoo Box celebrates 2 very special mothers, Big Mama and BooMama and includes the Heavy Cream Trio of 3 oz. tubes of Lavender, Lavender Citrus, and Unscented, a 3 oz. travel tube of the Lavender Lotion No. 145, and our Lavender Mint Shampoo and Conditioner in 8 oz. tubes.
With the MAMA17 coupon code, total savings of $52 on $110 value!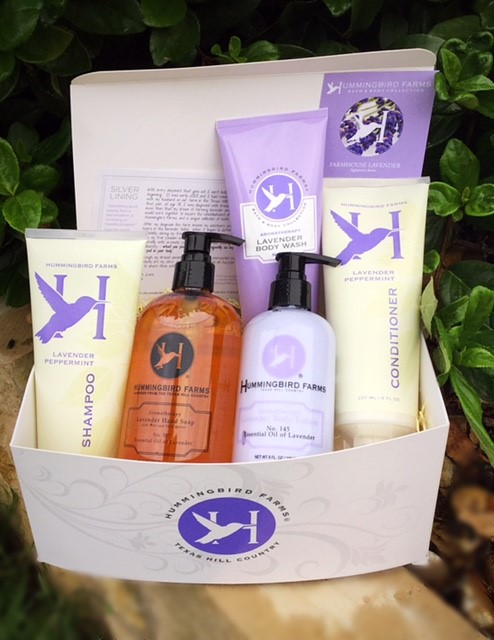 My Mom's Box includes Debi's mom's favorites, the Lavender Mint Shampoo and Conditioner, and Lavender Body Wash in 8 oz. tubes, the Lavender Hand Soap in 12 oz. bottle, and the Lavender Lotion No. 145 in 8 oz. bottle.
With the MAMA17 coupon code, total savings of $78 on $136 Value!
Save $17 on each box with the MAMA17 coupon code!
1. Add the BigBoo Box or My Mom's Box to your cart.
2. At checkout, enter code: MAMA17
FREE Shipping, too!
Your total will be just $58 (plus sales tax in Texas)
— Or —
If you would like 2 Boxes to ship to the same address, you can mix or match to save an extra $5!
1. Add 2 BigBoo Boxes or 2 My Mom's Boxes or 1 of each to your cart.
2. At checkout, enter code: 2MAMA39
FREE Shipping!
Your total for both boxes will be only $111! (plus sales tax in Texas)
Save $39 on 2 Boxes!
You can find everything Hummingbird Farms offers right here on their website.
So here are some cute things I found this week: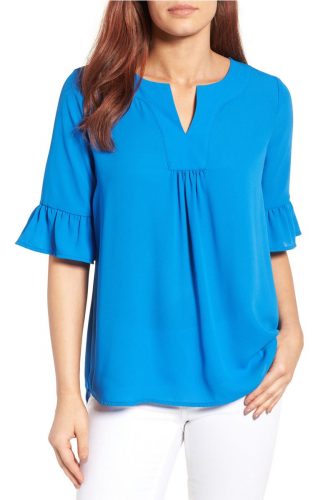 Gulley and I ran into Nordstrom this week because I had to pick up a dress for Caroline. I tried to not look to the right or the left so as to not be tempted, but I accidentally looked up and saw this top with these darling ruffle sleeves. It was like a beacon. I love the vibrant blue but also comes in coral and a kelly green print. This would be perfect with white jeans.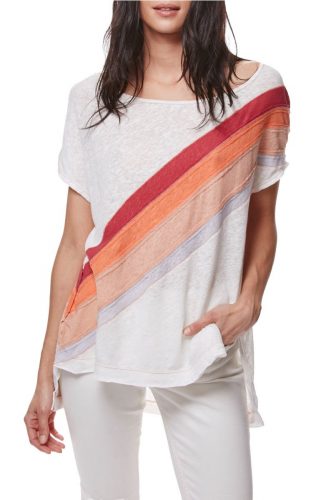 This Free People tee is on sale and I love it because it's a little bit retro.
3. old navy wide leg linen blend pants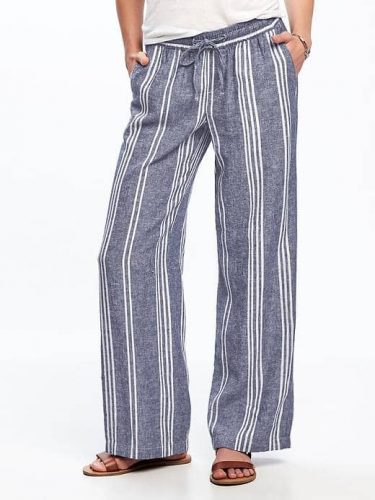 Old Navy has these wide leg linen-blend pants and every year I love them. I especially love this striped version but they also come in solids if you like that better. They are so inexpensive that you could even get a pair to wear as a swimsuit coverup.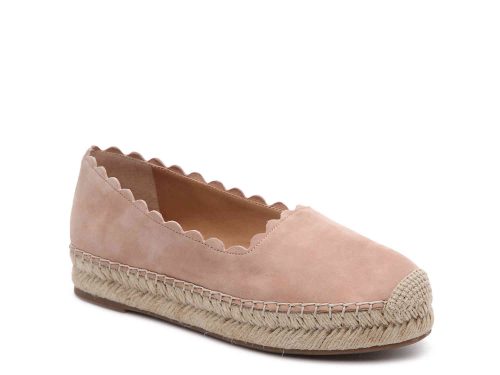 I adore the scalloped detail on these because it makes them just a little bit different than some of the other versions. These also come in black if you like that better, but I'm a big fan of the blush.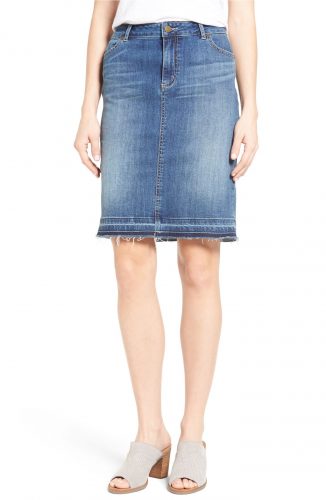 Denim skirts are a big trend right now. It brings me back to my sophomore year in high school when my favorite outfit was my Guess denim miniskirt with a Guess sweatshirt and my white Reebok high-tops. It was as great as what you're envisioning, complete with a spiral perm.
This version of the denim skirt is great because it's a little longer than what I owned in 1987. It's 21 inches long.
This j.crew raw hem denim miniskirt is a little bit different if you want something a little bit shorter.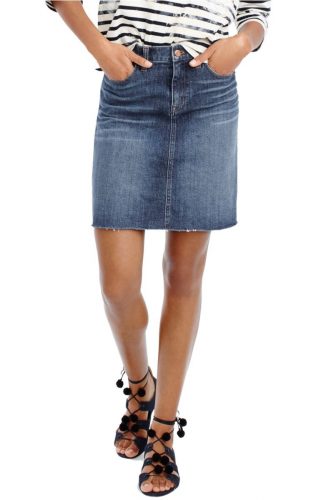 It's 16 1/2 inches long.
And I love this white peyton frayed denim skirt and it would look great with so many different tops.
It's 18 inches long just so you can get an idea if it will work for you. I love the idea of this with just a simple t-shirt and some sneakers.
6. violet ray kourtney cross body bag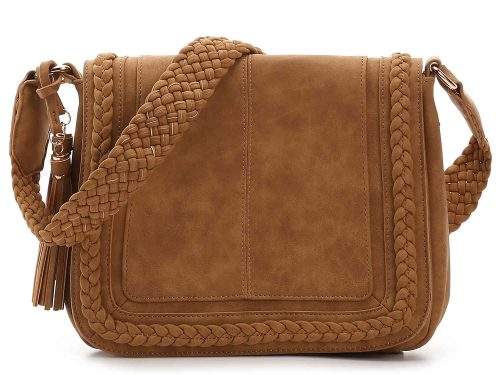 This cross body bag is so cute and it also comes in a dark gray.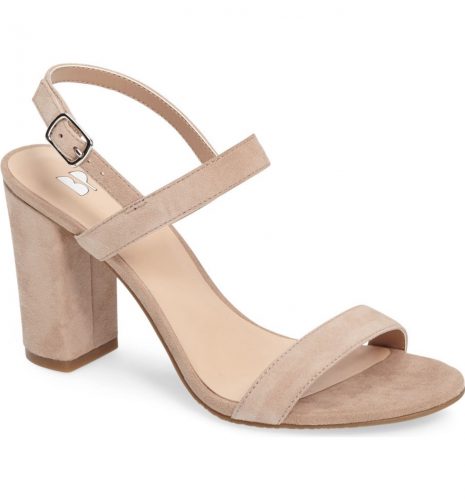 We've spent the last few weeks looking for dressy sandals for Caroline. Does this sound easy because it has been the opposite of that. However, my extensive shoe research has led me to determine that this minimalist style heel is the shoe of the season. Every designer has some version of this sandal right now, but this one is a reasonable price point and the heel is just high enough without being too high. It comes in a bunch of different colors, including gold and silver if you need something that will go with various outfits.
8. topshop stud gladiator sandals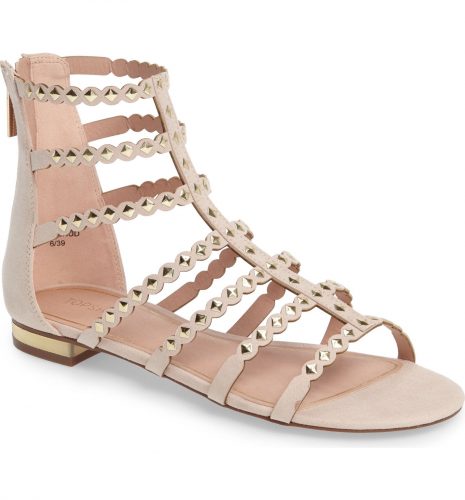 These studded gladiators are also a big trend right now and this Toyshop version is just $48 which is much better than the $500 Valentino version. These also come in black and look cuter on than they do in pictures.
As for me, I am loving these birkenstock mayori sandals that I bought a few weeks ago. I wear them non-stop and I've actually decided they are really cute and not just comfortable. Maybe I'm kidding myself but I don't care.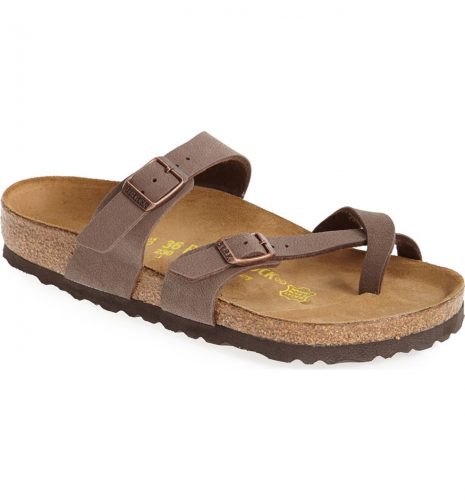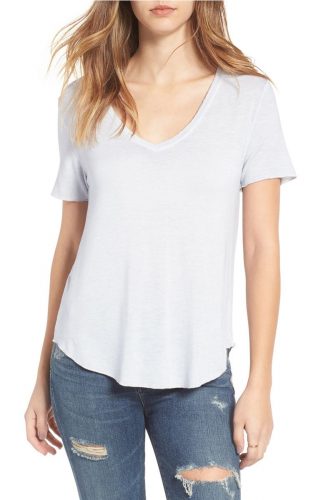 Summer is the perfect time for just simple t-shirts and these BP tees are great. They are just $17, have a great rounded hem, a good length and come in lots of colors.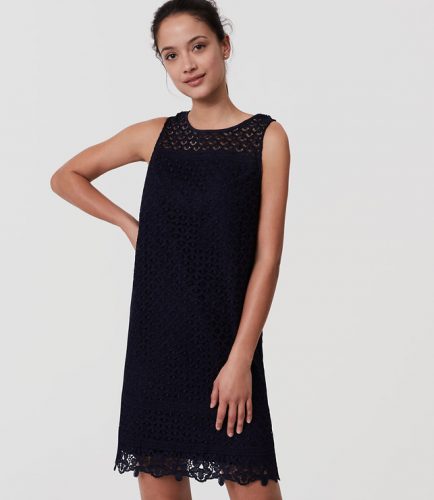 In case you're looking for a good dress for a summer wedding or other social engagement, I think this shift dress is really pretty. This is the navy and but it also comes in green. It would look great with the nude version of those BP heels featured up above.
That's it for today.
Have a good Friday.
Copyright secured by Digiprove © 2017