So I'm sitting here on my couch. I've been to Houston and back in the last twenty-four hours and I'm headed to College Station tomorrow afternoon. But Gulley will be with me for that one so it will be a chance for us to actually have a real conversation without eight million interruptions. Our entire friendship is currently based on three minute calls made periodically throughout the day because apparently our chief function in life right now is to drive teenagers around to all their various sporting and social engagements.
Anyway, I spoke at St. Martin's yesterday and as I was looking over my notes right before I was about to speak, I realized I'd printed them out on the backs of paper I'd used to test the new printer ink.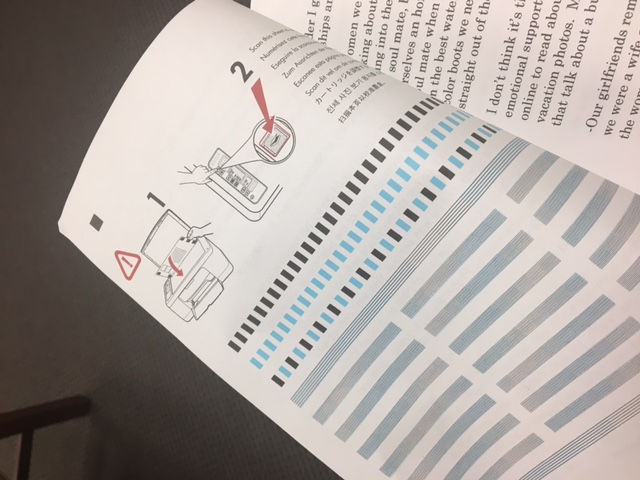 I posted this on Instagram and mentioned that I am just barely a functioning adult. Seriously.
And then after my talk at St. Martin's was over, I got in my car to drive home to San Antonio but had to stop for gas and wanted to get something to eat because I can never actually eat at the luncheons where I speak because I am way too nervous ahead of time. I told myself I'd make good choices at the convenience store. I would opt for some pretzels. Yet this is what ended up in my car.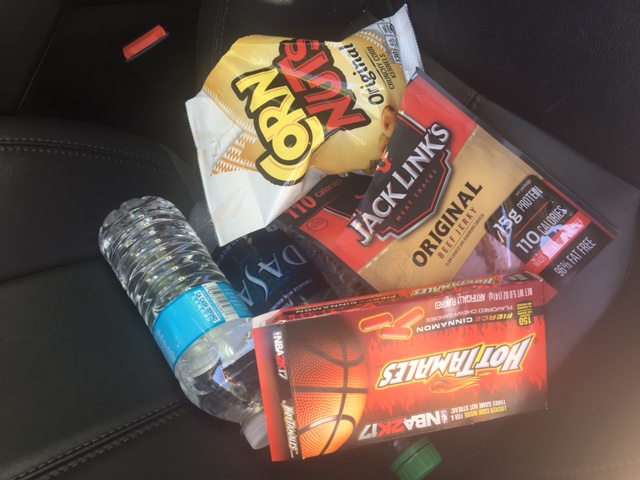 Speaking of barely functioning as an adult. That's like the official diet of a fraternity house. But at least I was well-hydrated.
I drove down I-10 eating my corn nuts and beef jerky and hot tamales while listening to a steady stream of 1970s soft rock hits. I've always loved 1970s music but it's all I've been listening to lately because there is currently nothing on the radio that I am interested in hearing. Also, get off my lawn.
On the nights I cook dinner, I usually put on Pandora's 1970s lite rock station (Apparently they didn't believe in the "gh" in the 70s because it definitely "lite" rock and not "light" rock) and the other night I happened to glance at my computer screen in time to see this album cover.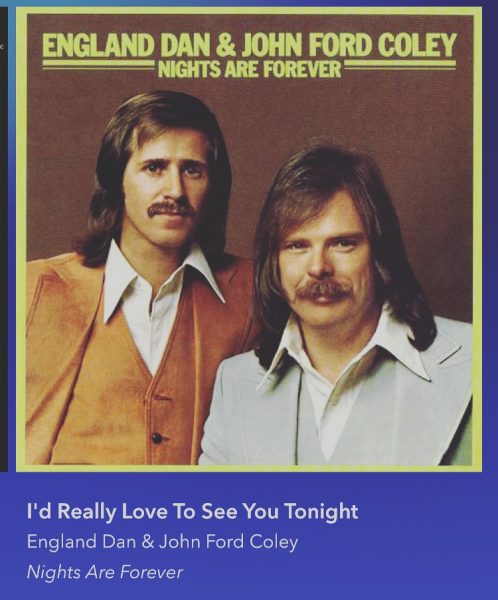 England Dan and John Ford Coley look startlingly like people you might see on a Dateline special. In fact, that seems to be true of most 1970s musicians. It was a time when men rocked a bad mustache and looked at a wide collar and said, "I BELIEVE I WILL".
As I was driving home earlier today, I thought of all the 1970s songs that I adore and thought I would make a list of some of my favorites. This is not a comprehensive list because that would be at least 100 songs but they remind me of a simpler time when all I had to turn the dial on an AM radio to find a good song. James Taylor and Carly Simon alone could get me to about twenty songs. I just picked the ones that I adore because they have a lyric that stands out to me as beautifully written or a melody that makes me feel incredibly nostalgic the minute I hear it.
I'm not sure if I love these songs because they are the songs of my childhood or if it's because music truly was better in the 70s. I contend it's a little bit of both.
Here's my personal list off the top of my head. Feel free to share yours in the comments.
1. If You Leave Me Now – Chicago
If I had to pick one band to listen to forever, it might be Chicago. After all, they singlehandedly helped me process a lot of junior high angst.
2. You're So Vain – Carly Simon
I love this song for many reasons, but the line "I had some dreams, they were clouds in my coffee" is brilliant. Also, "You walked into the party, like you were walking onto a yacht."
3. Please Come to Boston – Dave Loggins
This has always been a favorite. "I'm the number one fan of the man from Tennessee".
4. Brandy (You're a Fine Girl) – Looking Glass
This is a song that tells a story. I like that.
5. I'd Really Love to See You Tonight – England Dan and John Ford Cooley
England Dan, you are kind of scary looking. However, you had me at "there's a warm wind blowing the stars around".
6. Fire and Rain – James Taylor
I would choose a different James Taylor song on any given day. In fact, I could just listen to James Taylor all the time, but I'm picking Fire and Rain. I think because "I've seen lonely times when I could not find a friend, but I always thought that I'd see you again" hits me right in the feelings these days.
7. You've Got a Friend – Carole King
This is the best song about friendship ever. The end.
8. Operator – Jim Croce
What is a list of 70s soft rock without Jim Croce? I used to always get him confused with the painter on PBS who painted "little trees". Do they even look alike? I don't know. Maybe I just found them both very soothing.
9. Goodbye Yellow Brick Road – Elton John
I broke my arm when I was seven and my grandmother brought me Elton John's Yellow Brick Road album. I'm not sure why she thought that was a good gift for a second grader, but I was fascinated by the cover art and listened to it over and over again. This song is one of my favorites of all time of any decade.
10. Danny's Song – Loggins and Messina
"Even though we ain't got money, I'm so in love with you honey".
11. Best of My Love – Eagles
The Eagles are another one that could be an entire list on their own, but I have always loved this one because it gives me a peaceful, easy feeling. See what I did there?
12. Bluer than Blue – Michael Johnson
This song epitomizes some 1970s love song angst. "You're the only life this empty room has ever had".
13. Landslide – Fleetwood Mac
This song can make me cry in 2.3 seconds. Every time. I loved the Dixie Chicks version, but Stevie Nicks does it the best.
14. How Much I Feel – Ambrosia
This week when I posted the picture of England Dan and John Ford Coley on Instagram, someone suggested I listen to the Ambrosia station on Pandora and let me just say, I applaud you. It's the perfect mix of some 70s lite rock.
15. Your Song – Elton John
Yes. I have two Elton John songs on my list. It was like Sophie's choice and I chose not to choose.
And now I just realized I didn't put any Christopher Cross on my list. Or Styx. But I have got to go to bed even though I have fallen into the 1970s and can't get up.
Which is probably true of many of the musicians from that decade.
Happy Thursday.
Copyright secured by Digiprove © 2017