So I'll start with this because I'm kind of excited about it. I wrote my first original piece for TODAY.com and it went up yesterday. You can read it here. And they tell me that it's good to get votes (Why? I don't know. What does it all mean?) but there's a little thing at the top of the article where you can vote for me so it would be great if you could do that if you feel so inclined. The article is about what it means to be a good mother so, in keeping with that, I wish all of you who are moms or who have a mom a very happy mother's day.
Secondly, I have a great giveaway today courtesy of Milk and Honey Tees. Earlier this week I shared the "Chin Up, America!" tee and y'all ordered it like crazy which was so fun. In fact, you ordered so many of them that they have sold out for now but should have more available in the next week or so and so, you know, CHIN UP.
But Milk and Honey Tees also have several other cute t-shirt options.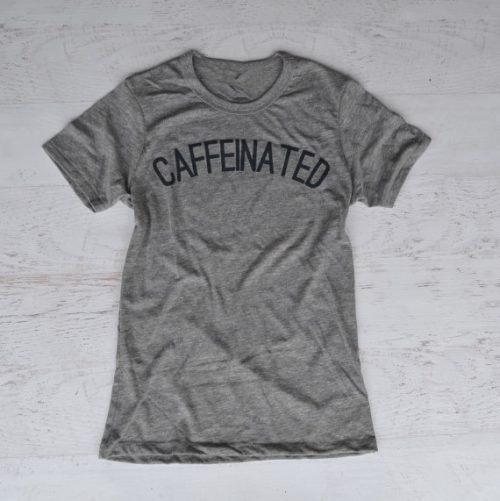 That last one is basically my life motto.
Today, Milk and Honey Tees is giving away TWO $50 gift certificates to two of you today. All you have to do is leave a comment on this post for a chance to win. No duplicate comments, please. I'll leave comments open until Sunday and then pick two winners at random!
Now for some cute things I've found this week that you could buy yourself for Mother's Day: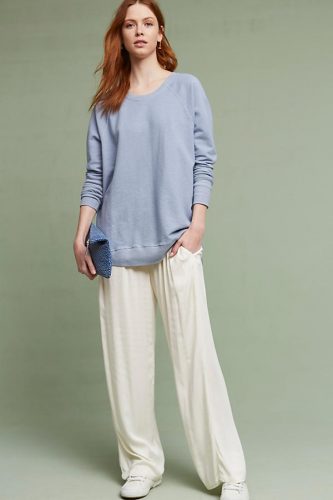 At the very heart of me, I really would just wear some form of loungewear all the time. I am a sucker for a good oversized sweatshirt and this one has amazing reviews. It comes in blue, sand, navy and moss and you can crank down the A/C and wear it now and then keep wearing it all next winter.
The reviews do say that it is lightweight so it might be perfect for those of you who have northern summers. As for us Texas girls, we can't have any material touching our arms during the summer months if we're outdoors.
2. exhilaration long sleeve babydoll dress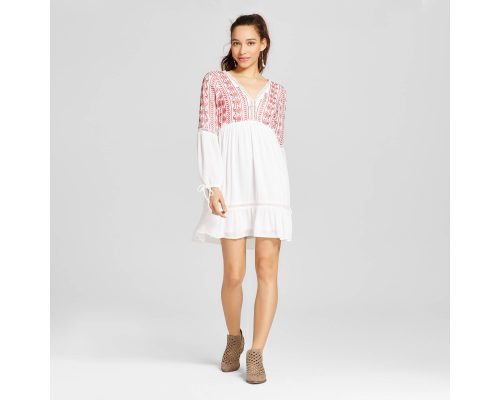 Isn't this so cute? It also comes in black and it's just $29.99. Plus all dresses are buy one, get one 50% off at Target right now.
Which means you could also get this embroidered yoke shift dress.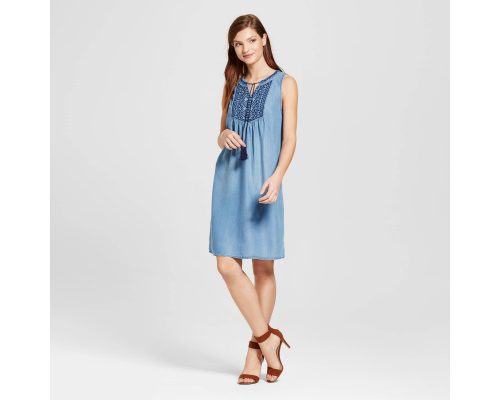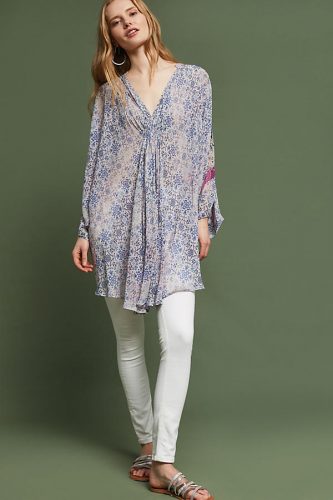 The reviews say this is more of a tunic than a poncho but I don't hate it either way. I love the colors and I love a good tunic/poncho.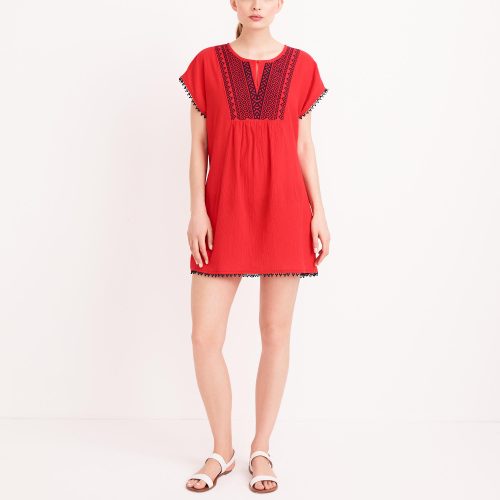 These embroidered pom pom tunics from J.Crew make the cutest coverups or even tops over skinny jeans. They come in different colors but I am loving this bright coral with navy accents.
5. schütz fankia wedge sandals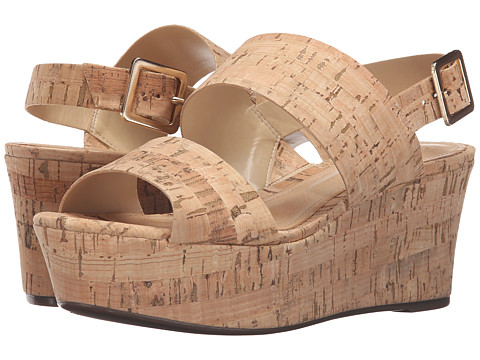 Every now and then something pops up as I'm looking online and I know – like you know a good melon -that I have to have it and that it will bring me lasting joy and happiness. That's how I felt about these cork wedge sandals. They are perfection and so versatile.
They also come in black and clay and are normally $200 but just $44.99. I DIE.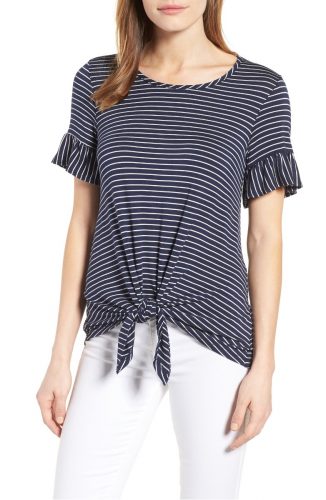 In what can only be an indicator that you are who you are, I have always loved a top that ties at the waist. My 90s college self was certain that trend would never die and then, alas, it did. But it appears to be back and if loving it is wrong then I don't want to be right. This top is all that I want out of a top.
It also comes in a white striped option and a solid black.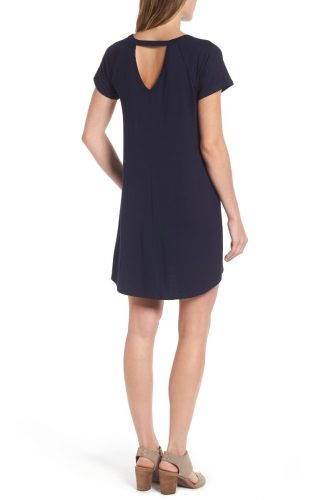 The cut out on this dress gives it a little pizazz. It comes in several color and striped options and would be great dressed up with those cork wedge sandals above or dressed down with some cute sneakers.
8. birkenstock arizona slide sandals
Listen. I can't make all of you order a pair of what we call Birkencrocs at my house, but I would if I could. They are the perfect summer shoe for the pool or the lake or the beach or just life. You can hose them off if they get dirty. They are indestructible. And I adore them. Plus they are just $34.95.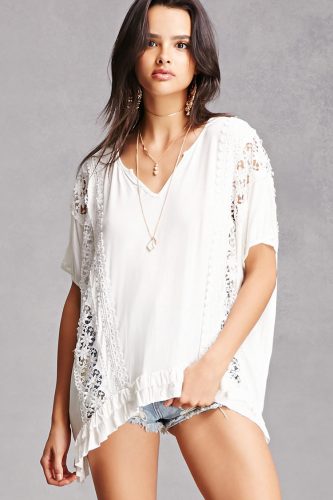 This would look so great with just a pair of denim shorts and sandals.
10. gap denim shorts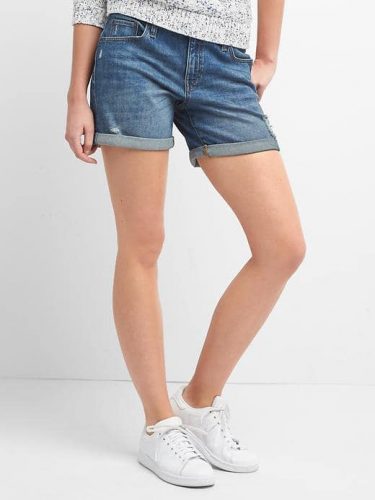 Speaking of denim shorts, I love these. They are very similar to a pair I bought at Gap about four years ago and wear constantly.
And, good news! If you're looking for a longer option, gap bermuda denim shorts are making a comeback. These were a staple for me in college along with aforementioned shirt that tied at the waist.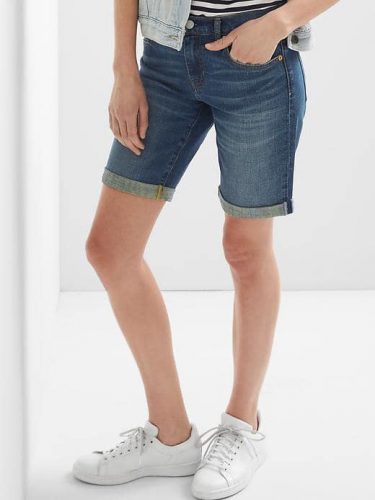 That's it for today.
Don't forget to leave a comment for a chance to win one of the gift cards to Milk and Honey tees.
Have a good Friday.
Copyright secured by Digiprove © 2017