We've had a busy few weeks around here but I'm so happy that we're all back in the same house and have some time to just enjoy some summer. We haven't even been to the pool yet. But I plan for all that to change over the next few days.
I hope you all have a great Father's Day weekend, even though there is nothing on this list that you can buy your dad. I mean, you could buy it for him but I don't think he'd want it. However, I did write an original piece about Father's Day over at TODAY.com on their parenting site called Father's Day: The Real Heroes Don't Wear Capes and you can read it here.
And here are some cute things I found this week: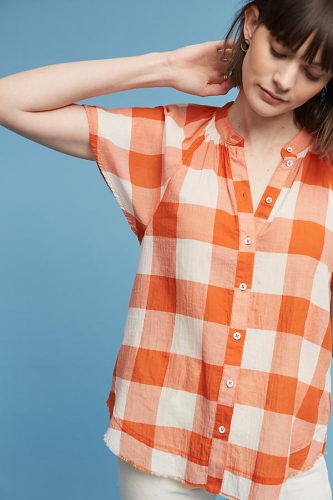 This darling top is on sale for $39.95 plus all sale at Anthro is an extra 25% off with no code needed at checkout. It also comes in a light mint green, but I really love the orange because it would make a great transition to fall. Not that I can really even think about fall right now because it is a million degrees here.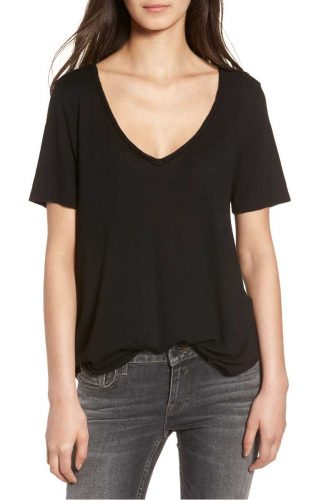 I love a good v-neck tee because I think they are so much more flattering than a round neck tee. This one is only $17 and comes in several color options. Never underestimate the usefulness of a good t-shirt in the summertime.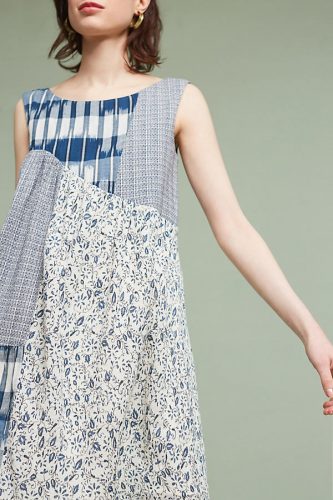 This is another Anthro sale item. It's $69.95 plus 25% off. I have a couple of Anthro dresses that I've bought on sale during the summer and I wear them over and over again.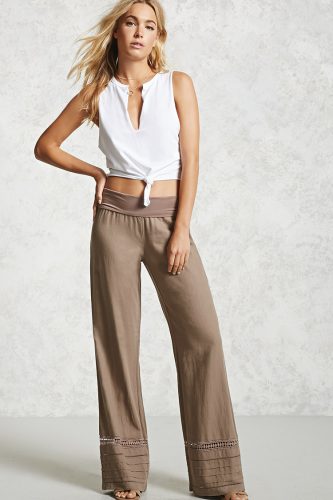 These wide-legged pants are only $10 and come in mocha, coral and taupe. I think they would be great to just wear around the house, throw on over a swimsuit, or wear with one of the v-neck t-shirts above with sandals. They are final sale so keep that in mind but TEN DOLLARS.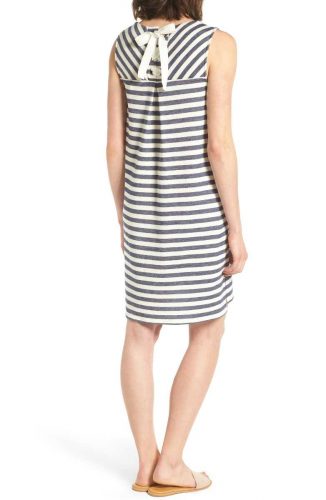 I saw this tie back stripe dress and thought it was so cute.
And then I saw this tie back sleeveless top and loved it, too.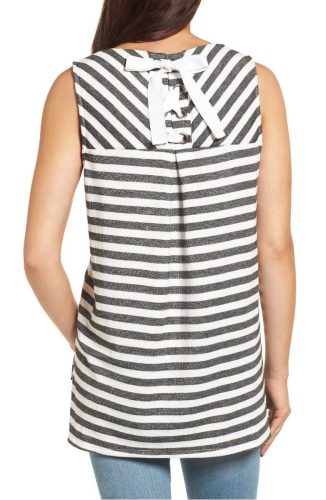 And then I saw this striped tie back shell at Loft and realized tie-back must be a thing right now. I love all these options depending on what your closet needs.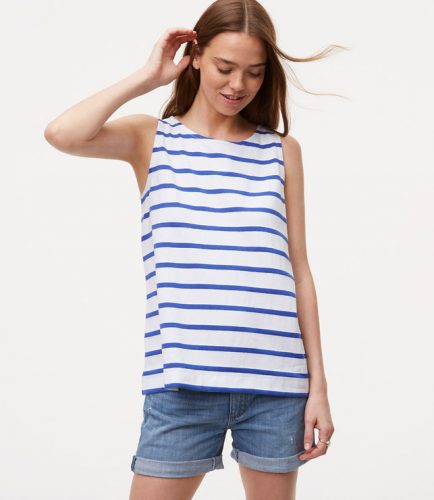 Loft is offering 40% off everything with the code NEWNOW at checkout.
6. nike air zoom pegasus 34 running shoes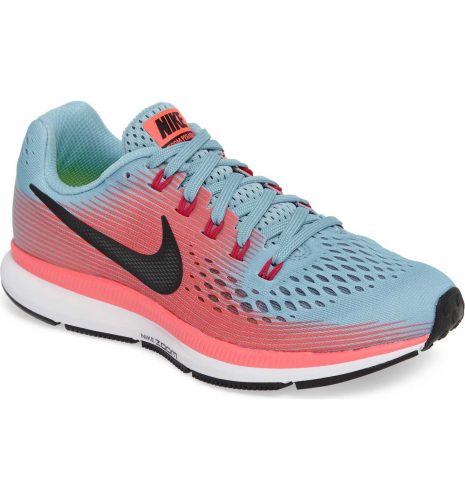 These come in several color options but I am in love with these. I have a similar pair but they are just solid blue and now I feel like I need these in my life.
7. chambray embroidered flutter top
I think this is the cutest top and would look so great with white shorts or jeans. It's 40% off with code NEWNOW at checkout.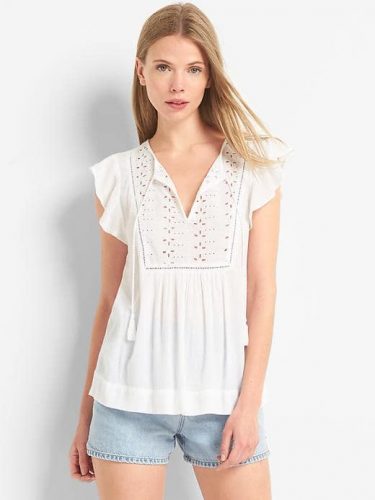 Gap has some great white tops and pants right now. And everything is 40% off with code HAPPY at checkout.
I really like these gap high rise wide leg jeans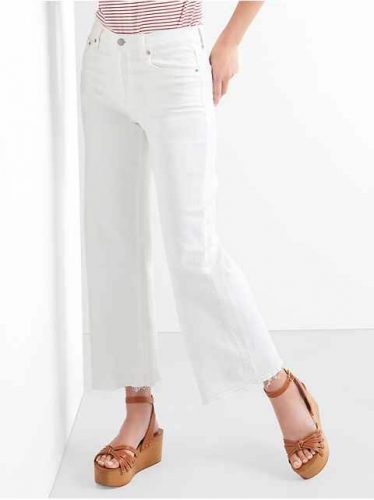 And this gap ruffle sleeve boatneck top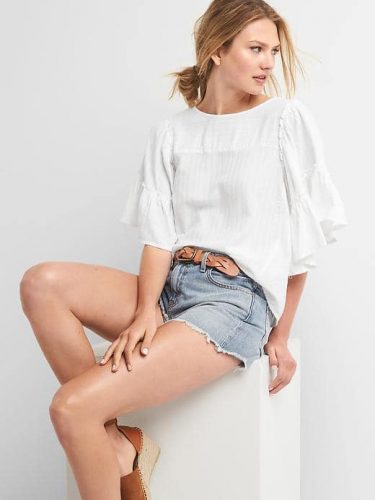 9. j.crew factory striped tunic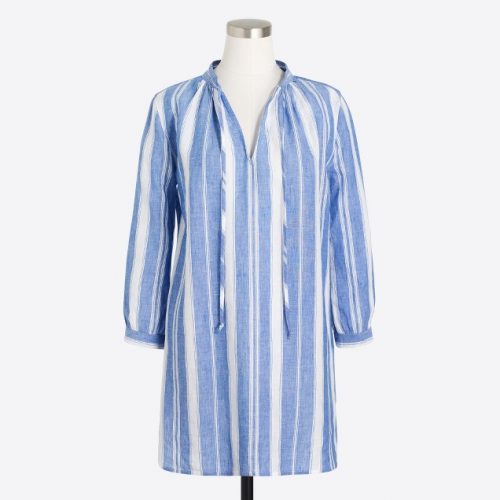 This would be a perfect coverup over a swimsuit or as a tunic over some white jeans. I love the light blue and I love the stripes.
10. cap sleeve frill trim embroidery dress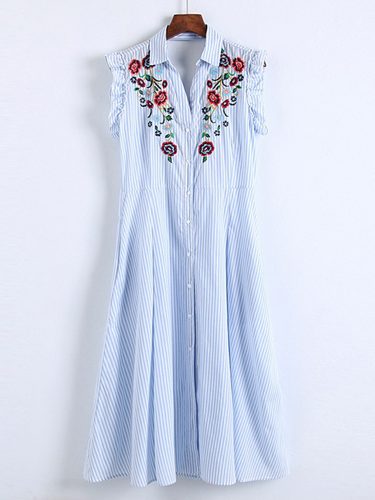 So a few weeks ago I featured a skirt from SheIn and I realized I'd never actually ordered anything from them. I ordered the skirt and it came in earlier this week and I have to say I'm happy with it. The shipping takes a little longer than most places, but the quality is pretty good considering the prices and the sizes seem to run true. I'll definitely order from the again, maybe starting with this cute dress. It's only $27 and also comes in a pink stripe.
That's it for today.
Have a great Friday and Happy Father's Day to all of the dads who aren't reading this. So, essentially, Happy Father's Day to my dad because he is a faithful Big Mama reader which is one of many reasons I love him.
Copyright secured by Digiprove © 2017