Okay, so first things first, I am so excited that we are working on putting together a launch team for my new book, Church of the Small Things, that comes out this October 3. You can pre-order it here on Amazon or here on B&N. And you can apply to be a part of the launch team by clicking here.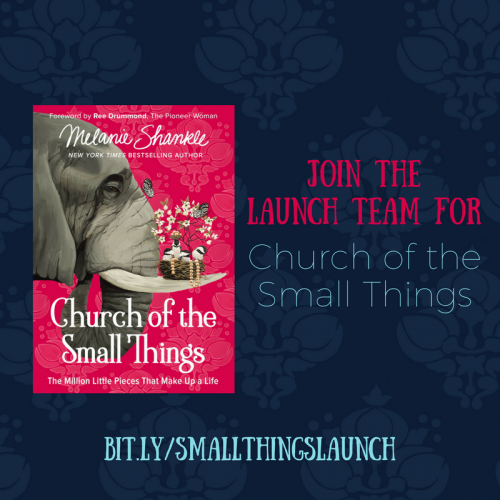 The launch team basically helps spread the word about the book on social media and in your neighborhood or church or beauty salon or local Anthropologie store or anywhere else where you might know people who might like it. As a launch team member, you'll get an advance reader copy of the book, access to a private Facebook group and all kinds of email updates and exclusive content. The key is that you have to apply and spaces are limited, but I would be so honored to have you be a part of it even if you are so inclined.
Here's a quote from the book that kind of sums up the message of Church of the Small Things:
"Maybe it's the small moments in our lives that are even more holy than the big ones because they are the million little pieces of our lives that God uses to make a difference right where we are."
And speaking of small moments in our lives, Gulley and I headed out on our annual road trip with the kids on Sunday afternoon. We have been very busy which explains why it is currently 12:55 a.m. as I type this post.
We loaded up the big blue Suburban on Sunday afternoon with enough pillows, snacks and luggage to keep us fed and clothed for at least six weeks because we are like the Boy Scouts and are ALWAYS PREPARED. And, yes, we packed plenty of HEB plastic grocery bags in case of a carsick incident even though Will announced before the trip that he believed his days of throwing up in the car were behind him. SPOILER ALERT: So far he appears to have been correct. And, for that, we are all eternally thankful.
Our first stop was the Lakeway Resort on Lake Travis just outside of Austin. We spent the afternoon by the pool enjoying the gorgeous view of the lake and, eventually, all watched the sunset.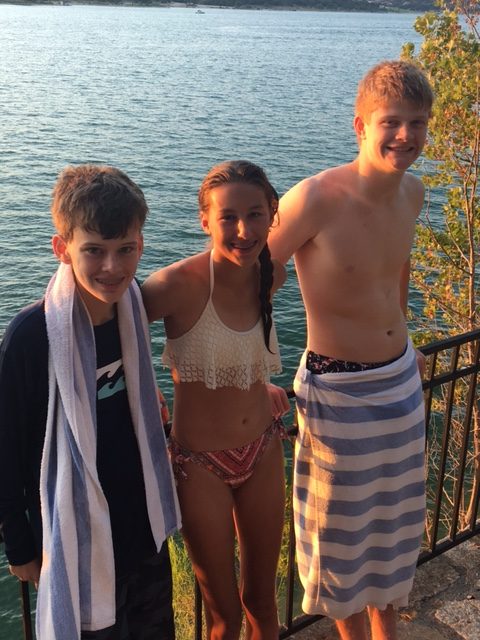 Yes, the kids are gigantic. This is why we have designated the 17 year old Suburban as our official road trip car. It's the only thing they can all fit in these days because their legs just keep getting longer. It also helps Gulley and I cut down on the amount of wine we need to drink at the end of a travel day.
After the sun set, we went back to our respective rooms and the kids decided to go lift weights in the hotel workout room. Gulley and I thought this was a great idea and we put on our pajamas and drank wine as we bid them adieu. They eventually came back after their workouts and we all sat and talked until way too late. Jackson just got home from Young Life camp and he was filling us in on the whole experience and it basically confirmed that our master plan to get the kids to tell us about their lives by taking them on a road trip is totally working even as they are right in the middle of their teenage years.
We slept in the next morning and then checked out of the Lakeway Resort. The kids all requested Barton Springs Pool as our next stop so we went to eat at Hula Hut on the lake and then made our way to Barton springs. (Gulley and I agreed that we are either getting old and picky or Hula Hut isn't as good as it used to be. We regretted our decision to eat there but we were trying to maximize the lake experience.)
The kids all immediately jumped into the water at Barton Springs but Gulley and I decided to just sit on the edge with our feet in the water. Barton Springs is 68-70 degree water all year round and I really try to avoid frostbite. But the kids didn't seem to mind even when their lips were all blue and their teeth were chattering. They swam around and tried to catch fish with their hands and jumped off the diving board while Gulley and I people-watched and caught up on important things like our thoughts on Southern Charm.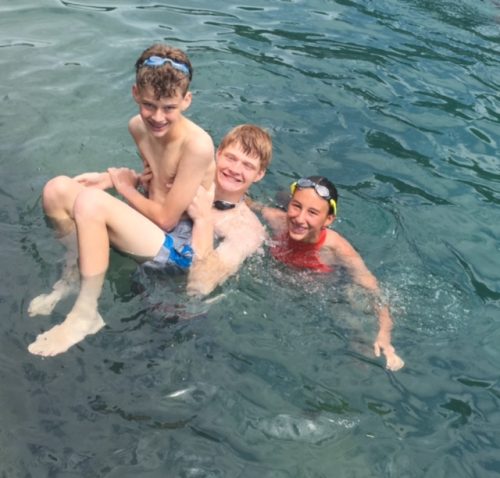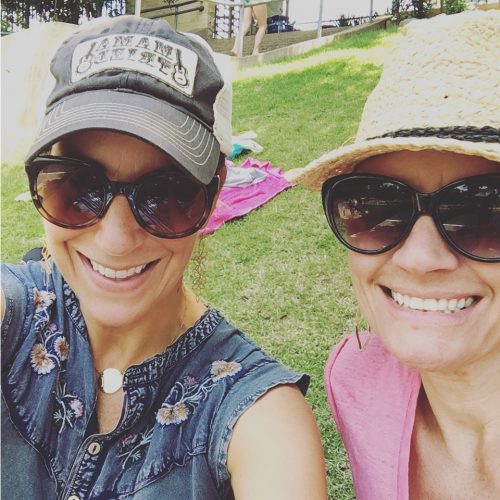 Just FYI, if you find yourself in Austin during the summer, Barton Springs is really a must-do activity. It's so beautiful and kind of feels like a throwback to a simpler time.
After we left Barton Springs, we offered the kids the chance to go rent kayaks at Zilker Park but I think they were exhausted from trying to stay warm and were ready for our next stop. Jackson had mentioned early on in our road trip discussions that he would like to go to Lockhart, the barbecue capital of Texas, and do a food crawl. This is really the kind of moment that the road trip was meant for and so, OF COURSE, we made our way to Lockhart and used this article as our guide.
Our first stop was Kreuk Market.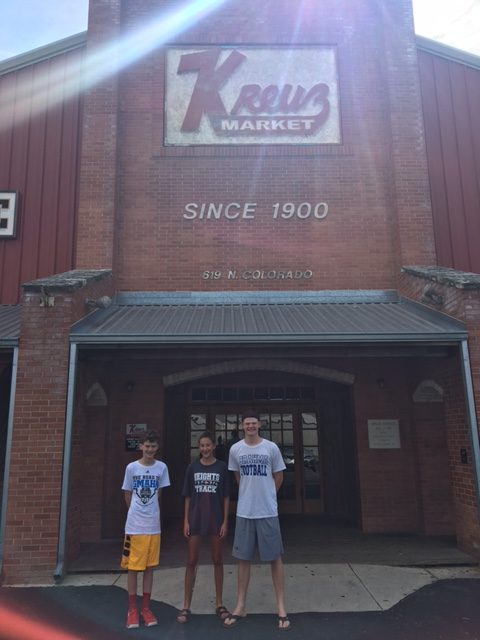 (The kids were super excited that I insisted on taking their picture everywhere we went and by super excited I mean they all rolled their eyes at me and even swam away while we were at Barton Springs. Whatever. Someday they will be so thankful I documented these precious moments.)
At Kreuz Market we shared brisket, sausage, shoulder clod (I know. That sounds terrible but it's like lean brisket. But clod? Seriously?), and we got a pint of mac and cheese to share. They don't serve their barbecue with sauce or a fork because they claim you don't need either. I beg to differ. I am not a caveman, nor do I want to imitate one.
Verdict? The brisket and shoulder clod were both very good although I liked the lean shoulder much better. The sausage was greasy and not a favorite. However, Will is a connoisseur of mac and cheese. It's his favorite dish and he has ordered it everywhere from New York to Colorado. And he declared the mac and cheese to be a 10. He loved it so much that he asked Gulley to order another pint of it to go and gave the lady at the counter a high five for her delicious mac and cheese. That's high praise.
It's very similar to the mac and cheese at Luby's Cafeteria in case that helps you.
Our next stop was Smitty's Market.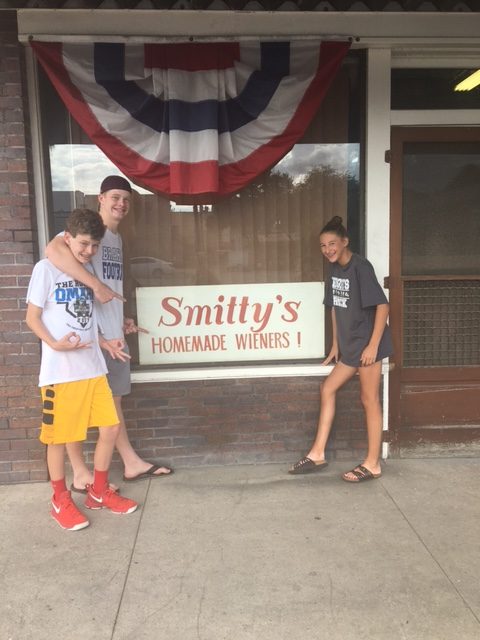 Verdict?
It was okay. They do have sauce but no forks. They were also out of mac and cheese so we couldn't compare although I did get their potato salad and thought it was pretty good. We thought their sausage was better than Kreuz Market, but the brisket and shoulder were both a little dry.
The last stop was Black's Barbecue. It holds the distinction of being the oldest barbecue restaurant in Texas owned by the same family.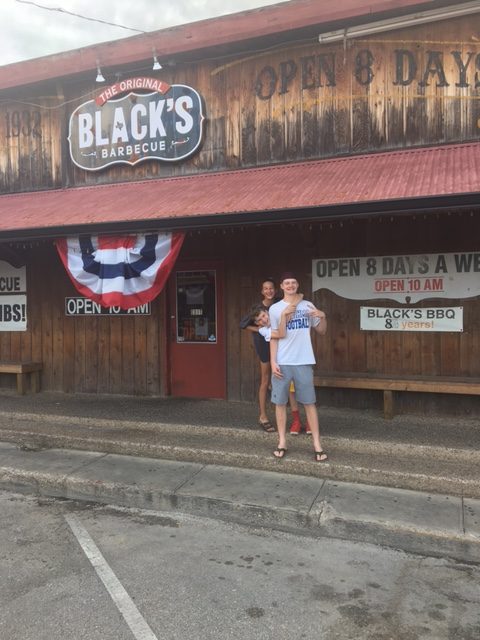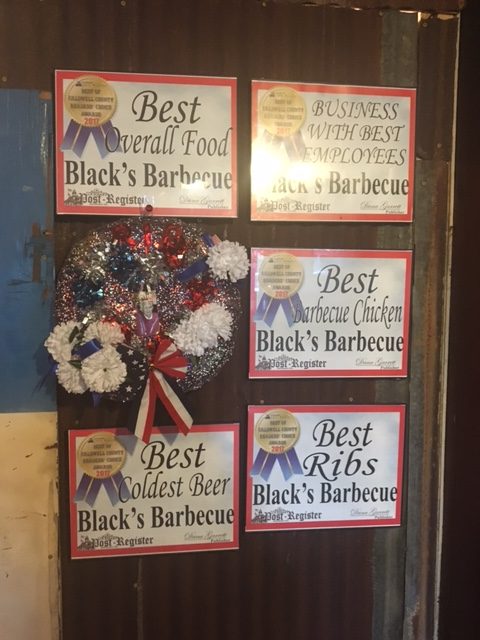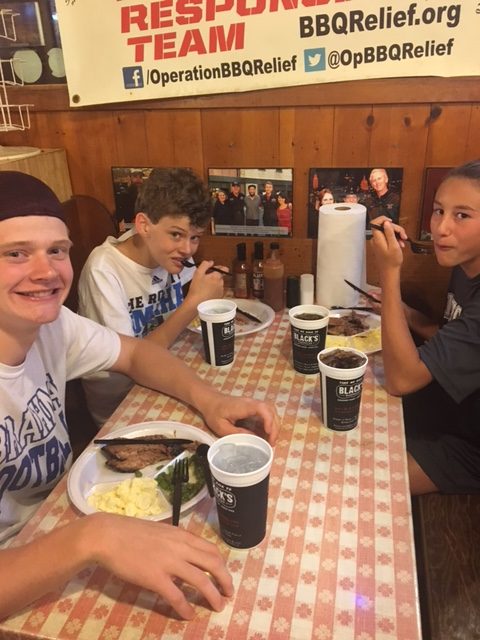 Verdict?
We all enjoyed the cafeteria-style serving line in terms of efficiency, but I was disconcerted by the creamed corn and mac and cheese being in such close proximity to the banana pudding and peach cobbler. I like to have a little more time and distance between all the courses of a meal, plus a buffet kind of grosses me out in general if I think about it for too long. Not to mention that Gulley and I were too full to really try more than a bite of anything and I basically decided by this point that I might become a vegetarian and never eat again. In fact, I began craving salad and I never crave salad. But Jackson loaded up his plate for the third time because he is a 6'2″ fifteen-year-old boy which means there is really no such thing as too much food. The kids all liked the brisket but we realized no one had ended up with sausage so we couldn't make a comparison. Will got the mac and cheese and said it was good but not as good as Kreuz's.
Jackson continued to eat long after the rest of us had given up the ghost, but we finally heard him breathe a deep sigh and realized he'd even taken off his baseball cap as he tried to power through his third helping of brisket.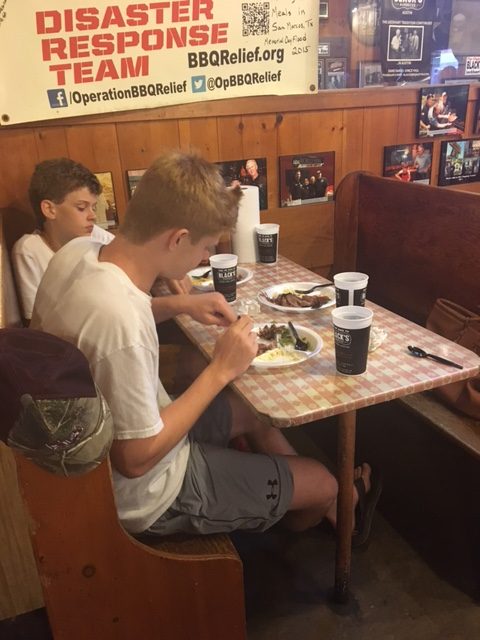 I told him about Joey Tribbiani and the meat sweats, but he looked right at me and declared, "No meat left behind". You have to admire his perseverance.
Then we all rolled ourselves back to the blue Suburban and piled in to make the trip to Honey and Big's house where we have another couple of days of adventures planned. Although I think it's safe to say that none of them from here on out will involve eating barbecue.
I also have to say that after sampling more barbecue than I really care to eat ever again, I didn't think any of them were as good as The Barbecue Station in San Antonio, which I guess proves that the old saying is correct and "There's no barbecue like home barbecue". Or maybe I just made that saying up. Whatever. It's totally true.
Copyright secured by Digiprove © 2017