Yesterday morning, P woke Caroline up about 6:45 a.m. and she went from being in a deep sleep to jumping on the bed in excitement in approximately three seconds. I made her a nutritious breakfast of Eggo frozen waffles while she got dressed and searched for the proper hair accessories. The whole routine only took about twenty minutes which was great until we realized we still had about twenty minutes before it was time to leave the house. Twenty minutes filled to the brim with just one question:
"IS IT TIME TO LEAVE YET?"
Or the variation:
"I'M READY TO GO! WHEN CAN WE LEAVE?"
Fortunately we had plenty of time to take a few back-to-school photos.
Bless her heart, it's like she's never seen a camera.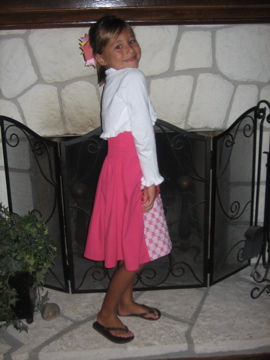 I just wish she'd come out of her shell and show some zest for life and self-confidence.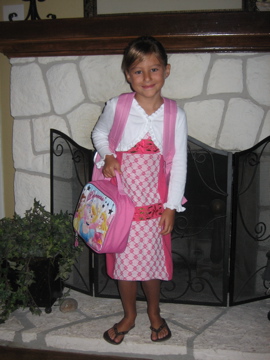 P and I walked her into school and she immediately found a friend. She dropped my hand and walked ahead of us, talking to her friend and I heard her say, "We should get together soon for a play date". And then she pulled out her Blackberry so she could get it on the calendar. The social obligations that come with being a first grader are never-ending.
I got back to the house and started some laundry, ran the dishwasher, and cleaned up a little bit. Then I looked at the clock and it was only 8:35 a.m. Clearly I am going to need to find something to fill my days besides sitting on the couch watching Rachel Zoe marathons on Bravo and eating Gummie Sours, although it wasn't a bad way to spend a Monday.
The only time I cried was when I went to HEB by myself and realized how much I missed my little shopping buddy. Which is ironic considering how many times this summer I had to threaten to put back everything in the cart, including the chocolate Pop-Tarts and Oreos, if she asked me for ONE MORE THING.
Then she'd be quiet for about fifteen seconds before asking, "Can I get a gumball before we leave?"
And I would be forced to launch into my lecture about having a grateful heart while silently singing the words to "Swing Low Sweet Chariots" because I felt sure I was about to have some kind of mental break and would need a band of angels to carry me home.
But yesterday I missed all of it. Not necessarily the part about the gumball, but I missed her running commentary on my grocery selections.
When I picked her up at the end of the day she was all smiles. Apparently, first grade is PERFECT and she can't wait to go again, which works out since she has about 179 days or so left.
Also, on a totally different note but on the subject of PERFECT, I have a great giveaway right now on my Giveaways page. Click here to read all about it.